Charges dropped against UWC students after 16 months
"Being falsely accused and imprisoned was terrifying"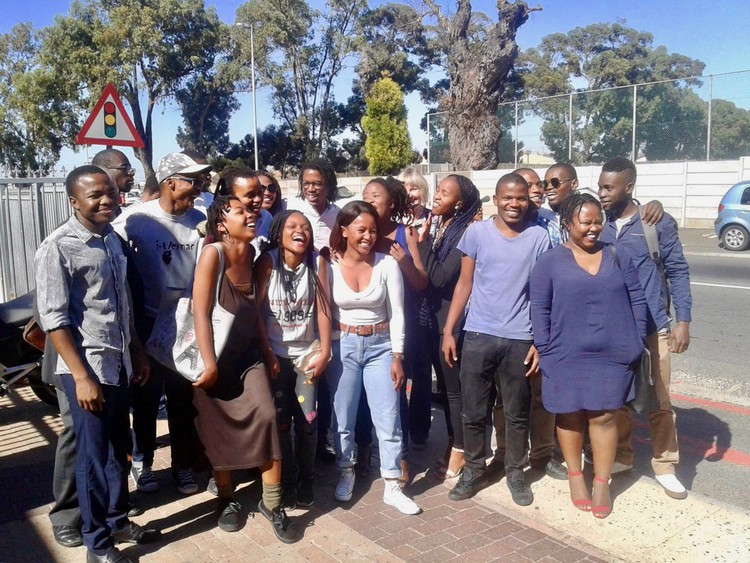 After 16 months of delays in court proceedings, charges have been dropped against a group of 23 students from the University of the Western Cape, who had spent a week in jail.
One of the students, Nwabisa Zenani, told GroundUp that she wasn't involved in the Fees Must Fall protest. She said she had been studying for upcoming exams on the day she was arrested in October 2016.
Investigations by the Legal Resources Centre (LRC) led the students' Legal Aid attorney to make representations to the prosecution. Charges of public violence were withdrawn on Monday.
Zenani, who is studying accounting, said that being falsely accused and imprisoned was "terrifying".
"Never in a million years do you expect to find yourself in that situation," she said.
Fellow accused Jabulani Ngobeni, also studying accounting, said he "was devastated" when he was charged with public violence.
Zenani and Ngobeni said that when they were arrested they were inside a university residence watching the protest escalating outside. Zenani said someone had thrown a stone at the police from the building.
"They [the police] just started banging down all the doors," said Zenani. "They beat some of us; they swore at us; and then they moved us to Bellville police station."
The students appeared in court two days after their arrest and were denied bail. They were told to return to court the following week. In the meantime they would be held in Pollsmoor and Goodwood prisons.
Zenani said that the experience of going to Pollsmoor was one that she "wouldn't wish on anyone".
"The only light you see is through a small window that has burglar bars … I felt that I had been cheated, victimised by a system," said Zenani. "You always hear how the system fails people. You only understand when you are the victim."
Ngobeni was sent to Goodwood prison. "The mind shuts down … You don't feel like it's real," he said.
When they appeared in court again, their bail was set at R3,000. With help from sympathetic staff and the Student Representative Council, the money was eventually raised.
The students are now in the process of returning the money to the people who donated.
Associate professor Shirley Brooks, who supported the students, said they feared their degrees would be rendered useless, but they kept on studying, believing they would be proved innocent eventually. "No firm would take them on for a vacation job or internship," she said.
Zenani and some of the students approached the LRC. Bathandwa Xhallie, a candidate attorney, advised the students to replace their attorney with one from Legal Aid. "Over an entire year their previous attorney hadn't managed to get a police docket. It was ridiculous," said Xhallie.
"The allegations [against them] were firstly false and secondly none of it made sense. We compared the students' statements and looked at what the police dockets said and we came to the conclusion that there wasn't a case."
She said that the police's statements didn't add up.
The National Prosecuting Authority (NPA) didn't respond to requests for comment.
As a result of the court case, a number of the students had to repeat modules and some of their scholarships were withdrawn, said Xhallie.
The university had also put a "hold" on the students' transcripts (proof of their results), which stated that they were facing disciplinary hearings. The LRC helped to get these removed.
"Most of the students that we were representing were not part of the protests," said Xhallie.
Ngobeni said he was relieved the charges had finally been withdrawn. "I'm finally cleared of all this mess that I wasn't supposed to be in in the first place," he said.
"I'm looking forward to suing the state," says Zenani. "I feel that a part of myself was stolen from me."
Dodgy people are suing us. Please support us by contributing to our legal costs and helping us to publish news that matters.
© 2018 GroundUp.


This article is licensed under a Creative Commons Attribution-NoDerivatives 4.0 International License.
You may republish this article, so long as you credit the authors and GroundUp, and do not change the text. Please include a link back to the original article.