Carnival to commemorate 1976 aims to keep youth off drugs
But young people say they know little about the Soweto uprising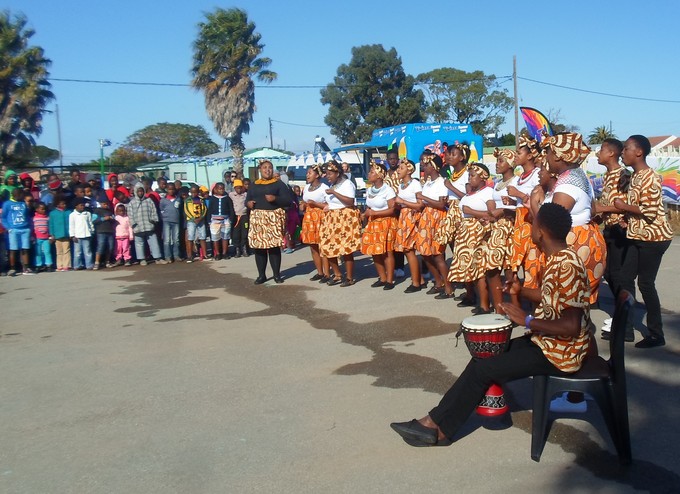 A street carnival was held yesterday in Gqegera township (Walmer) to commemorate the 1976 Soweto Uprising.
The carnival intended to highlight the importance of youth in communities, to discourage using recreational drugs, and to create a community free of violence.
Gqegera township is situated few kilometers south of Port Elizabeth, next to the airport. It is a poverty-stricken community despite its close proximity to the CBD, the Nelson Mandela Metropolitan University and surrounding industries. The community is dogged by drug abuse that violent crime.
Under the theme 'Walmer Youth Against Drugs", volunteers at Izizwe Projects have been trying to help young people through cultural and community activities.
Anouk Mettler of Izizwe Projects explained, "The aim of this carnival is to celebrate Youth Day while communicating good behaviour to the youth and the community. Unlike last year when we had a street soccer tournament only, this time we lined up traditional activities like music, dance and art. We have also brought lots of food to make it a memorable event.

"This community is plagued by violence and the abuse of drugs among the youth is rampant. We therefore decided to bring activities and entertainment for the entire community. We have a huge banner where people sign a pledge that they will not engage in drugs and violence. We have invited the elders from this community so they can go back home with the same message that drugs and violence have no place in Walmer."
The soccer teams at the event were given names that appealed to youth, such as Brazil, Barcelona and Manchester United. Whenever these teams were playing on the street, fans became ecstatic. The township's Yoyo street was closed to vehicles at both ends as the soccer teams battled each other. 
Interestingly, youth GroundUp spoke to had little knowledge of the significance of the 1976 Soweto Student Uprising.
Mthobeki Bhiza, 23, an unemployed youth said, "I grew up seeing people gathering during this day. Then there is a photo of Hecter Peterson. No-one has ever really explained to me the significance of this day. I know people were shot at,but for what?"
Thabile Mpongoshe, 13, said, "I really don't know what happened 40 years ago because my unemployed parents who claim that they were also victims during that time are even worse off than they were in 1976."
© 2016 GroundUp.

This article is licensed under a Creative Commons Attribution-NoDerivatives 4.0 International License.
You may republish this article, so long as you credit the authors and GroundUp, and do not change the text. Please include a link back to the original article.