"In Camps Bay there's lots of space – leave our beaches alone"
Capetonians speak out against development of Maiden's Cove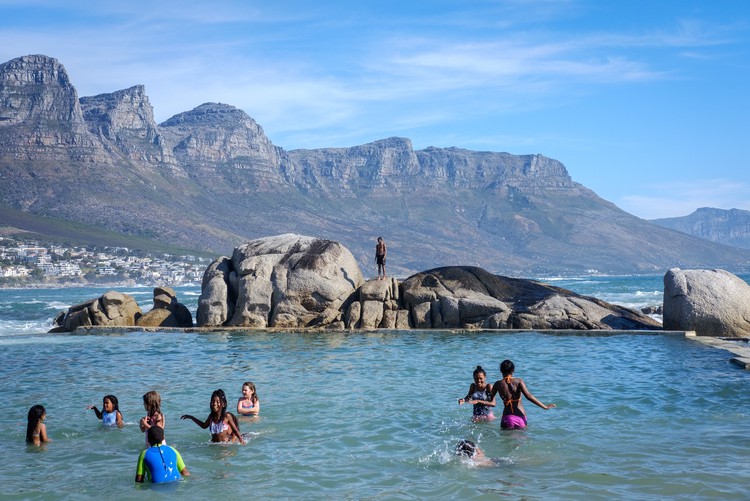 The City of Cape Town is planning a R1.5 billion development of Maiden's Cove — a scenic headland and beach between Clifton Fourth Beach and Glen Beach in Camps Bay. The plan is opposed by Maiden's Cove for All (MCA), an organisation campaigning to maintain public access to the cove. The dispute is being litigated in the Western Cape High Court.
On Heritage Day, MCA hosted a community gathering at Maiden's Cove. Barry Christianson photographed people from across the city enjoying themselves.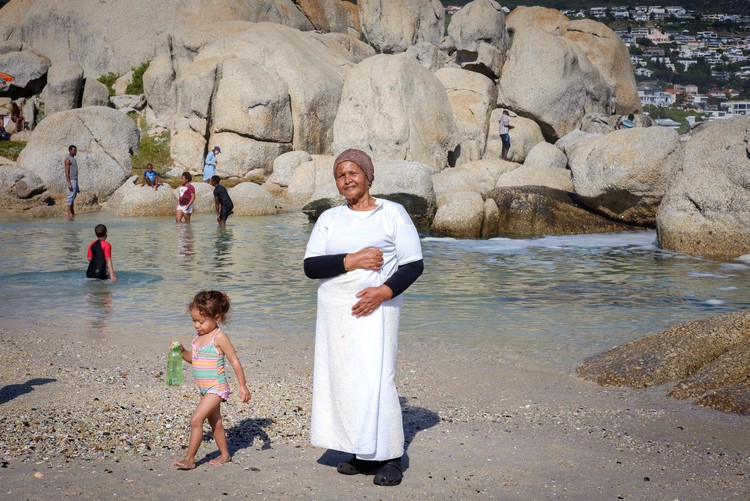 Umra Abrahams is 71. She lives in Hanover Park. She is originally from District Six. She has been coming to Maiden's Cove for 62 years. On Monday she was brought by her neighbour Aeysha, who knows how much she loves to swim.
"From nine years old we walked to the beach. Every Sunday the whole street – boys, girls – we walked to the beach. My brothers would bring us. We didn't have cars, but it was lekker to walk. We cried when we were moved out of District Six," she said. "They just want to make money [out of Maiden's Cove]. They must leave it like it is."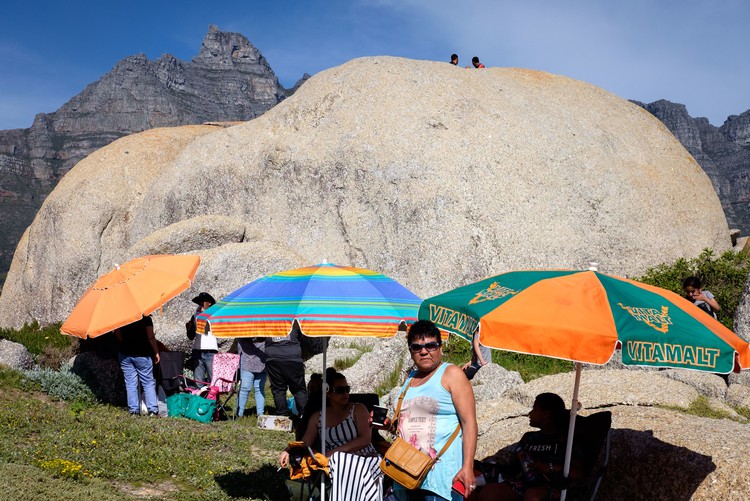 Rhoda Thys lives in Kensington. She is almost 70 and has been coming to Maiden's Cove for decades.
"The atmosphere and just everything, you know, I like being here. How can they do that? To want to build here and give it to the rich? It's not on. This is the only place where you can come and relax, and braai, and everybody here looks after everybody's child," said Rhoda.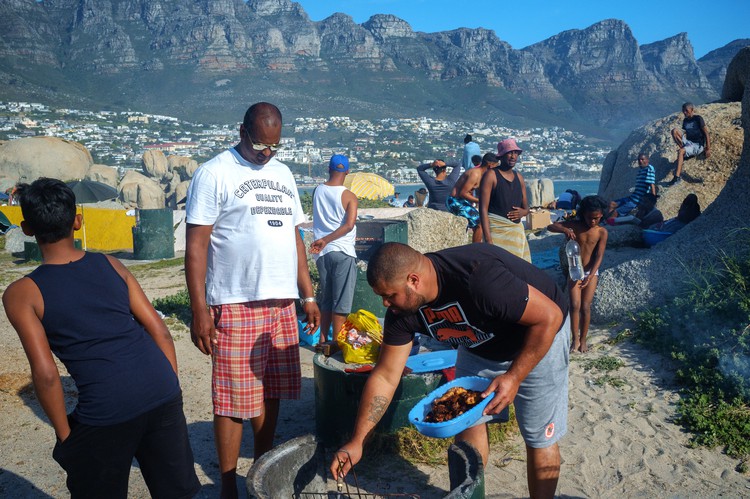 Clinton Nelson (left) and Brandon Daniels (right) are friends from Mitchells Plain. Both came to celebrate Heritage Day. Their mothers were both factory workers. Their families have been coming to Maiden's Cove for years.
Nelson recalled how, at the end of the year, factory workers would come to Maiden's Cove to celebrate the end of work. "It actually grew on us," he said.
Daniels said, "I know this spot, the pools. We used to keep the cool drink in the water. It used to keep it cold. Nothing's changed over the years."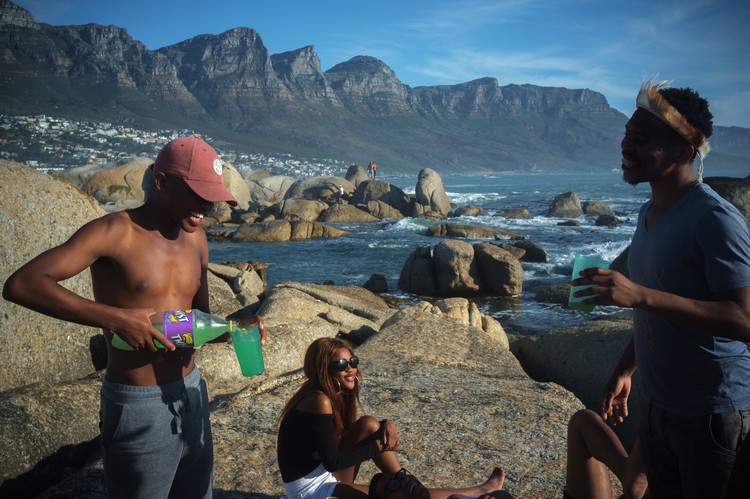 Sokuphumlela Nombila (left), Asisipho Mashabalala (middle), and Minenhle Ngwenya share soft drinks on the rocks.
Mashabalala grew up in Khayelitsha and now lives in Salt River. She's been coming to Maiden's Cove for the last two years with her family and friends. They come to Maiden's Cove because of the braai facilities. "If ever they are gonna use it for commercial purposes? No! it's unfair. We're using it for adventurous purposes, it's fun here."
Justin Theys smokes a hookah, while Tyron Visagie selects music. Theys lives in Kensington and has been coming to Maiden's Cove since he was a child. He and his friends come because it's the only beach close to their homes that has braai facilities and is free. "Around this whole coast this is the only beach we can braai. They can't build a hotel here. We must stop it. We must stand up, as a family, as South Africa."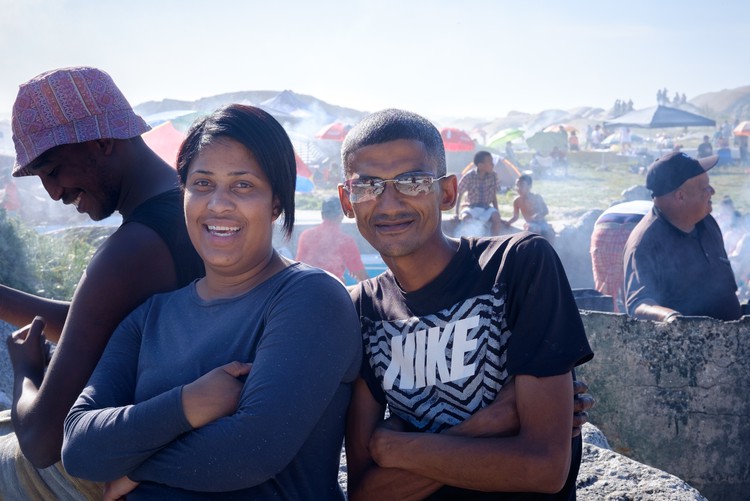 Rose-Anne Witbooi and her brother-in-law Bradley Lewis are from Manenberg. Lewis, a taxi driver, has been coming to Maiden's Cove for 30 years. "We need such places to come swim, to do our stuff with our families," he said.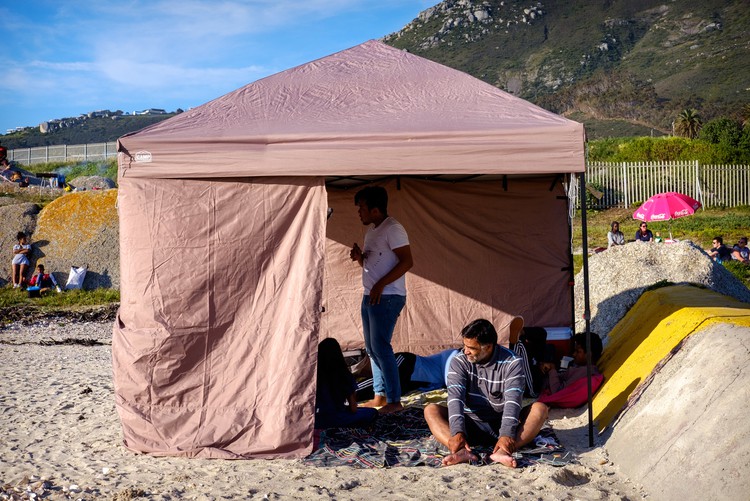 Mr Manan (first name withheld) grew up in Bo-Kaap and has been coming to Maiden's Cove for 50 years. He and his friends would walk across the mountain.
"They are basically taking away our open space and giving it away to tourists. This is mostly families. This is the only place where big families really can come together. But the City just wants to make money. What they are going to do with the money I don't know."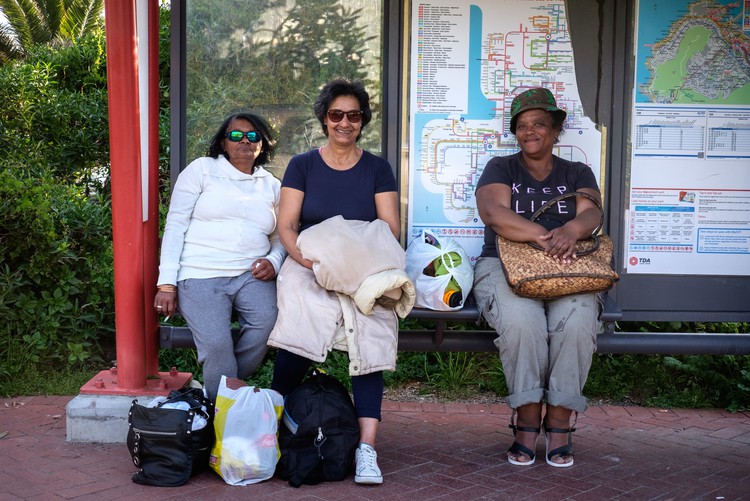 Grace Benjamin, Diane Mimmie and Charmaigne Baron wait at the bus stop. The three friends from Tafelsig have been coming to Maiden's Cove on Heritage Day, Boxing Day and New Year's Day for about 20 years.
"Why do they want to build concrete here on Maiden's Cove beach? They want to build here on heritage ground. That is pure selfishness. In the mountains, in Camps Bay, there's lots of space. But leave our beaches alone."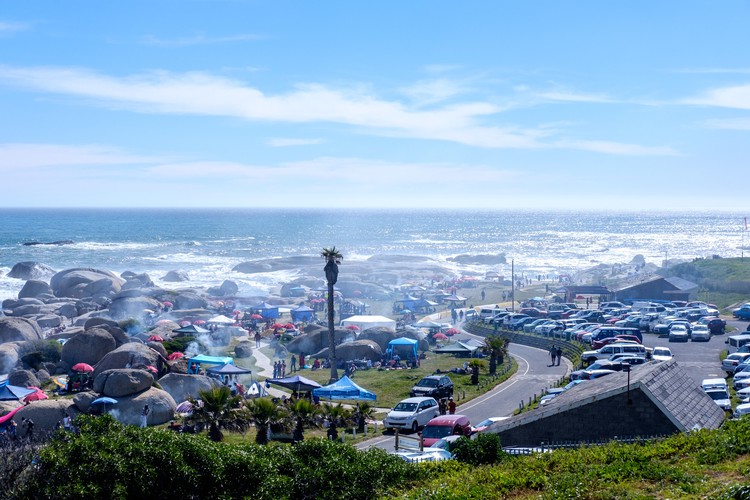 The view from the parking lot above Maiden's Cove shows the tents people set up to have their picnics.
Dodgy people are suing us. Please support us by contributing to our legal costs and helping us to publish news that matters.