Call for parliament to sign anti-xenophobia pledge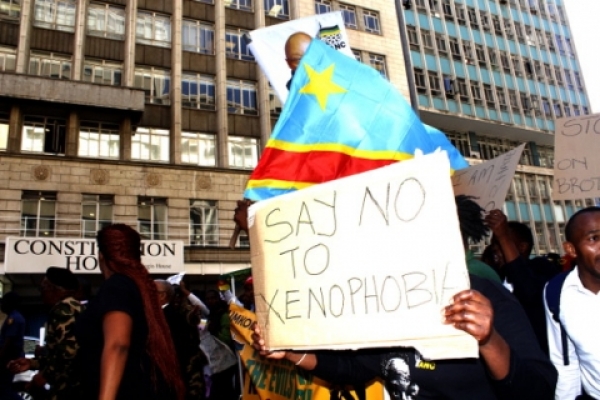 About 100 people marched against xenophobia in Cape Town yesterday. The protest was organised by several civil society organisation including PASSOP and Sonke Gender Justice.
Bernard Toyambi, a paralegal advisor at PASSOP who is from DRC, said, "After the 2008 xenophobic attacks we never thought this would happen again. Besides marching with us today, deploying police in affected areas, and arresting the perpetrators, we believe government should revisit and implement the 2008 recommendations by the South Africa Human Rights Commission. It is a good move that the president invited PASSOP and other civil society organisations for a meeting on Friday in Pretoria to address xenophobia."
Vuyani Shwane director of the Cape Town Refugee Centre, said: "We view the attacks as a national disgrace. They undermine the efforts of integration of non-nationals by all other civil society organisations. What is positive is the dialogue we are seeing in the media which was not there in 2008." He said there was no plan from government to prevent the latest violence. He said that government needed to look at South Africa's immigration policy, develop a comprehensive integration strategy and educate South Africans. "Media should not just focus on attacks but also on positive stories, for instance, how immigrants bring skills and how they help to build the economy. South Africans are facing their own problems like inequality and service delivery but they should not take it out on our foreign brothers and sisters." He also said that the conditions in countries that refugees are fleeing from needed to be dealt with.
Braam Hanekom of PASSOP read a memorandum before he handed it to the Deputy Secretary of Parliament, Baby Tyawa.
Part of the memorandum read:
"We have gathered here as South Africans, along with some of our brothers and sisters from around the continent, to make our voices heard. We reject violence, we reject all xenophobia, afrophobia, or anti-immigrant sentiment. We have lived for many years with each other and will not allow hate to prevail. We are one people, we will not be divided, the people of South Africa call upon parliament to represent our views, to reject xenophobia and want to see stern action taken against perpetrators of this senseless, criminal and anti-African behaviour.

We apologise on behalf of South Africans for the violence that was meted out on our brothers and sisters from other countries, we want government to share the responsibility with us and together let's stop this. Let us work tirelessly to restore faith in South Africa, as a country we have to clean our image.

We call upon parliament to sign an anti-xenophobia pledge and to resolve to work with us tirelessly to ensure that we protect all people, from other countries, living in South Africa."
Dodgy people are suing us. Please support us by contributing to our legal costs and helping us to publish news that matters.
© 2016 GroundUp.
This article is licensed under a
Creative Commons Attribution-NoDerivatives 4.0 International License
.