Bus fares to Zimbabwe double in December
Companies cash in on holiday demand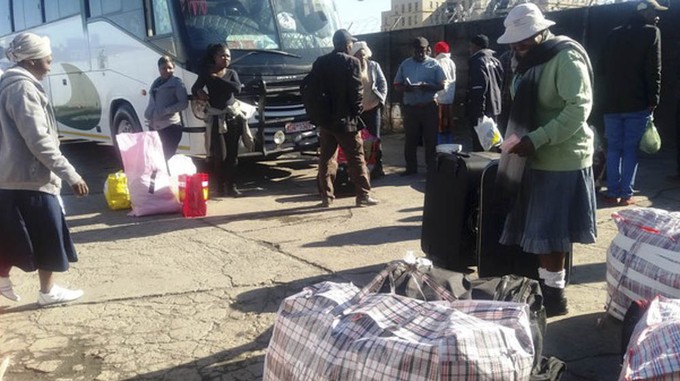 Bus companies are doubling their fares to cash in on the lucrative end-of-year trade as thousands of Zimbabweans prepare to return home for the holidays.
Regular traveller Tatenda* says he spent R1,600 for a one-way single ticket from Cape Town to Harare in December with bus company Chihwa. During the year, the fee is normally R900. Last December, he paid R1,450.
A small survey by GroundUp at the Cape Town bus terminus on 5 December confirmed that the two main direct bus lines to Zimbabwe, Chihwa and Munhenzva, are charging R1,600 one way. During the year, Chihwa charges R800 and Munhenzva R900. Both are fully booked till 24 December.
On 5 December Intercape reservation office in Cape Town only had one seat left for Zimbabwe, at R1,630. The next seats available are on 15 December and cost R2,400 one way. The tickets agent said their fares fluctuates according to the demand.
On 1 December, GroundUp's contact in Zimbabwe was offered a ticket by Intercape to travel to Cape Town from Harare for US$53 (about R720).
A new direct bus link to Zimbabwe, Atlantic Inner City, still has seats at R1,200 one way, but tomorrow (8 December) the price will go up to R1,800.
Another new bus company, African Link, advertised "low fares" on a Zimbabwe Cape Town Facebook page, but was charging R1,600 for a single ticket, prompting complaints from customers:
African Link told GroundUp the company had done market research before introducing the service. A spokesman said fares were higher in the festive season because of high demand.
Some Zimbabweans travel to Johannesburg and then catch transport from there. A Translux bus one way trip to Johannesburg on 8 December costs R730. A Metrorail economy ticket from Cape Town to Johannesburg during the year costs R440 and in December R480. Seats are fully booked after 16 December.
Daisy Daniel, a senior manager at Passenger Rail Agency of South Africa (PRASA), which owns Translux, said: "Fare increases are a business decision based on the following business principles: revenue targets, government subsidy, cost coverage, demand and supply and extra trains and buses during high demand periods."  
"The only time that the business increases fares is during the three identified peak periods (December/January and Easter Weekend). This is also the time when the business introduces extra trains and buses to comply with the increase in demand, however extra trains come with additional expenditure, maintenance cost (additional and scheduled trains, buses), haulage cost, energy cost (diesel and electricity) and salaries (additional staff during peak periods), just to name a few."
Tatenda, whose three children are still in Zimbabwe, says the festive season bus fares are exorbitant.
During the year, buses carry 30kg of luggage per passenger for free, but this December the free luggage allowance on Chihwa buses was reduced to 25kg. Tatenda says he had 5kg extra of luggage for which he was charged R150.
GroundUp saw the same company charge a customer who was sending a very small bag, R450 without weighing the bag on a scale.
When the client complained that R450 was too much, he was told R250 was for the luggage and the other R200 was for the bus crew who would look after the bag all the way in his absence.
Another Zimbabwean traveller said her ticket was slightly cheaper because she bought a ticket to Johannesburg at African People Mover for R450, then a ticket to Zimbabwe from Greyhound for R900.
The journey over the festive season is very difficult, says Tatenda. The Beitbridge border post is crowded and hot. Sometimes the bus is overloaded with passengers and luggage.
Buses have to join the queue at the border and unload all the goods from the bus and trailer. Every passenger has to vacate the bus and declare all the goods. The process takes about two hours.
From Beitbridge to Harare the journey is frustrated by police roadblocks. The Zimbabwe Revenue Authority (ZIMRA) also sets up roadblocks and searches buses. If passengers are found with undeclared goods, the bus is sent back to Beitbridge immigration offices. Sometimes bribing the ZIMRA officials works, says Tatenda.
"By the time you arrive home you are too tired to enjoy the family company. And there are too many expectations from the extended family who expect gifts from you," he says.
© 2016 GroundUp.

This article is licensed under a Creative Commons Attribution-NoDerivatives 4.0 International License.
You may republish this article, so long as you credit the authors and GroundUp, and do not change the text. Please include a link back to the original article.