Buffalo City employees on strike for better pay
Workers in East London want City manager to step down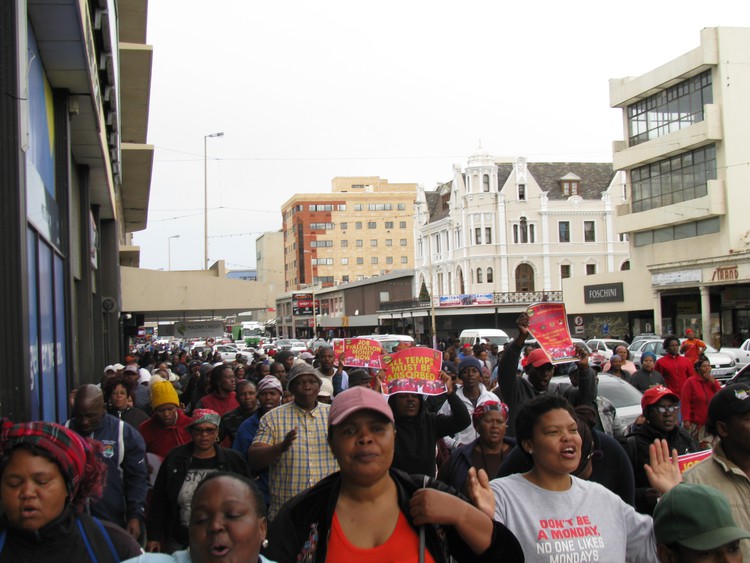 Hundreds of workers from the Buffalo City Metropolitan Municipality (BCMM) marched outside the City Hall in East London on Wednesday, calling for the permanent employment of temporary workers and an improvement in their working conditions.
The workers, members of the South African Municipal Workers' Union (SAMWU), started the strike on Tuesday in both East London and King Williams Town. BCMM advised residents not to put out rubbish until further notice as the collecting trucks are also affected by the strike. Strikers include garbage collectors, firefighters and security guards working for the municipality.
"We want the municipality to absorb workers and make them full time employees. We have people here who have been temporary since 2007," said SAMWU's Zola Capucapu.
"We were promised bonuses by the City in 2016. We have not received them. Andile Sihlala, the City manager must step down. In our view he is undermining us as workers. He has been outsourcing for a long time even though we are here to do the work. Some temporary workers get paid R120 a day without any benefits from the municipality. Even workers who clean the municipal toilets are not properly supplied with gloves and detergents for cleaning," said Capucapu.
On Wednesday afternoon talks between the City and union leaders had deadlocked, according to Capucapu.
The workers marched and sang in front of the Trust Centre building.
BCMM's communications officer Luxole Komani said , "I cannot comment about the strike. All I know is that talks are in progress."
Executive Mayor Xola Pakati was not available as he was attending a press briefing on the state of readiness of the City for a horse racing event taking place this Saturday.