Blind SA leads march, demands government ratifies treaty
It has been ten years since the Marrakesh Treaty was concluded to allow blind people access to published works in accessible formats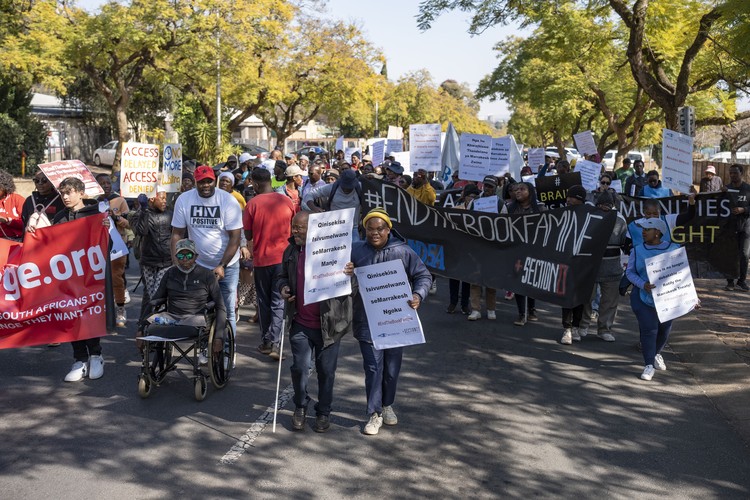 Visually impaired people supported by Blind SA, SECTION27 and other activist groups are demanding that government urgently ratify the Marrakesh Treaty.
They marched to DIRCO's offices in Pretoria on Tuesday.
The treaty facilitates access to published works in accessible formats for persons who are visually impaired.
Many people at the march lamented government's slow progress, pointing out that it is the only BRICS country yet to do so.
Over 100 people supported by Blind SA, SECTION27 and other activist groups marched to the Department of International Relations and Cooperation (DIRCO) in Pretoria on Tuesday. They are demanding that government ratify the Marrakesh Treaty.
The Marrakesh Treaty was concluded on 27 June 2013. It facilitates access to published works in accessible formats for people who are blind or visually impaired.
In September 2022, the Constitutional Court ruled that sections of the Copyright Act are unconstitutional. The court gave Parliament 24 months to fix it. In the meantime, blind people were given the go-ahead to convert written material into accessible formats without permission from copyright holders. The Gauteng High Court, a year earlier, had found that the provisions, which imposed a "book famine" for blind and visually impaired people, were an unjustifiable limit to their rights.
The treaty has already been joined by over 90 countries who are also members of the World Intellectual Property Organisation, including the United States, Argentina, and many African countries. Brazil, Russia, India and China have all ratified the treaty, leaving South Africa as the last remaining BRICS country to do so.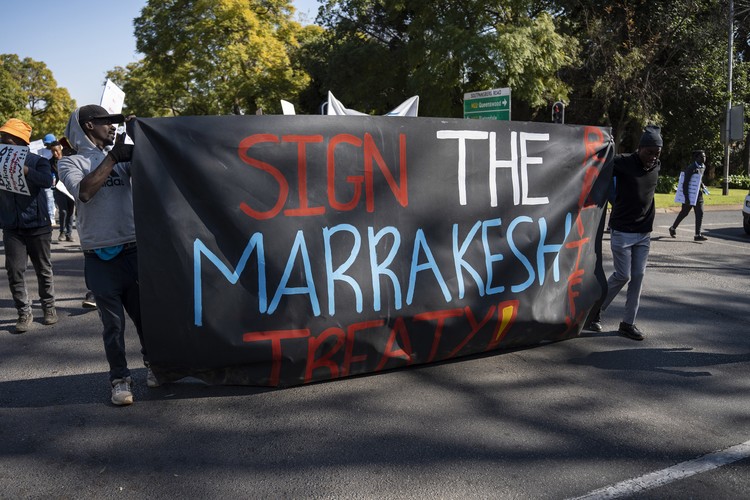 Tuesday's march marked a decade since South Africa's adoption of the treaty, with many in attendance lamenting government's slow progress to ratifying the agreement.
"I find it very strange that in over ten years our government has made no progress on this matter. They kept blaming the Copyright Act, but that issue was dealt with by the Constitutional Court. Now there is no excuse. We want this treaty ratified so that visually impaired people can get access to books just like everyone else," said Daniel Mamabolo from Vision Express Development.
"That Constitutional Court judgment, although welcomed, does not offer us the final solution to our problem. We need our government to get onboard and ratify the Marrakesh Treaty. Our copyright laws are very outdated. They are not in line with the digital age," said 19-year-old Thabo Sejane, who is a visually impaired law student who also joined the march.
According to Christo De Klerk, the vice-president of Blind SA, to make an average book accessible in braille or in other accessible formats costs about R24,000 and takes about a month. "That is a cost that we could avoid if the government gets up and ratifies the Marrakesh Treaty."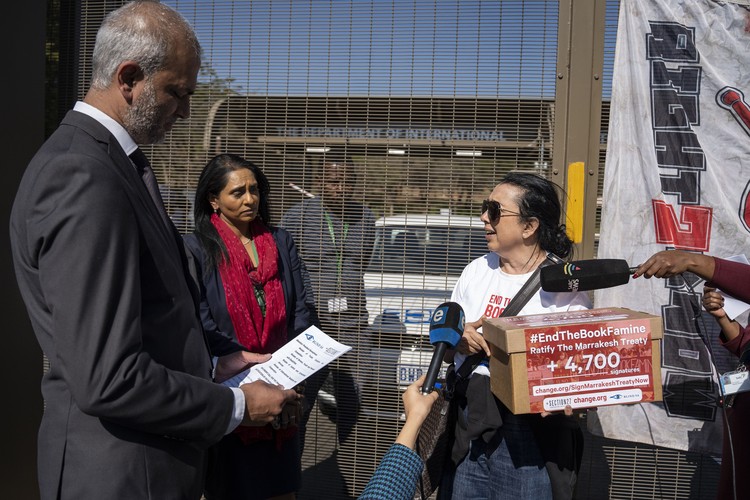 A memorandum of demands as well as a petition with over 4,500 signatures was handed over to DIRCO.
"We are committed to working within the international system to address issues pertaining to people with disabilities. We will continue to engage you with regards to the process pertaining to the signature and ratification of the Marrakesh Treaty," said Zaheer Laher, acting Deputy Director General for Global Governance at DIRCO.
When questioned on why the process was taking so long, Laher again said that DIRCO was working within international guidelines for treaties. He offered no timeline for when the matter will be resolved.
Demonstrators are giving the government a month to respond to their demands. "We know that this is urgent and we are hoping that DIRCO will take this seriously. We are relying on them to do what's right, but we will hold them accountable if nothing happens," said Demichelle Petherbridge, a senior attorney at SECTION27.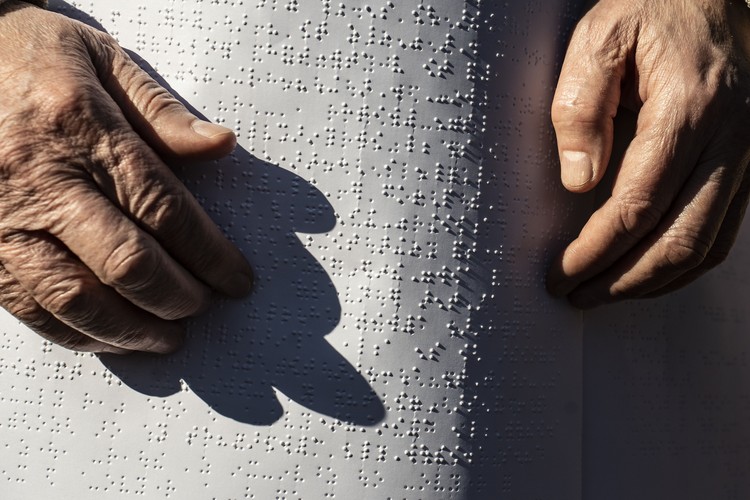 © 2023 GroundUp. This article is licensed under a Creative Commons Attribution-NoDerivatives 4.0 International License.
You may republish this article, so long as you credit the authors and GroundUp, and do not change the text. Please include a link back to the original article.
We put an invisible pixel in the article so that we can count traffic to republishers. All analytics tools are solely on our servers. We do not give our logs to any third party. Logs are deleted after two weeks. We do not use any IP address identifying information except to count regional traffic. We are solely interested in counting hits, not tracking users. If you republish, please do not delete the invisible pixel.