Bid to resolve crisis in KwaZulu-Natal special schools
Learners say they are not taken seriously because they live with disabilities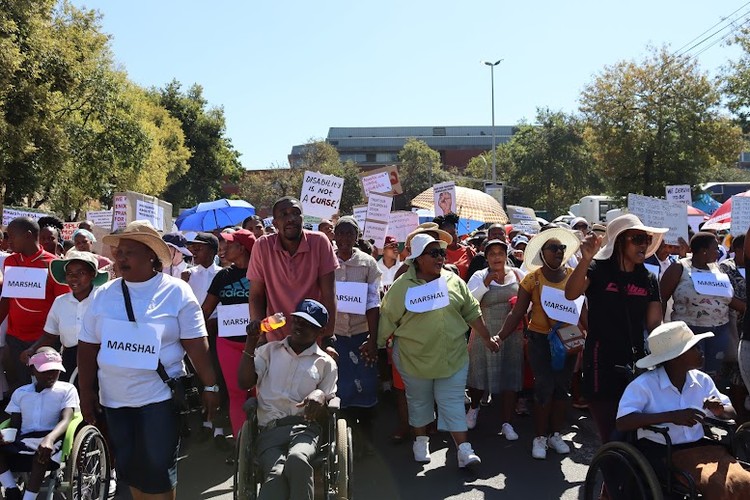 Parents and learners with special needs will meet government officials in Pietermaritzburg on Friday in a bid to resolve the crisis in the province's special schools.
The learners have been boycotting school for weeks.
Parents and learners are demanding more teachers, bus drivers, therapists, and better classrooms and hostels.
On Wednesday they went to the office of Premier Nomusa Dube-Ncube with their complaints. But Dube-Ncube wasn't there and the boycott will continue.
Parents of learners with special needs are to meet officials from the Premier's office and the KwaZulu-Natal education department on Friday in a bid to end a weeks-long boycott of schools.
On Wednesday more than 300 learners from 73 Special Schools marched to KwaZulu-Natal Premier Nomusa Dube-Ncube's office. They accuse the KwaZulu-Natal Department of Education and Dube-Ncube of neglecting their needs.
Since 1 March the learners have not been attending classes as their parents are boycotting school. They are demanding more teachers, bus drivers, and security guards; more classrooms; better hostels; therapists and more kitchen staff.
They say they are not taken seriously because they live with a disability. On their march learners were accompanied by parents and some of their teachers.
They arrived in buses and taxis.
The march started quietly but learners and parents got frustrated when one learner fainted due to the heat. The learner was assisted by parents and teachers.
Learner Siphosethu Mkhize said, "We want the Premier to see us. We are tired of sitting at home doing nothing."
She said last month parents had marched to Dube-Ncube's office to hand over a memorandum of their grievances. Dube-Ncube had been given seven days to respond but had failed to do so.
"The Premier must give us teachers or we will sleep in her office today," she said as other learners started cheering for her.
According to South African National Association for Special Education (SANASE) Deputy Chairperson, Khetha Khumalo, the issue of a shortage of teachers has been raised several times.
Khumalo who is also a parent, and is School Governing Body Chairperson at Inkanyezi Special School in Mnambithi, said every year they raise the issue of lack of teachers in Special Schools with the education department but they never receive the help they need.
He said most schools are overcrowded due to lack of teachers.
"That is why we decided not to send our children to school, because there's no one to take care of them. Our children need special care and attention. In previous years learners used to take turns going to school. Some would come on Mondays, others on Tuesday, and so on, but we found that it was not helping because learners ended up going to school one week a month. In some months they did not attend," said Khumalo.
"Last month we were here at the Premier's office. We told them if they do not provide teachers to our schools we will let the learners come here. I guess they didn't believe us. As parents we are only accompanying our children. The Premier must make a plan for them to study," he said.
If Dube-Ncube fails to help, they would approach President Cryil Ramaphosa, said Khumalo.
"We will continue with the boycott until they do the right thing. We demand teachers, we demand bus drivers, and our schools must have security guards like other schools. We are voters in this country, we demand to be treated equally," he said.
A teacher who asked that her name not be used, told GroundUp that her class has 42 learners.
She said she does not have any assistance.
"Remember we are dealing with learners who need special attention. Sometimes I will accompany one to the toilet. When I come back, the classroom is chaotic and learners are fighting.
"During the break we take turns as teachers to watch the learners as they play because there are no guards."
"If one is sick, I must stop teaching and focus on that one, because there are no nurses. And the sad part is that the department does not seem to understand our frustration," she said.
Parent Hlengiwe Xaba said when they decided to boycott school they thought the department would take action.
"As parents we are in a very difficult situation because we can't send our children to school where there are no teachers. We are frustrated and our children are also frustrated because they want to go back to school," she said.
Commenting on the issue of lack of teachers in Special Schools, Equal Education Law Centre Deputy Director Robyn Beere said understaffing, inadequate infrastructure and the issue of the payment of fees by parents in special schools have long been raised both by parents and civil society organisations.
But very little has been done to improve conditions, she said.
Beere said parents often have no choice but to send their children to special schools as their local ordinary school refuses to admit them.
"They often have to send their children far from home from a young age. Many of these schools do not have any therapists or specialists to provide the support the children require, nor are there enough teachers, assistants, and carers in the school and hostel," she said
Addressing the crowd, the Director-General in the office of the Premier, Dr Nonhlahla Mkhize, told learners and parents that Dube-Ncube is out of town.
After a four-hour meeting, Mkhize promised to convene another meeting with school leaders and the department of education on Friday 20 April.
Meanwhile, parents said, the boycott will continue.
© 2023 GroundUp. This article is licensed under a Creative Commons Attribution-NoDerivatives 4.0 International License.
You may republish this article, so long as you credit the authors and GroundUp, and do not change the text. Please include a link back to the original article.
We put an invisible pixel in the article so that we can count traffic to republishers. All analytics tools are solely on our servers. We do not give our logs to any third party. Logs are deleted after two weeks. We do not use any IP address identifying information except to count regional traffic. We are solely interested in counting hits, not tracking users. If you republish, please do not delete the invisible pixel.