Beach front car wash business told to move
Buffalo City municipality tells washers to go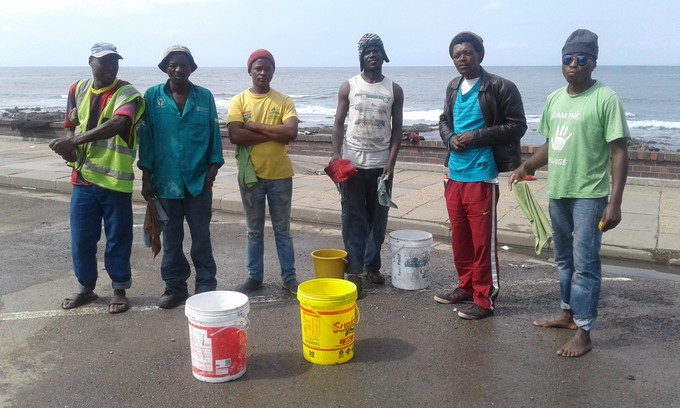 "We are not going anywhere. This is our daily bread," say car washers on East London's beach front who are under threat of removal by the Buffalo City Municipality.
The car wash opposite the beach is always busy with cars.
Mbulelo Stwayu, who lives in Duncan Village, says he has been in the car wash business for over 20 years. "But it has not been easy working here. We live in fear of being arrested, as the police do from time to time. Like everyone else, we are trying to take care of our families the right way," he says.
The car wash was started by Stwayu's uncle and has grown to offer employment to several young men and women.
Buffalo City Municipality spokesperson Sibusiso Cindi said the municipality did not want a car wash opposite East London's main tourist attraction. He said the car washers had repeatedly been told to move.
"We understand that it is their way of making money. But they can't just do as they please," he said.
Nicolette Bok dropped out from engineering at Buffalo City Campus for financial reasons. She says she had no other means of making money so she came to the car wash business.
"If the municipality people succeed and close this car wash I wouldn't know what to do. I don't want to beg on the street or sell my body in order to get money," she says.
Prices for a wash range from R40 to R80. The car washers do not only wash cars but guard them while the owners go to the beach.
Mzwanele Sojini, who goes to get his car washed every Friday says he always feels free to leave his car because he trusts the car washers.
"They do an excellent job. I have nowhere else that I trust to wash my car. If the municipality are chasing them, they should at least give them something better," he says.
The municipality has told the car washers to move to the Orient Theatre, a centre where events are held in East London. But the car washers say there are no customers there.
Mpumelelo Qonga says he was once beaten by a police officer who was trying to chase the washers out of the area. He says he was hit on the face with a bucket and his jaw was broken.
"Working here is not safe. But we come here every morning seven days a week because we need the money and it's our job," he says.
Thembelani Mos, father of two children, says he has no school qualification and the car wash business is his passion. He says he would love to open his own car wash one day.
Dodgy people are suing us. Please support us by contributing to our legal costs and helping us to publish news that matters.
© 2016 GroundUp.

This article is licensed under a Creative Commons Attribution-NoDerivatives 4.0 International License.
You may republish this article, so long as you credit the authors and GroundUp, and do not change the text. Please include a link back to the original article.