Ashton residents outraged after farm murder
Rosina Cloete claims that her husband, 50 year old Colin Cloete, was killed by an Ashton farmer while picking tomatoes and is determined to make sure justice is done.
Last Friday, a month after Colin Cloete's badly beaten body was found on a local farm on 27 March, Ashton residents marched through the streets of the small town, calling for the arrest of the killer.
Several residents who joined the march to the police station on Friday also lodged other complaints against the farmer and the police in the area.
Residents said Cloete and his friend, Cedras Prins, had joined several other locals who often went to pick the tomatoes once the harvest was done, with the permission of the farmer.
Rosina Cloete said she knew something had happened to her husband when he didn't come home that evening.
"He told me he was going to fetch tomatoes in the late afternoon. He doesn't stay away from the house very long, so when he didn't come home after a few hours I got worried. It was getting dark and we went looking for him.
"I went to the guy that was with him and he told me that he didn't see him since they were being chased by the farmer," she said.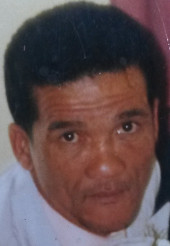 Colin Cloete.
Cloete said the family were looking for her husband into the early hours of the next morning.
"We went back to the farm to speak to the farm supervisor. He then took us through the trees and bushes to the place where he heard Colin was caught by the farmer's son. We called for him, but we didn't find anything. We went to the police station and they went with me to the farm.
"They spotted his bag in the field. The other policeman walked around the vineyard and found his body. He was lying face down on the ground and I knew he was dead," she said.
Prins managed to escape, but was shot in the leg.
A case of murder and assault has been opened and was handed over to the Department of Justice on Wednesday.
Colin Cloete was unemployed. Prins was a seasonal worker on the farm where the incident occurred.
Rosina Cloete joined 30 other residents who sang and marched along the main road in Ashton holding posters which read: "We are tired of poor people meaning nothing to this Justice System" and "We demand fair justice."
Cloete said her children and grandchildren were traumatised by the murder.
"Everyone goes to pick tomatoes from that farm once the land has been handed over. We are not coping at all. We don't understand why this happened to him."
She said she wanted the farmer to explain what had happened.
Another farm worker, Desmond Vollenhoven, said: "I picked up a log on the farm one day and when the farmer saw me, he chased me. He walked me to the pump house, he hit me so hard my cap fell on the floor. All of us standing there got a hiding."
Asked why he had not reported the incident to the police immediately, Vollenhoven said: "What are the police going to do? They do nothing for us."
Ashton station commander Captain Sylvan Smith confirmed that a case had been opened, but would not comment further. He said a murder and assault case had been handed over to the prosecuting authorities. "We are currently waiting to get further instructions," he said.
Smith also encouraged the protesters to lodge the complaints and to report cases of abuse and violence.
"It is important that the community members know their rights," said the Rural Legal Centre's Shirley Davids. " The march is not only to show our support to the Cloete family, but also to show that everyone is important.
"We want justice for people living in poor communities like this one. We also want to ensure that the police in this area treat people equally. There have been so many delays in this case and the community wants to know why no arrests have been made. Many other people have also come forward with complaints about abuse by this same farmer," she said.
Davids said the group planned to protest again if the farmer was not taken into custody by next month.
Dodgy people are suing us. Please support us by contributing to our legal costs and helping us to publish news that matters.
© 2016 GroundUp.
This article is licensed under a
Creative Commons Attribution-NoDerivatives 4.0 International License
.