A new Cape Town shelter will accommodate 100 people
While some homeless people living opposite the old Robbie Nurock Clinic are excited, others have concerns.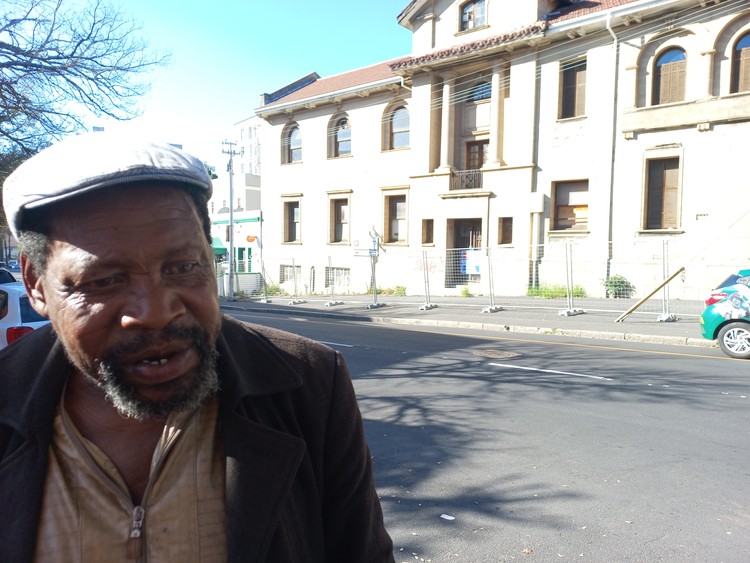 A new homeless shelter in Cape Town is being created with refurbishments worth R4.5-million.

It will accommodate 100 people.

There is some wariness from homeless people living nearby, who voiced mixed feelings about the development.
The old Robbie Nurock Clinic in Cape Town's City Bowl is about to be transformed into a homeless shelter, at a cost of R4.5-million.
About 30 homeless people live on the streets opposite the old clinic. But some are wary, saying they will not use this shelter if it does not accommodate their needs and concerns. They claim that the Western Cape Department of Social Development did not consult them.
According to an April press release issued by the Western Cape Government, the facility will be able to accommodate up to 100 people once renovations are complete.
The shelter will be managed by non-profit, The Hope Exchange, which operates a facility on nearby Roeland Street offering food, ablution facilities, counselling, lockers, and other services to homeless people.
GroundUp spoke with pensioner Ensil Jim Daniel who lives in a tent near the old clinic, and who has been homeless for more than ten years. He said that the government must address the issues that keep homeless people from using shelters.
Daniel said he would like a private room where he will stay alone, can cook, and have keys. He would not like to be made to leave at 8am and return at 4pm, which is the rule in other homeless shelters.
"If I am made to pay for accommodation at the new homeless shelter I will not enter those doors," said Daniel. He said he used to use his old age pension to pay for accommodation at a previous shelter but did not get privacy.
GroundUp spoke to an employee of a shelter organisation, Haven, who said that they charge a flat fee of R1,150 per month, but do not chase out those who cannot afford to pay or who are unemployed. For this fee, people staying in these shelters get food, ablutions, bedding, as well as services such as family reconciliation, drug counselling, and work-related training.
Another homeless pensioner, Martin de Bruyn, was excited to hear about the new shelter. He said that he has epilepsy and would be pleased to have a shelter that would prioritise him because of his condition. He collects his medication every month at the District Six Community Health Centre in Caledon Street.
However, he also would also like to be consulted by those responsible for the shelter, so he can tell them how to facilitate his needs.
Phakama Ngoma also lives on the street opposite the old clinic with her boyfriend. Ngoma occasionally works on the Expanded Public Works Programme (EPWP), cleaning the streets and collecting rubbish, earning about R2,800 a month. But she is not currently working, waiting to be called again to the programme by the City of Cape Town.
Ngoma prefers staying on the streets to shelters, because in shelters there is no privacy, and because she doesn't want to be separated from her boyfriend.
"I slept in a room with seven other people and still paid R800 a month. There was no privacy and fights used to start from nowhere. I got tired and decided to move to the streets," said Ngoma. She has three kids and says she would like a place where her kids can visit her on weekends and sleep over.
GroundUp approached The Hope Exchange to inquire about how they intend to manage the shelter, but did not hear back from them by time of publication.
State of Homelessness in Cape Town
In 2018, the City of Cape Town conducted a city-wide study of people living on the street. According to this study, there were over 6,000 homeless people, with approximately 4,000 people living on the streets and 2,000 in shelters.
A report conducted by the U-turn, Khulisa and MES on The Cost of Homelessness in Cape Town, estimates that the number of homeless people in the city is significantly higher, at 14,000 people. According to the report, the cost of homelessness to the city as a whole, including government spending, indirect costs like policing, and contributions from citizens, is about R744-million a year.
Patricia Van der Ross, the Mayco Member for Community Service and Health, said there is currently capacity for 2,446 people in Cape Town's shelters.
According to Joshua Chigome, spokesperson for Western Cape Minister of Social Development Sharna Fernandez, the City of Cape Town did consult with homeless people and the organisations working with homeless people, prior to the shelter's refurbishment. He says they received detailed inputs from homeless people about how the shelters should be operated during the Inkathalo Conversations.
Chigome said he could not comment on the fees that the shelter may levy, as the province is responsible for funding a subsidy towards a certain amount of bed spaces, not its management. The department funds 37 shelters to the tune of R29-million, and 37 social workers to work with homeless people.
Dodgy people are suing us. Please support us by contributing to our legal costs and helping us to publish news that matters.
© 2022 GroundUp. This article is licensed under a Creative Commons Attribution-NoDerivatives 4.0 International License.
You may republish this article, so long as you credit the authors and GroundUp, and do not change the text. Please include a link back to the original article.
We put an invisible pixel in the article so that we can count traffic to republishers. All analytics tools are solely on our servers. We do not give our logs to any third party. Logs are deleted after two weeks. We do not use any IP address identifying information except to count regional traffic. We are solely interested in counting hits, not tracking users. If you republish, please do not delete the invisible pixel.