Anxiety grows among Zimbabweans while Home Affairs says do not panic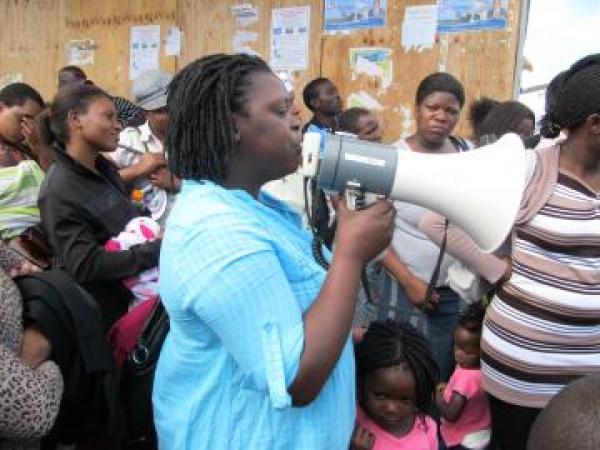 Some Zimbabweans in Cape Town are asking how one can be patient and not panic when they have lost their jobs, find their bank accounts frozen, their children unable to go to university, and their work permits expiring.
Home Affairs Director General Mkuseli Apleni at the commemoration of World Refugee Day on Friday 20 June 2014 said, "We advise Zimbabwean nationals who were given permits in 2009 in terms of the Dispensation for Zimbabweans to wait patiently and with no panic, for our Department to make an announcement on how this process will be handled." He said, "All these efforts we are making in service of humanity and in defence of human rights, and in recognition of the role and sacrifices made by the Continent and the international community that today we can be recognised as a free society." Apleni said that in 2009 a special dispensation was granted to over 200 000 Zimbabwean nationals who were in the country illegally given the political situation in their country at the time.
GroundUp last week witnessed a vulnerable Zimbabwean man, Pilate Mhande, being harassed at the Cape Town Home Affairs (HA) in Barrack Street where he had gone to follow up on his permit at the counter which deals with permit issues.
Either the clerk was overwhelmed or did not have information. Mhande feels HA officials should be encouraged to serve their clients professionally. He wishes the department would develop a temporary system to address the situation while they wait for a final process on the Zimbabwe Dispensation Programme (ZDP).
In 2009, when Mhande applied for a work permit in Cape Town his passport was about to expire. As a result, he was given a permit valid for two instead of four years. He says the department's process is inconsistent because some people whose permits were expiring before 2015 were given four years. After the passports expired, they applied for new ones and went to HA for transferring only. Mhande said, "I am a truck driver and I am no longer working in Cape Town. When the permit expired I went to HA office in Johannesburg and was told I can only renew my permit in Cape Town. "I renewed in Cape Town and I was told I will get an SMS to confirm that they are processing my permit. I never got the SMS, and according to Home Affairs in Johannesburg I can only follow up in Cape Town. "Last week, I had to come from Johannesburg to follow up on my permit. The woman on counter 24 was not willing to help. She dismissed me before I even finished telling her my problem. This also happened when I renewed. The HA official practically told me she does not know how I should fill in the form when I asked her."
Antony Muteti of People Against Suffering, Oppression and Poverty (PASSOP) said the statement from Home Affairs that Zimbabweans should not panic has caused a lot of anxiety. Besides people losing their jobs and bank accounts being frozen when permits expired, students are also facing challenges.
He said he was approached by a Zimbabwean family whose child is about to lose a bursary at University of Cape Town. The parents applied for a permit but it never came. Now they need a permit number to finalise the application process.
"There are a lot of student permit issues we are dealing with. There is also another student who sent his application to Stellenbosch University and is unlikely to get a place because the application form will need a student permit number".
Muteti is assuming HA will address these challenges because of the student permit complications. Some children are now undocumented because their parents applied for student permits for them when they were minors, but they were never received. They are left undocumented.
Director of PASSOP Braam Hanekom said he welcomed the department's decision to renew the ZDP permits, but is concerned with how some Zimbabwean lives have become paralysed. PASSOP hopes HA will give clarity soon and respond to the needs of the Zimbabweans who benefited from the ZDP. The Zimbabwean community has been patient and long suffering.
Hanekom said he would not encourage people who did not receive their permits to re-apply, but rather to follow up on the ones applied for in 2009, since most of the people will not qualify for the scarce skills permit under new immigration laws.
Zimbabweans are encouraged to follow up on their permit issues through HA toll free number: 0800601190.
HA has not yet responded to emails and telephone calls from GroundUp.
© 2016 GroundUp.
This article is licensed under a
Creative Commons Attribution-NoDerivatives 4.0 International License
.