Angy Peter trial: prosecution and defence spar over restorative justice process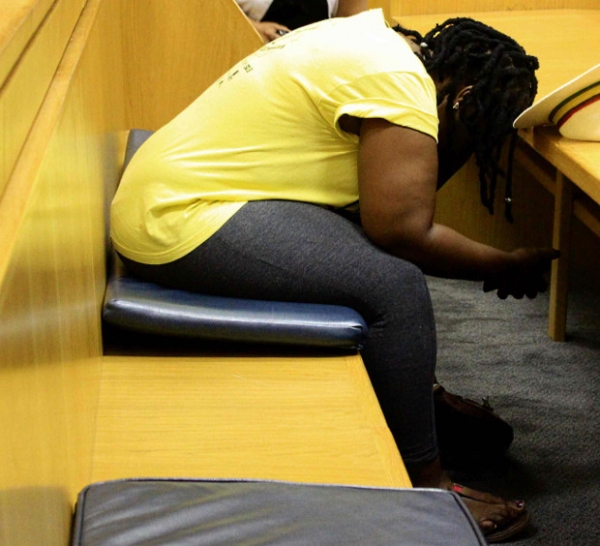 The relatives of Rowan du Preez, who was kidnapped and necklaced more than two years ago, are "ready and willing" to participate in mediated talks with the four convicted of his murder, the Cape High Court heard this morning.
However, Judge Robert Henney, requested the National Institute of Crime Prevention and Reintegration of Offenders (Nicro), who have agreed to facilitate the process, to present a formal report next Monday before he makes a final ruling on the matter.
"I need an expert to help me look at the merits of this case and to determine whether restorative justice is an appropriate sentence. Then we can talk about securing a first meeting between the two," he said.
Activist Angy Peter, her husband Isaac Mbadu, and co accused Azola Dayimani and Christopher Dina were convicted for the kidnapping and murder of Du Preez in September last year.
Du Preez was found necklaced on a field in Mfuleni in 2012.
During their trial, it was argued by the defence that the four were framed by the Mfuleni police.
They have been out of jail since November on R2,000 bail.
In an unusual twist in the sentencing proceedings last year, Judge Henney, ruled that it would not be in the interest of Peter and Mbadu's five young children if they were sent to prison.
He said that restorative justice would be more appropriate than a prison sentence. During sentencing last year, Judge Henney, highlighted the difficulty for children if both parents were imprisoned, and the impossibility of determining which one goes to prison.
Joel Bregman of the Social Justice Coalition(SJC), the same organisation where Peter had been working, was tasked with compiling a document on the "application of Restorative Justice" for this matter.
Among other things, the process will include meetings between the accused and Du Preez's family to address underlying issues which may have lead to the incident.
This morning, Judge Henney told the court that in the report compiled by Bregman, he vowed that the SJC would assist as much as they could.
It also said that Nicro would be facilitating by providing a secure, neutral venue for both parties, mediation, counselling and anything else required.
It was also the first time Du Preez's grandfather, Johan Ndevu and his aunt Desiree Jack attended the hearing since they were called to testify nearly a year ago. Both declined to talk to the media.
During proceedings, state prosecutor Phistus Pelesa said the family were upset that nothing had been done as they were ready to start the process with the accused.
"I think the state and the defence council understood the instructions on the restorative process differently. The family of the deceased are ready to enter into this process. They (the family) have also requested recourse to cover the funeral costs. I have not yet heard back on that," he said.
Pelesa added: "It is the family's view that they are the ones now begging for the restorative justice process to begin. The grandfather(John Ndevu) told me, all they want is for the accused to come to them and apologise for what happened and show some remorse, but this hasn't happened yet."
Defence attorney William King said Peter and Mbadu were willing to cooperate with the process, but that it was still necessary for Judge Henney to decide if the recommendations were appropriate.
"The prosecutor missed the boat here. He thought the process was meant to start already, which is not the case," he said.
King also requested for Peter and Mbadu's bail condition which instructs them to report to Mfuleni police station every day, to be altered or scrapped.
"They are given a very hard time there and are being made to wait very long among other things," he said.
After considering the request, Judge Henney refused, saying it would be unfair to Dina and Dayimani who have not made the same complaints.
The case will resume on Monday, when Nicro will present its report.
Dodgy people are suing us. Please support us by contributing to our legal costs and helping us to publish news that matters.
© 2016 GroundUp.
This article is licensed under a
Creative Commons Attribution-NoDerivatives 4.0 International License
.