Angry workers shut down mortuary
Families turned away when they come to fetch bodies of loved ones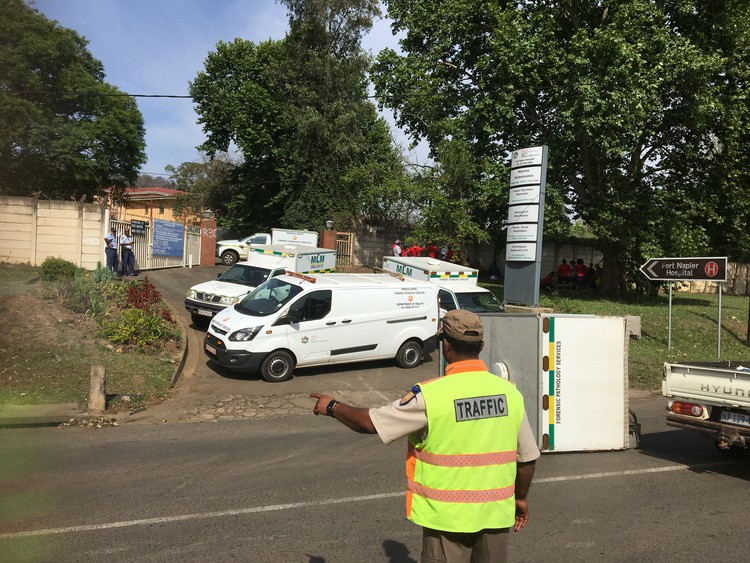 Workers shut down the Fort Napier Medico Legal Mortuary in Pietermaritzburg on Monday and Tuesday, turning away families who had come to fetch the bodies of loved ones.
Workers have been on a go slow for two weeks, demanding a wage increase and better working conditions.
On Monday workers barricaded the road, blocking the mortuary gates with mortuary vans. Families who had come to collect the bodies of their loved ones were turned away.
"We are not allowing anyone to come in," said one worker who did not want to be named. "None of the bodies are getting out or inside", he said.
He said the workers had waited for MEC for Health Sibongiseni Dhlomo to respond to their demands on Friday but he had not done so.
"They say the matter is being dealt with on a national level. We have decided to shut down the mortuary. The department has to respond," he said.
Workers' demands include the repair of air conditioners, better equipment, and back pay.
"The conditions inside are shocking," said another worker. "I carry the work stress to my home. I'm always shouting at my children. Some of the corpses are in a bad condition. The mortuary is covered in an unbearable smell. Imagine facing that on a daily basis," said the worker.
A family from Elandskop in Mafunze had come to collect the body of a loved one who died on Saturday. Sizeni Dlamini said she was told that she could not fetch her nephew's body.
"I arrived at the mortuary at 7am. The workers told us no one is allowed to come in. They said bodies that are already inside won't be released. It's clear that we won't be able to bury my nephew on Thursday," said Dlamini.
Zithulele Mbambo from Kwamangwenyane had come for the body of his daughter Buhle.
"When I came here I was told that I can't get her body. I have no words to describe how sad I am."
"I was planning on burying her on Saturday," said Mbambo.
Funeral parlour hearses were also turned away.
Another worker told GroundUp that no autopsies would be performed.
"The department should pay back our money. We want better working conditions. We are continuing until they respond to our demands," said the worker.
Department spokesperson Ncumisa Mafunda said the department was engaging with organised labour.
"A commitment was made to speedily resolve certain operational challenges such as supply of equipment and repair of air conditioners. Both parties will be meeting again in due course. The department wishes to appeal to staff to be patient and respect this process," said Mafunda.
Provincial secretary for the National Education, Health and Allied Workers' Union Phakama Ndunakazi said the union fully supported the workers.
"Workers are working under appalling conditions. The fridges and air conditioners are not working. There's an unbearable smell in the mortuary. Fort Napier Medico Legal Mortuary has only one doctor. These workers end up doing all the work and yet they are not paid enough," he said.
"The union is sympathising with the families who have been affected but we cannot compromise the rights of the workers," said Ndunakazi.