Activists demand justice for Marikana massacre victims
Right2Know march in Cape Town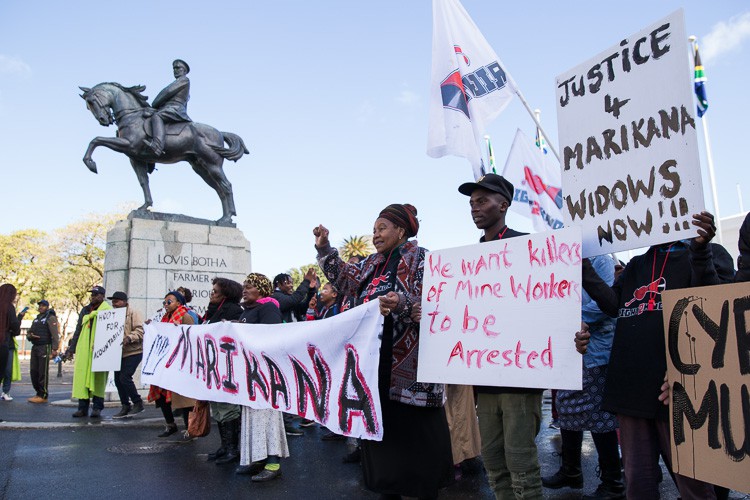 About 100 people protested outside Parliament today demanding justice for the victims of the Marikana Massacre.
The protest was organised by Right2Know Western Cape. It coincided with other activities in Gauteng and KwaZulu-Natal to commemorate the Marikana Massacre on 16 August 2012, when 34 mine workers were killed by police during a strike to demand a wage of R12,500 a month.
The protesters chanted slogans and sang songs denouncing the government for not taking action against the police and politicians and not compensating the families of the dead miners. They also held placards reading "SAPS kills", "Murder for profit" and "Remember Marikana".
Members of several organisations including Southern African Faith Communities Environmental Institute, Reclaim the City, Ndifuna Ukwazi, Social Justice Coalition, Public Transport Voice and #UniteBehind protested alongside Right2Know.
Right2Know said that Deputy President Cyril Ramaphosa, who was a non-executive director of Lonmin at the time of the massacre, had conspired with the government to treat mine workers as criminals to defend the interests of the mining company.
Right2Know speaker Siviwe Mdoda said: "Instead of mediating and supporting the workers, the government decided to shoot them. When I say I want justice I do not mean just prosecuting the politicians but justice for the families of the striking workers who were the breadwinners. These families have sunk into deeper poverty. No one is helping them. The families should be compensated. Charges against the leaders of the striking workers should be dropped."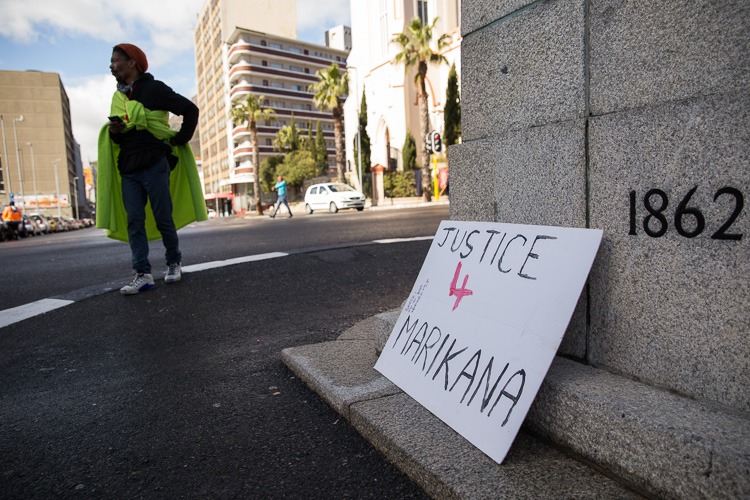 Gugulethu community leader Ma Nowi Mdayi said she was at the march to demand justice for the widows and children of Marikana who had been promised houses and better education. She said the widows were still staying in shacks and some of the children had dropped out of school. "Our government should stop playing with people's lives and giving them false hope. They forget that these people voted for them."
Sanele Madolo from Monwabisi Park in Khayelitsha said, "I want to see justice done to the victims of Marikana. They killed those strikers like dogs and no proper investigation was done."
In a memorandum handed to Ashika Singh of the Department of Justice and Constitutional Development and to Sergeant Zoleka of the South African Police Service, Right2Know said that all miners must be given a living wage of R12,500 and the families of the dead mine workers must be given compensation by the government. Promises made by Lonmin to mine workers and the surrounding communities must be fulfilled, including building quality houses for mine workers.
If Lonmin failed to assist widows of the murdered mine workers the company should be nationalised, Right2Know said.
© 2017 GroundUp.

This article is licensed under a Creative Commons Attribution-NoDerivatives 4.0 International License.
You may republish this article, so long as you credit the authors and GroundUp, and do not change the text. Please include a link back to the original article.