Abattoir workers win unfair dismissal case on appeal
Judge Davis criticises formalistic approach by Labour court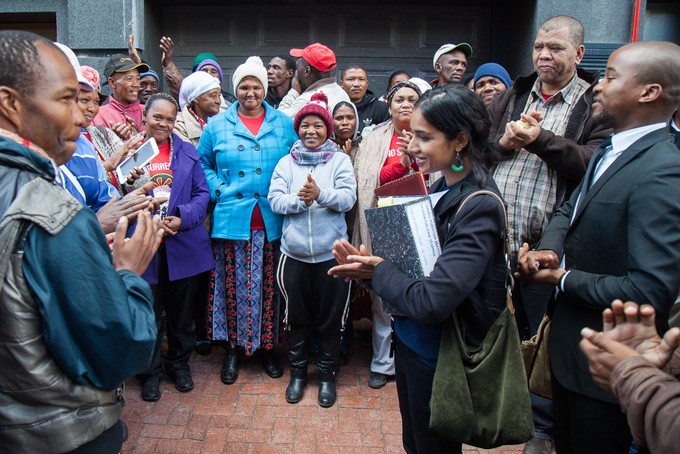 Robertson Abattoir workers have successfully appealed a Labour Court judgment in their case of unfair dismissal. The Labour Court's ruling against the workers last year was set aside today by the Labour Appeal Court and the workers' case will now be sent back to that court.
In 2010 the Commercial, Stevedoring and Allied Workers' Union (CSAAWU) took up the case of 39 workers after they were dismissed for refusing to slaughter 850 animals a day when their contracts stipulated 600. Allegations of 18 hour work days and low wages were also made. Some of these claims were disputed by the abattoir.
The workers claimed that they were dismissed in a lockout on 30 November 2010 but their employer countered this by saying that they were dismissed during December 2010, following disciplinary hearings and not because they refused to slaughter 850 animals per day.
The Socio Economic Rights Institute of South Africa (SERI) represented CSAAWU and the workers in court.
In today's judgment, Judge Dennis Davis stated that he fully endorsed the warning by counsel for CSAAWU that "a formalistic and technical approach adopted by a court, which prefers formality over an enquiry into substantive justice and therefore constructs an obstacle course for impecunious employees should be avoided".
Davis stated that it might emerge that the workers were dismissed on a different date to the one that they claim but that this "should not detract a court from a proper enquiry" into whether the court "reasonably could or might have found a significant credible possibility that an automatically unfair dismissal had taken place".
Davis stated that once all evidence is heard, the Labour Court may indeed find that the employees were dismissed for the reason that their employers allege but that this was not for the Labour Appeal Court to decide.
In a statement, SERI attorney Bhavna Ramji said that the farming sector in the Western Cape is "one of the most untransformed labour systems" and that "industrial action is suppressed through dismissals".
"We are very happy with a judgment which recognises the industrial rights of rural workers, and which calls for the farmers to answer to them," said Ramji.
SERI hopes that the trial will be heard before the end of the year.
© 2016 GroundUp.

This article is licensed under a Creative Commons Attribution-NoDerivatives 4.0 International License.
You may republish this article, so long as you credit the authors and GroundUp, and do not change the text. Please include a link back to the original article.