Patients spend their weekends waiting to be seen at Mamelodi clinic
Department plans to get more waiting space for busy Stanza Bopape clinic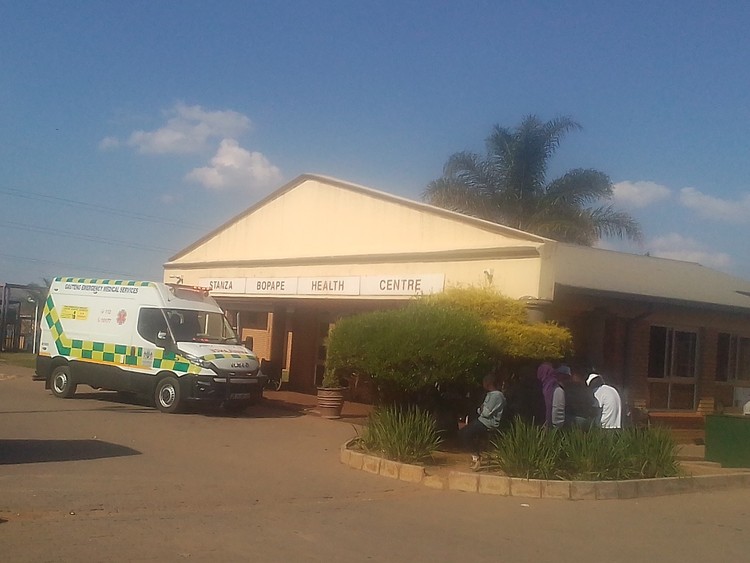 Patients in need of chronic, acute and maternal care say they wait for hours in the cold to be seen by Stanza Bopape clinic in Mamelodi on weekends.
The clinic is the only public health facility in the area.
The Gauteng health department plans to add waiting space but offered no plan to shorten waiting times.
Patients in need of chronic, acute and maternal care say they wait for hours at the Stanza Bopape Clinic in Mamelodi, Pretoria, on weekends.
The clinic is the only public health facility in the community.
Several patients, who regularly get treatment at Stanza Bopape, say that the problem is that only the emergency unit operates on weekends. Patients needing non-urgent treatment have to wait.
We visited the clinic on a Saturday and a Sunday at about 2pm. More than 30 people were sitting on the benches at the entrance to the emergency unit. Elizabeth Nzimande said she arrived at 9am and was still waiting to be seen.
She said she was in pain and went straight to the emergency unit, "but the nurses told me to stand in this queue because my pains are not an emergency".
"Sitting in this cold weather for more than four hours made my pains worse. I'm desperate to know what I'm suffering from and to get treatment," she said.
Lesley Malatjie said he waited for three hours in "excruciating pain".
"Spending so much time in the cold while I'm sick is not good. The slow movement of this queue shows that this clinic is under-staffed," he said.
Gauteng Department of Health spokesperson Motalatale Modiba said, "The emergency unit is mainly for emergency cases such as stab and gunshot wounds that need to be managed at the facility."
"It is true that emergency patients are prioritised but it is not true that other patients are ignored on Saturdays and Sundays. Patients are being triaged and those who require urgent medical attention are seen first."
From 3 April the clinic extended its operating hours on weekdays and Saturdays in response to the increased demand and to reduce pressure on the emergency unit, said Modiba.
Modiba said that the clinic has two doctors and four nurses, who treat all the patients on Saturdays and Sundays. He said that the waiting area of the clinic often does not accommodate all the patients. He said the department is looking at getting an additional waiting area.
Modiba said that the clinic has two doctors and four professional nurses who treat all patients on Saturdays and Sundays. He said the clinic is the only 24-hour community health centre in the area and sees more than a thousand patients on weekends per month.
Letters
Dear Editor
Being at Stanza Bopape clinic is not pleasant at all. I took my son who got injured at a rugby game. We got there at 14:00 and at 21:00 we have still not been helped as I am writing this letter. The staff got there at 18:00 and we could hear them laughing loudly and making noise as they chat. What is happening there is not on at all!
There was a teenager who was stabbed with a bottle, he was bleeding profusely but even he did not get any help. They just gave him a waterproof cloth that they put on beds. But still, we can see a lot of blood oozing. Something needs to be done really. And the part of waiting outside in this cold weather doesn't help at all.
© 2023 GroundUp. This article is licensed under a Creative Commons Attribution-NoDerivatives 4.0 International License.
You may republish this article, so long as you credit the authors and GroundUp, and do not change the text. Please include a link back to the original article.
We put an invisible pixel in the article so that we can count traffic to republishers. All analytics tools are solely on our servers. We do not give our logs to any third party. Logs are deleted after two weeks. We do not use any IP address identifying information except to count regional traffic. We are solely interested in counting hits, not tracking users. If you republish, please do not delete the invisible pixel.