Fire fighting should never be privatised
Lessons to be learned from the strike in Canada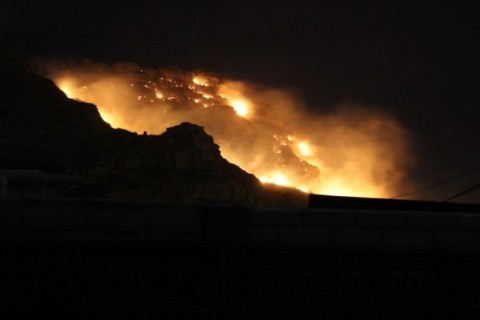 The South African government has undermined the wages and conditions of local government workers and severely compromised the local trade union movement. This is the conclusion of several local trade unionists following the furore involving the 301 South African firefighters who went on strike in Canada. 
The firefighters, sent to the Alberta province to help counter a massive wildfire blaze, stopped work when they realised they were being paid nearly 70% less than their Canadian counterparts. They promptly laid down their hoses and implements.
In this they were supported both by local firefighters and by the province's social democratic prime minister, Rachel Notley. As the premier pointed out, no workers, no matter where they come from, should earn less that the minimum wage while working in the province. It was a case of a region where a minimum wage is not only established, but enforced.
In Alberta, that minimum is $11.20 an hour. The South African firefighters, risking their lives doing the same job in the same territory, were being paid a little more than $4 an hour. What percentage of the Canadian payments were going to the company that employs them, Fighting on Fire (FoF) is still not clear. 
FoF is a subsidiary of the Kishugu Group, orginally formed in Mbombela (Nelspruit) in 1986 as the FFA Group by Johan Heine and Chris De Bruno Austin, now joint managing directors of Kishugu. This umbrella organisation, with BB-BEE credentials, won a tender in terms of the government's Extended Public Works Programme (EPWP) to recruit, train and establish firefighting units to combat forest and veld fires.
"We now realise that this was back door privatisation," agrees Papikie Mohale, spokesperson for the Cosatu-aligned SA Municipal Workers' Union (Samwu). And Samwu general secretary Simon Mathe admits: "We should take the blame for letting it go so far." 
Although there were some reservations expressed when the EPWP was launched, it was generally supported by the labour movement. But it steadily undermined local government jobs, resulting in there now being some 40,000 permanent vacancies in municipalities.
"We have established a sectoral minimum wage for municipal workers of R6,400 a month," says Mohale. However, the "orange overall wearing" EPWP individuals recruited to carry out street cleaning and other jobs formally done by permanently employed municipal workers are paid between R50 and R70 a day.
Similar conditions apply on the fire fighting front where FoF fighters, after two years of training, report that they earn about R125 a day. This is a far cry from the R12,000-plus a month earned by other, publicly employed, firefighters.
While unions and commentators failed to keep an eye on details of the EPWP, WoF extended its scope, offering "integrated fire management services" to companies and governments in Europe, South America and Australia. At the same time it set up in South Africa what appears to have been a putative international rapid response veld and forest fire fighting unit.
It was this unit that was despatched to Canada this month and which went on strike. Its members did so when they realised that the bulk of the income generated by them risking their lives was probably accruing to the company that employed them.
International firefighters, whether in Canada, the United States, Australia, New Zealand or Europe are also aware that there is constant pressure on governments at various levels to cut costs. At the same time, private companies, often feeling the pinch because of the ongoing global economic crisis, are keen to move into fire fighting and the related emergency medical service (EMS) to provide new revenue streams. 
Yet fire fighting and EMS — critical to the wellbeing of everyone — should never be in the hands of private companies. That is a matter of principle for fire fighting organisations around the world and one they have fought for more than a century to uphold.
At issue is the fact that private companies have as their priority — however much they may try to disguise this — the making of profit. The sole priority for fire fighters and EMS is the preservation and safety of life and property. Profit, with its cost cutting requirements should never come into it.
That, in essence, is what the Canadian fracas is all about. We would do well to pay heed to it.
© 2016 GroundUp.

This article is licensed under a Creative Commons Attribution-NoDerivatives 4.0 International License.
You may republish this article, so long as you credit the authors and GroundUp, and do not change the text. Please include a link back to the original article.