News that mattered: 2017 in photos
Drought, protests, anger over the social grants payment system, and the collapse of Metrorail marked this year.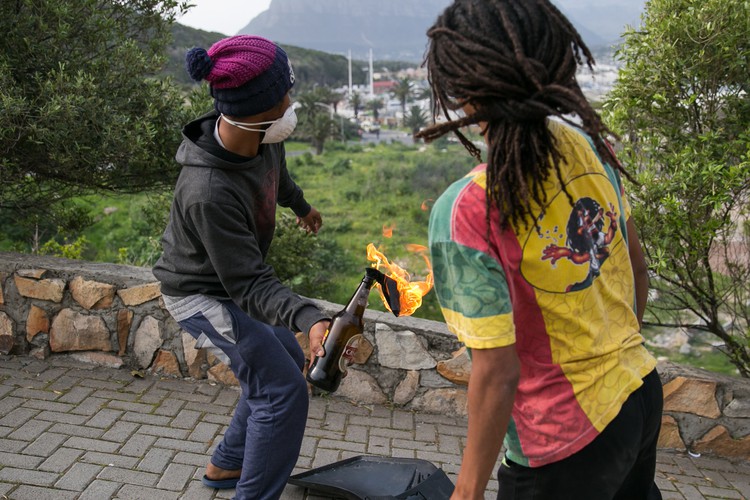 A man walks through Marikana in Philippi East, on 14 February 2017. A high-profile court case eventually resulted in the City of Cape Town being ordered to buy the land on which Marikana is located. This essentially means that the people who have occupied this land will not be removed by the City.
A fire engulfs Mandela Park Imizamo Yethu in Hout Bay on 11 March 2017. Two people died and hundreds, perhaps thousands, of people were left homeless. There is ongoing tension in the township following the fire, over how to carry out reblocking.
A woman with a wreath of flowers walks past the casket of Ahmed Kathrada before the start of the final Muslim prayer at his funeral in Westpark Cemetery in Johannesburg on 29 March 2017.
Pensioner Jakobus Fortuin was one of many people who complained about unexplained deductions from his monthly social grant payments. Shenanigans with the social grant payment system dominated the news this year. Fortuin's story, at least, had a happy ending.
Tens of thousands march to Parliament in Cape Town demanding the resignation of South African President Jacob Zuma on 7 April 2017. The march was triggered by the axing of finance minister Pravin Gordhan.
Residents protest during a land occupation in Khayelitsha, Cape Town, on 22 May 2017. Two land activists were killed in the aftermath of occupations in Khayelitsha.
A train on Cape Town Station burns after being set alight by angry commuters on 12 June. Metrorail services had broken down earlier that day and commuters rebelled. The decline of Metrorail's service has been frequently reported by GroundUp this year.
A hole in a classroom wall at Sunshine Primary School in Sodwana Bay is overcrowded, has too few toilets and lacks learning materials on 8 July 2017.
Informal miners, mostly from the Kimberley area, marched on the Department of Mineral Resources in Pretoria on 16 August 2017. The miners, who mostly work in abandoned mine shafts and dumps, demanded the legalisation of their trade and the scrapping of the Mining Petroleum Resources Development Act (MPRDA).
14 Year old Ona Dubula is shot in the mouth with a rubber bullet by police during a protest over fishing rights in Hout Bay on 13 September 2017. Dubula returned home on 19 September.
A dog sits in a protest over inadequate policing in Ocean View on 21 September 2017.
Residents of a housing project in Port Elizabeth had to deal with sewage flowing into their yards for more than two weeks.
Carmina Vieira inside her home in Woodstock on 25 October 2017. Activists prevented her and her family from being removed but she was evicted a few days later.
Marlene Conradie and her 15 year old son Hannes console each other during the Black Monday march against farm murders on 30 October 2017. Marlene's husband Joubert Conradie was murdered on their farm in Klapmuts a week earlier.
Naked demonstrators block the access road to Lower Campus at the University of Cape Town on 2 November 2017. Tests were disrupted during these protests. This led to UCT management erecting a tent for exams, which was protected by private security.
Residents celebrate in the streets of Harare, Zimbabwe following the resignation of Robert Mugabe on 21 November 2017.
Red Ants remove furniture from homes in Steenvilla on 23 November 2017. Steenvilla is the largest social housing complex in Cape Town. The future of social housing in the city may depend on its success.
A facility for people with mental health problems was closed by the Eastern Cape government in December. We visited it and found appalling conditions. The saga gives some insight into how the Life Esidimeni tragedy unfolded in Gauteng.
© 2017 GroundUp.

This article is licensed under a Creative Commons Attribution-NoDerivatives 4.0 International License.
You may republish this article, so long as you credit the authors and GroundUp, and do not change the text. Please include a link back to the original article.