100 people, two ruined toilets, and "no-one cares"
Diepsloot residents say they've lost hope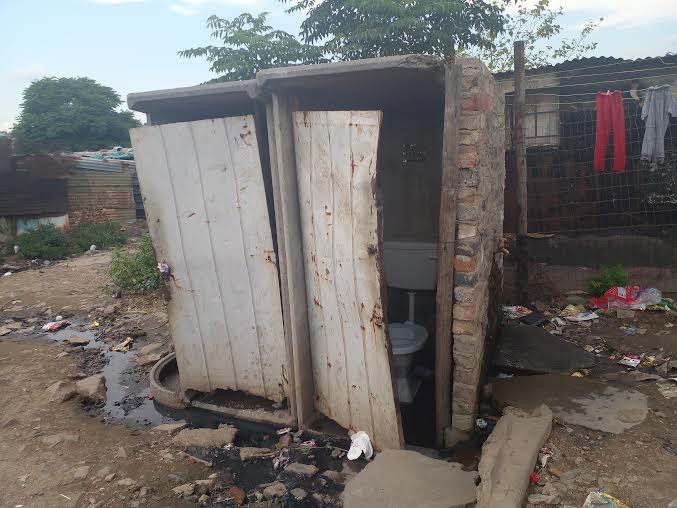 "No-one takes our plight seriously," says Diepsloot resident Muzi Mpanza, one of more than 100 people who share two filthy, broken, communal toilets which residents have to clean themselves.

The toilets, in Ward 95, Diepsloot Extension 1, have a single tap attached to it, the toilet doors don't close properly, the seat covers are broken and the sewer most of the time blocks and overflows. Litter and garbage is spread all over the place.
Mpanza, who is originally from KwaZulu-Natal, has lived in Diepsloot since 2000. He says things just keep getting worse.
"I think these toilets arrived around 2004. They are barely maintained. Life in Diepsloot is so inhumane and the biggest issue is that we are not united in addressing our grievances. No one takes our plight seriously. The squalor here is even evident in a stranger's eye, you can just see it it needs no explaining. We have just given up hope," said Mpanza.
"We are basically trapped in human waste here, because even the drains don't function properly," said resident Judy Rapetswa. She said there are no janitors to clean them and she sometimes unblocks the toilets herself or asks the young men in the area to do so. "They use their bare hands and remove blockages."
"There are over a hundred people that use this toilet … I think no-one really cares about his place."
Rapetswa said last year President Cyril Ramaphosa visited Diepsloot.
"He told residents that Diepsloot is the heart of the ANC. And he said they know as a government that we need houses. But our lives here don't reflect a government that cares about the people," said Rapetswa.
Johannesburg Water spokesperson Eleanor Mavimbela told GroundUp that it is their responsibility to maintain the toilets in Diepsloot. She said they attend to problems when a councillor or a community leader sends a complaint.
Asked to comment on the state of these toilets, she asked Groundup to provide a photo of the toilets and the name of the councillor in question. We sent the photo on Saturday, but she has not yet replied.
She asked us to ask the residents who at Johannesburg Water they spoke to and for reference numbers.
ANC councilor for ward 95 Kate Mphahlele said she had repeatedly tried to report the issue of toilets in the area to Joburg Water and to the housing department without success.
"Our senior officials are the ones failing us. I have also reported these issues on the WhatsApp groups that are designated to help us with sanitation, but nobody is doing anything about it," said Mphahlele.
© 2022 GroundUp. This article is licensed under a Creative Commons Attribution-NoDerivatives 4.0 International License.
You may republish this article, so long as you credit the authors and GroundUp, and do not change the text. Please include a link back to the original article.
We put an invisible pixel in the article so that we can count traffic to republishers. All analytics tools are solely on our servers. We do not give our logs to any third party. Logs are deleted after two weeks. We do not use any IP address identifying information except to count regional traffic. We are solely interested in counting hits, not tracking users. If you republish, please do not delete the invisible pixel.