Philippi police station is only open during daylight
Station only certifies documents and executes protection orders in an area where 67 people were murdered last year
25 July 2022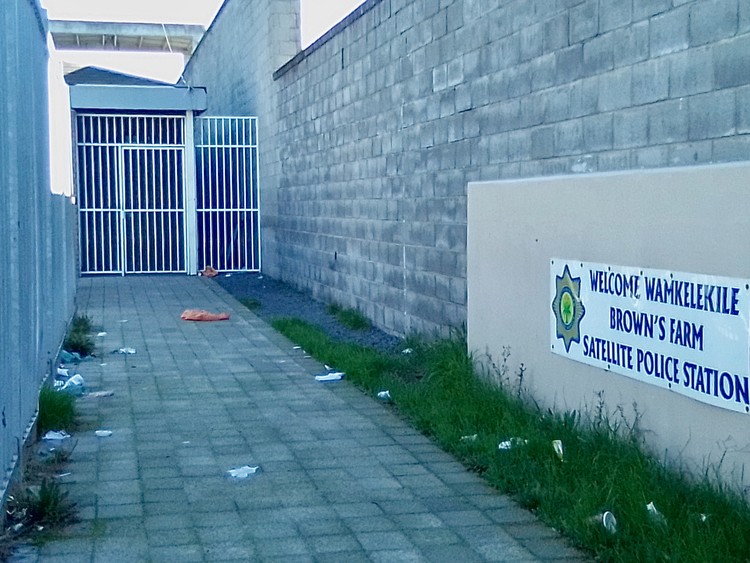 Philippi's satellite police station only operates during daylight, as it has no electricity supply or generator.

Philippi residents – estimated at 250,000 people – must rely on Nyanga police station.

City workers have been attacked and clinics are closed because of rampant crime.
The Philippi satellite police station does not operate between 5pm and 9am because it has no electricity supply and no generator. It only operates during daylight hours, and only offers a skeleton service.
Most police services are now covered by Nyanga police station, about six kilometres away. Philippi residents complain about having to spend R20 on a return taxi trip to see the police after hours or just to file a report.
The police station last had reliable electricity in 2018, according to Ward 34 Councillor Melikhaya Gadeni (ANC).
Western Cape police spokesperson Colonel Andrè Traut said, "The electricity supply at the Philippi satellite station has been an issue for a long time … caused by frequent cable thefts in the area."
Traut said a generator had been used previously, but "as a safety concern" the station had been "decommissioned".
He said the satellite station only provides certification of documents and execution of protection orders.
He said this by no means implied that the area has been deprived of a police service, as there was "sector policing and 24-hour police deployment".
Resident Sandile Nongogo asks, "How come an area this big with so much crime does not have a police station of its own?"
Councillor Gadeni says the population in Philippi is about 250,000 and if one includes informal settlements, possibly 300,000. (The 2011 Census had it at 200,000 and Nyanga at 58,000).
"The only thing done there is certification of documents," said resident Sibulele Makoba about the station. "We cannot report cases or complain of any wrongdoing."
Residents say crime is rife in Philippi. City of Cape Town staff and trucks have been robbed and hijacked, said Gadeni. Even health services are under siege from criminals. The Mzamomhle primary healthcare clinic closed on 3 May and the Inzame Zabantu clinic closed on 15 July because staff were robbed at gunpoint.
Having to absorb most functions of Philippi station overstretches the capacity of Nyanga police station. There were 78 murders in the Philippi precinct in 2020, and 67 in 2021, according to the Institute for Security Studies' CrimeHub, which uses data from SAPS annual reports. According to the same source, there were 203 murders in Nyanga in 2021.
"We feel we are being failed," says resident Siphosethu Mabandla.
The police station is located on land owned by the Passenger Rail Agency of South Africa (PRASA). According to Traut, police are "in an advanced stage to negotiate alternative accommodation", most likely to be "office space in the Brown's Farm Community Centre".