Workers demand harsher penalties for farms violating labour laws
New study finds poor working conditions even on some Fairtrade-certified farms
23 March 2023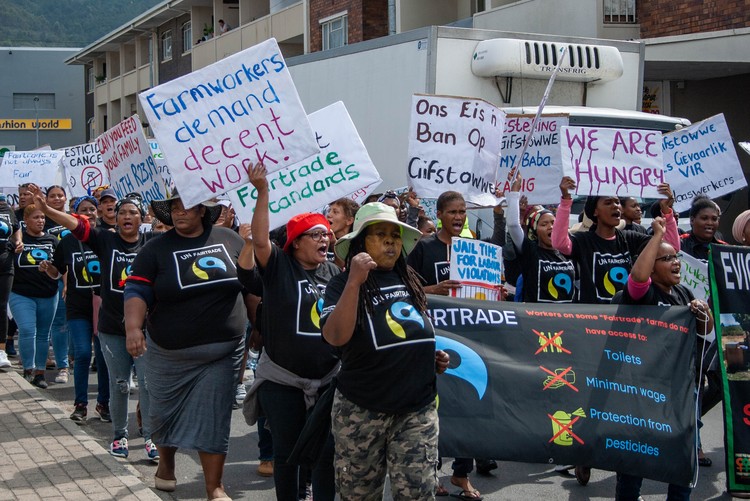 New research has found that some farm workers on Fairtrade-certified wine farms, which are held to international standards, still have poor housing, and a lack of access to water and toilets.
The findings of the study, commissioned by the Women on Farms Project, were launched at an event in Paarl on Wednesday.
At least 54% of women surveyed said they are exposed to pesticides in the vineyards frequently or at home. This is not in line with international best practice.
New research on several Fairtrade-certified wine farms in the Cape Winelands has found that the working and living conditions at some of these farms fall short of the standards set by Fairtrade International.
Fairtrade certified farms are supposed to uphold international standards for fair working conditions, including payment of the minimum wage, the right to collective bargaining, adequate housing, among other things. Farmers who are certified can usually export at a higher price. The premium paid on Fairtrade-certified products is supposed to be kept in a separate account and used to improve the conditions of workers and farmers.
The researchers found poor housing on some farms, workers earning less than the minimum wage, exposure to harmful pesticides, and a lack of toilets and accessible water, among other things. However, the study also highlighted some of the improvements made to the living and working conditions on these farms.
The study, commissioned by the Women on Farms Project (WFP), was compiled by independent researcher Celeste Fortuin who interviewed 50 women on 18 Fairtrade-certified farms.
The study raised several points of concern which include:
25% of surveyed farms have "poor" or "very poor" housing for workers.
31% of workers earn less than the National Minimum Wage of R25.42 per hour.
54% of women surveyed are exposed to pesticides in the vineyards frequently or at home. This is not in line with international best practice.
35% of women workers surveyed do not have access to toilet facilities in the vineyards where they work all day.
However, it also highlighted aspects of the Fairtrade-certified farms which were working. Most of the farm workers interviewed were living in good conditions and everyone surveyed had access to electricity. On all but one of the farms surveyed, permanent and seasonal workers had received written contracts.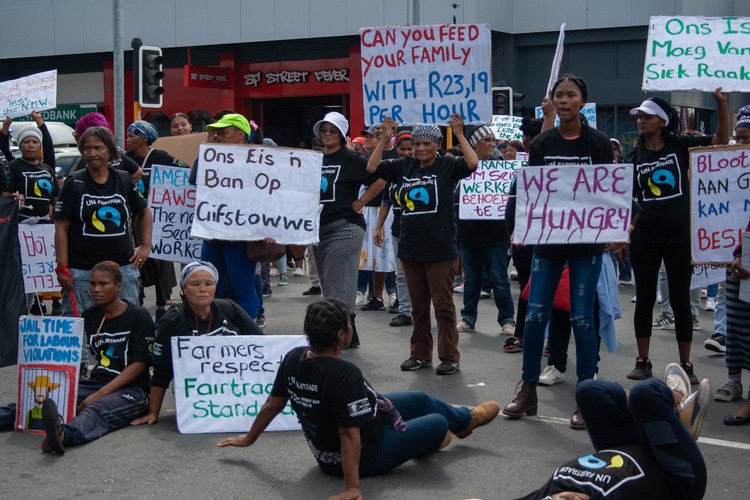 On Wednesday, Women on Farms presented some of the findings during a launch in Paarl. Afterwards, about 150 farm workers marched to the Labour Centre in Paarl and handed over a memorandum.
They want the labour department to conduct frequent inspections on farms without first notifying the farm owners, and they want women seasonal farm workers to be included in the inspections. They want all farm workers to be informed of the outcome after the inspection, and where the farms have violated labour laws, they want owners to take corrective action within 30 days or face suspension of sales. The workers believe that harsher penalties should be imposed on farms that violate labour laws.
WFP director Colette Solomon said that it was "shocking" that some of the violations noted in the report were still happening on Fairtrade-certified farms and "needless to say they're happening on uncertified farms too". She blamed a "lack of enforcement" of labour laws and a problem with the way inspections are conducted.
Solomon said that there were also problems with the way the department dealt with complaints from labour offices. Many women farm workers struggle for months to get their unemployment benefit payments from labour offices despite contributing to the Unemployment Insurance Fund, she said.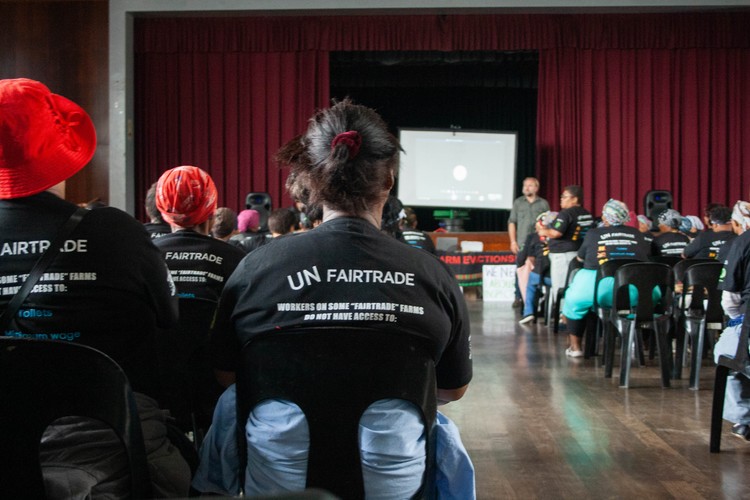 Ntombi Magadla, a farm worker in Wolseley, told GroundUp that she had been sent from pillar to post by labour department officials when she tried to report pay lower than the minimum wage on the farm where she works. Magadla said that the increase of the minimum wage to R25,42 per hour in March has meant that farm workers are now being allocated fewer working hours and days.
Cebo Kutuka of the labour department's inspections and enforcement services in the Western Cape also addressed the workers during the launch on Wednesday. He promised that officials would go through the report and respond later. He also invited Women on Farms and workers to attend meetings with officials where some of the issues raised can be discussed in greater detail.
Christo Conradie, a manager at farmer representative NPO Vinpro, told the audience he would take the research findings to the organisation's next meeting.
The provincial department of labour had not responded to GroundUp's questions by the time of publication.