Women of Glebelands hostel devastated by violence
Part one of a series on political violence and the frustrated search for justice in KwaZulu-Natal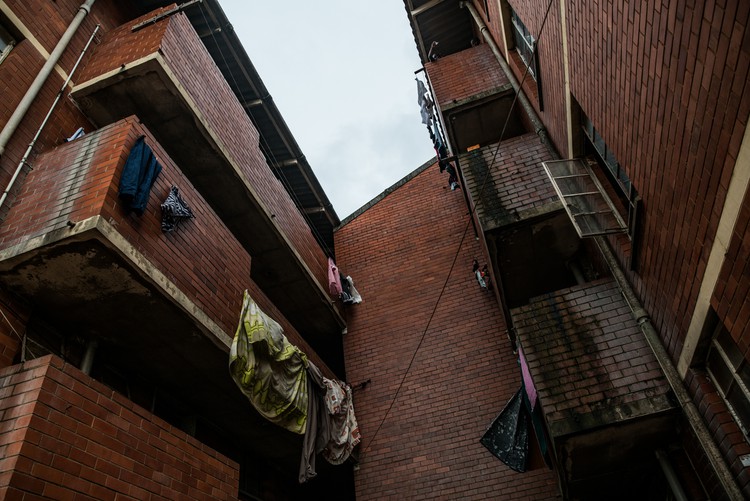 19 March 2018
Cindy Mthembu, 27, and her sister, Thando, 20, sit on a threadbare couch in a lopsided garage outside Glebelands R Block. The sheet of corrugated zinc behind them is peppered with bullet holes, testament to the wave of violence that in recent years has plagued this apartheid era hostel on the fringes of Durban.
Their father, William Mthembu, was murdered. About 80 Glebelands residents, most of them men, have been murdered in politically linked violence since 2014. Some residents claim the number of victims is much higher.
Cindy recalls how her father was shot dead in the middle of the day on 12 September 2015. Her voice shakes slightly, and while she speaks, her sister stares at the litter-strewn ground in front of her.
Cindy and Thando had moved from their family home in the rural Eastern Cape to live with their father and pursue tertiary education in Durban. William Mthembu worked odd jobs. After his death, the two sisters could not cover the rent without the help of their father's salary. Thando, as the youngest sibling, was forced to put her studies on hold, perhaps indefinitely.
A friend of Mthembu said, "It is particularly painful that now one of his daughters can't afford to study. He always said he'd do anything for them to get an education so that their life would be better than his."
"It is still very hard for us," Cindy told GroundUp, "because we are still sharing the same house that we used to share with our father when he was alive. We want to move out but we don't have money for somewhere else."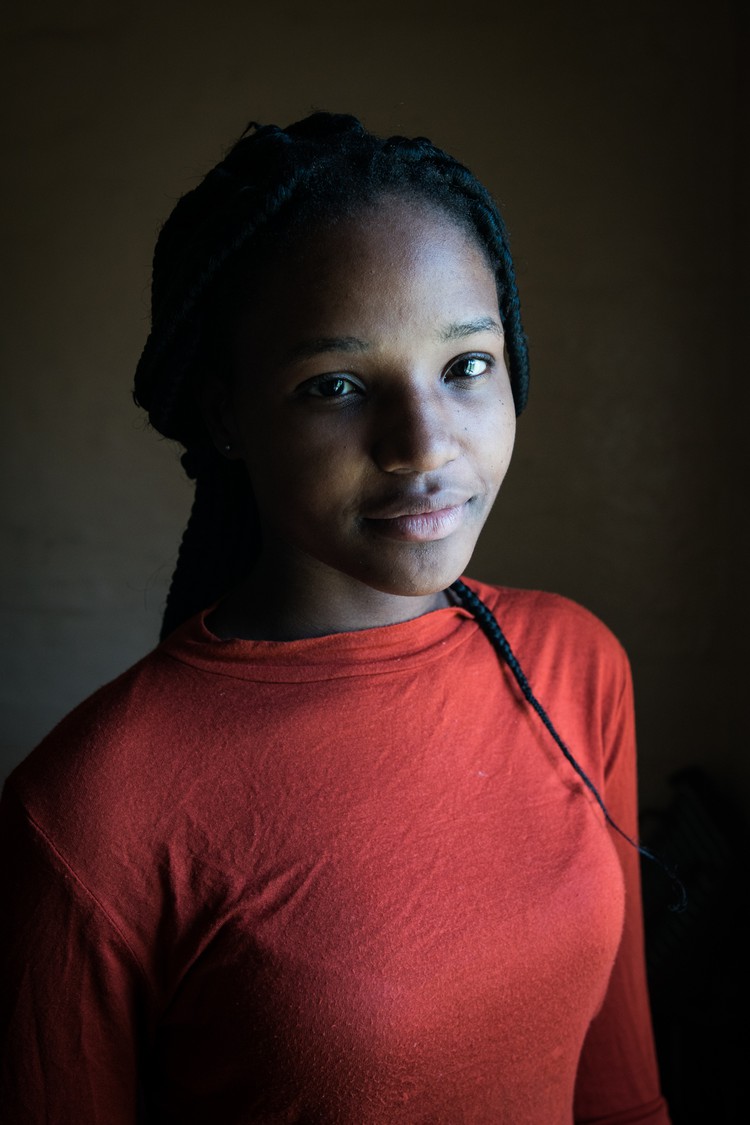 The plight of the Mthembu siblings is shared by many women in Glebelands, a formerly male-only hostel for migrant labourers. Its population has swelled to more than 20,000, with most residents housed in cramped, shared rooms across approximately 48 four-story red brick blocks.
Situated in Umlazi township about 17 kilometres south of Durban city centre, Glebelands was built in the 1960s as part of the apartheid government's push to meet the labour needs of a rapidly industrialising city. Black migrant workers, many of them from the Eastern Cape, moved to Glebelands to work in Durban's manufacturing and shipping industries.
Though an increasing number of women joined their husbands and fathers at the former hostel since the end of apartheid, it remains a male-dominated community. According to Vanessa Burger, an independent activist who has been heavily involved in Glebelands since 2014, most women in the hostel are unemployed. The spate of killings has left widows, orphans and even extended families bereft of their sole breadwinner.
Mamthina Pina, 46, followed her husband, Themba, to Glebelands in 1996. Themba was shot in the head on his way to work at a local butchery on 5 June 2015. Pina says that he'd been receiving death threats over the phone for two days before the shooting; he'd also been hospitalised following a knife attack earlier in 2015.
She says that her husband, a block committee member, had become embroiled in a disagreement with the local ward councillor, Robert Mzobe, who had been widely accused of dividing the community and not consulting them on developments in the area. Many Glebelands residents told GroundUp that the violence in the hostel originally stems from a rift between an ANC faction that supports Mzobe and one that opposes him.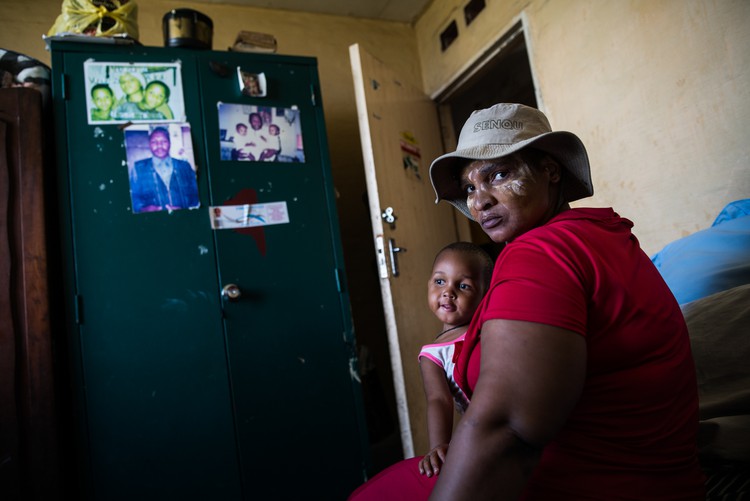 An analysis of the Glebelands deaths by Burger shows that many of the victims were linked to block structures that opposed Mzobe. According to a 2016 report by violence monitor Mary De Haas, "From the outset, police were accused of being complicit with the ANC faction supporting the councillor." The councillor has denied these claims. However, a Glebelands-based SAPS officer was arrested in December last year in connection with a number of the assassinations. (Mzobe did not want to comment for this article.)
Since her husband died, Pina has sold vetkoeks and packets of Niknaks out of the kitchen of her small, dank, third-floor hostel unit, which she shares with two of her children and two young grandchildren. She says she's struggling to support the family on her own.
"It's very difficult because my husband was the one who was looking after the kids and me," she says. "I knew I had someone I could speak to whenever I felt that I had a problem."
Pina says that her 15-year-old son has been hit particularly hard by his father's death. Shortly after the shooting, he threw himself out of his bedroom window in an attempt to take his own life. He landed on soft ground and suffered minor injuries.
Pina told GroundUp that she has never heard from SAPS concerning any arrests for her husband's murder. "I just notice that people continue to die. Even if there are any arrests, it will not take away the pain of losing my husband."
In a 2016 report that looked into the violence at Glebelands, outgoing Public Protector Thuli Madonsela found that the residents of the hostel had been repeatedly failed by the police, as well as eThekwini Muncipality and the Department of Social Development. (Here is an updated 2017 version of the report.)
"The violence that wracked the Glebelands Hostel is reported to have produced many victims who required material relief of distress like food parcels and non-material forms of relief like counselling and mobilisation and co-ordination of resources for which the department's policy on relief of distress makes provision. Sadly, the department woefully failed to fulfil its responsibilities in this regard," Madonsela's report said.
The Department for Social Development has repeatedly denied such accusations, claiming that a lack of contact details has made it difficult for social workers to track down and help victims. However, in just three days GroundUp managed to get hold of seven families who had lost their breadwinner, including some in the Eastern Cape. All of them said they had received no support from the Department of Social Development.
According to a Glebelands community leader who asked to be unnamed because of concerns for his safety, "It pains us to live in an environment where we are surrounded by orphans and widows and no one is assisting them. They don't know who to cry out to for help."
In 2016, KZN Premier Willies Mchunu set up the R15 million Moerane Commission of Inquiry to investigate political killings in the province, including those occurring at Glebelands. Last year, Burger told the commission that the hostel was a "reservoir of hitmen", some of whom she claims were involved in the targeted killing of block committee leaders including Themba Pina.
But women relatives of alleged hitmen have also suffered as a result of the continual violence at Glebelands. Nqobile Hlophe's brother, Bongani, who has been linked to many of the killings in Glebelands, was gunned down in his room in Block 52 in October 2015. Another of Nqobile's brothers, Wonderboy, was arrested along with six other alleged Glebelands' hitmen in December 2017 and is currently awaiting trial. Sanele, a third Hlophe brother, was recently released from jail after three years.
"Our family has been through hell in the last three years," Hlophe told GroundUp. "It's been a very painful experience having to deal with so much loss."
The morning after Bongani's death, Hlophe and her 70-year-old mother, who also lost her husband some years previously, travelled more than 150km from KwaDlangezwa to clean Bongani's blood off the floor of his unit. Sanele was arrested on various charges the same day.
Despite all of the allegations against Bongani, Nqobile says that the family "never really got answers as to why he was killed."
"Sometimes it's just like that. Men are unable to tell you about certain things," says Ntombikayise Jamjam, 37, who came from the Eastern Cape to join her husband in Glebalands in 2003. Her husband was shot and killed on 12 September 2014. Jamjam says she still doesn't know why.
Jamjam is unemployed and, although she receives a child benefit grant for her four-year-old daughter, she says it is not enough for them to live on. Jamjam says she has never heard anything from the police concerning any suspects in her husband's murder.
Two SAPS investigating officers assigned to the Glebelands murders, who spoke to GroundUp on condition of anonymity, say that their investigations have been routinely hampered by the unwillingness of witnesses to come forward. "People are afraid. They know that they could also be eliminated if they give testimony," one of the officers said. The officers conceded that the lack of prosecutions for crimes committed in Glebelands has further fuelled the violence.
Jamjam, like the other women GroundUp interviewed for this story, has little hope that there will ever be any justice for the damage caused to her family. Most of the women had never heard of the Moerane Commission. De Haas, like many outside observers, has expressed doubt that the commission's findings will have any tangible impact for the women of Glebelands.
Meanwhile, Jamjam says that her young daughter still looks expectantly at the front door every evening, waiting for her father to return home. "It's like it has still not sunk in that he's dead."
CORRECTION: The original version of this article stated that over 100 people had been murdered in Glebelands since 2014. But the best estimate is over 80.