Why the Life Esidimeni scandal was predictable
Regulation is urgently required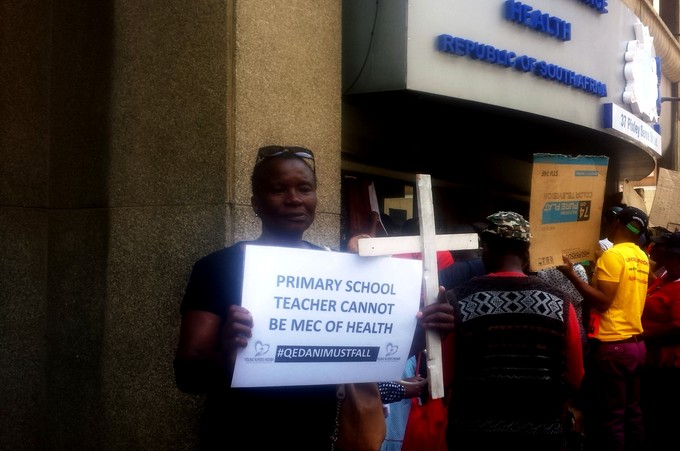 6 February 2017
The loss of 94 lives in a poorly planned decision to move mentally ill and intellectually disabled patients from Life Esidimeni Hospitals to NGO facilities revealed failures in leadership, planning and implementation in health care service delivery. It raises critical questions about how care of mentally ill people is funded.
Although mentioned in the health ombudsman's report into the debacle, there has been little discussion of the role that poor quality caregiving by inadequately trained care workers played in these deaths.
Many of the NGOs involved were improperly licensed and lacked the resources and capacity needed for severe psychiatric care.
While these NGOs should take responsibility for employing caregivers without proper training or adequate supervision, there is a deeper systemic problem here: poor quality of care and training.
Elderly at significant risk
These are not only challenges for mental health services, but also for the care of the elderly. Whether in residential, community-based or homecare environments, older people — who are a growing proportion of the population — are at risk of poor, even abusive, care by caregivers.
The shift from institutional to community-based models of care around the world has made unskilled people an increasingly large part of health and social service delivery. Long-term care for the the elderly and mentally ill is most often provided by family members or volunteers with no formal training.
Some care is given by community care workers with basic training, usually via NGOs. They spend much more time with clients than do doctors, psychiatrists, nurses, rehabilitation professionals or social workers.
Training care workers is effective when there are not enough trained professionals. It is an approach usually used in low- and middle-income countries in South America, Asia and Sub-Saharan Africa, but even in high-income countries.
While taking care of people out of institutions is usually a good practice, there are (as the Life Esidimeni case showed) huge risks to patients if this is not done properly. Caregivers need to have very specific roles and receive proper training, support and guidance from professionals and the NGOs that employ them.
Lack of oversight in South Africa
In South Africa, there is little oversight of the quality of training of those working for community-based organisations. There is no proper institutional framework or set standards for their training or registration.
The Life Esidimeni report says: "Basic professional care skills for community mental health care cannot be acquired through seminars or workshops, but through professional education, training and qualifications."
Lack of knowledge and skills leaves caregivers feeling overwhelmed. They also work in stressful settings. People with mental illness or dementia can be difficult to work with or may refuse care, and caregivers often do not have the special skills needed to manage these patients.
Underfunded facilities
Facilities are often underfunded and inadequate. The South African Human Rights Commission investigated the challenges facing older people. It found that many facilities failed to meet the norms and standards of care or the requirements of the Older Persons Act of 2006 (OPA).
Many elder care facilities suffer from overcrowding, lack of equipment and poorly maintained buildings. This is often because the subsidy provided per patient falls well below what is needed to care for the elderly. This makes it difficult to hire enough skilled staff.
Many local and international studies have shown that poorly-trained, over-stretched and underpaid workers in poorly-resourced care settings end up using coping strategies and short-cuts that disadvantage patients, lower the standard of care, and lead to neglect and abuse.
Regulation needed
The Regulations to the OPA require that caregivers be registered with the Department of Social Development (DSD), providing proof of SAQA-accredited home-based care training. However, employers do not have access to information contained in the DSD registry and employers cannot establish caregiver credentials in any formal way.
So there is little incentive for caregivers to register or for providers to offer training that meets care requirements. The OPA requires facilities to provide in-service training programmes, but these vary a lot in content and quality and do not always take place. Many facilities don't have the resources to register their training programmes, meaning that they are not able to offer accredited training to their staff.
Many caregivers are employed in NGOs through the Extended Public Works Programmes (EPWP). In 2014, the Department of Social Development estimated that 18,000 community caregivers worked for NGOs through the EPWP in the social sector. A further 70,000 people were employed by the Department of Health as community health workers in 2015.
These workers should receive training via the EPWP. However, an evaluation of the EPWP Social Sector programme in 2015 found it unable to provide consistent training and that national departments did not have a clear idea of whether participants met the minimum qualifications for their work.
NGOs have raised concerns on several occasions and a task team of in the Western Cape is reviewing standards and current practices. It will develop a system to regulate and standardise long-term care.
Improving the skills of caregivers through training is a moral imperative if we are to prevent further scandals such as the Life Esidimeni one.
Opinions expressed are not necessarily those of GroundUp.