Victims of apartheid are victims again, say Khulumani marchers
Protesters gather outside parliament to demand reparations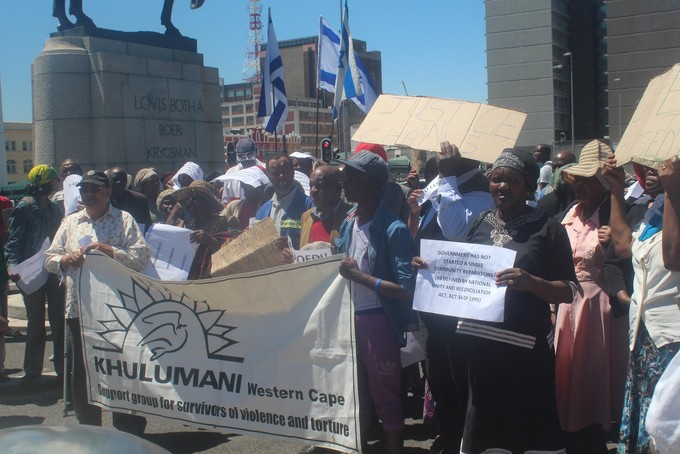 28 October 2016
About 50 older people gathered outside Parliament today, carrying posters and singing to demand reparations for damages suffered under apartheid.
The march was organised by the Khulumani Support Group. The marchers handed over a memorandum to representatives of the Department of Justice and Constitutional Development highlighting their frustrations about not being compensated as victims of apartheid by the Truth and Reconciliation Commission (TRC) or the government.
Eighty-one-year-old Noluzile Nosisa Fetumane said she had arrived in Cape Town from the Eastern Cape in 1971. "I lived in KTC. I came back from work one day and my house had been burnt down to the ground, including my cat who was inside. It was set alight by white police. I was only left with the clothes I was wearing.
"We were constantly told that this was not our land and we should leave. I was arrested numerous times, more than I can remember.
"We have been back and forth attending the TRC in Salt River back then, sometimes we'd end up having sleep-ins there. Some of us have died, having received nothing."
Another marcher, 52-year-old Zamile Cengwa from Nyanga, said he was living in Old Crossroads when he was assaulted by police on his way home from work. He says he still has scars on his back from the whips the police used.
Khulumani community mobiliser Sindiswa Nunu said "We have not seen anything that the TRC has done for us. People who have been victims of apartheid are victims now again because of the TRC. There have been promises of their children being educated, promises of them getting proper healthcare and housing, but nothing. The work has been left unfinished."
Khulumani argues that many more people than those on the TRC's list should be compensated.
"They left tens and tens of thousands out of the process," said Brian Mphahlele, Khulumani's provincial secretary. We demand government must open the closed list".