Vavi rubbishes Jim's recall manoeuvre
"No right to recall" says Vavi, who has never been a NUMSA member
9 March 2023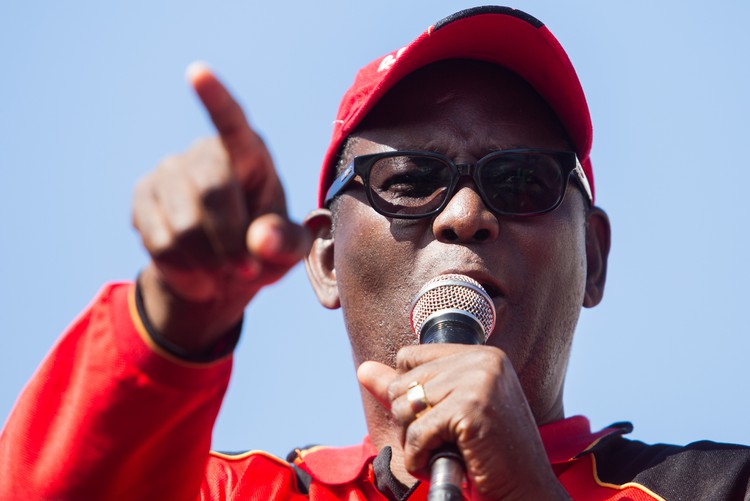 Zwelinzima Vavi, general secretary of the South African Federation of Trade Unions (SAFTU), has blasted the attempt to recall him from his post by the national executive committee of the National Union of Metalworkers of South Africa (NUMSA).
In a 7 March letter, Vavi dismisses the premise of NUMSA's recall gambit, saying that "there is no such concept as a deployee'" in SAFTU's constitution. Furthermore, he writes that he has never been a member of NUMSA, and that the metalworkers' union "has no right to discipline or recall" him.
NUMSA is the largest trade union in the country and affiliated to SAFTU. We reported on Wednesday that Irvin Jim, NUMSA general secretary, had written to Vavi, giving notice that NUMSA's executive intended to recall him.
Vavi asks why Jim's recall attempt "not be interpreted as a deliberate and sinister move to destabilise the Federation?"
Vavi accuses NUMSA's leadership of sour grapes, trying to "undermine the product of a democratic process because … it never got its way when its nominee for General Secretary [of SAFTU] failed to be elected".
Vavi says that he has written four times to NUMSA's leadership requesting a meeting to iron out differences, all of which have been ignored. Overtures from other NUMSA officials to the top brass seeking mediation on federation-union tensions have also been ignored, he says.
Vavi called again for a meeting between the federation and the union, as well as calling for NUMSA to participate in SAFTU's campaigns, to implement the resolutions agreed to at the federation's national congress last year, and to "consistently pay NUMSA's affiliation fees".
Trevor Shaku, SAFTU spokesperson, told GroundUp that the federation was not issuing a public response or comment on the letter.
NUMSA spokesperson Phakamile Hlubi-Majola told GroundUp the organisation had no comment to make.