Unions march against crime in Motherwell
"Residents are only quick to blow whistles when they want to protest, but fail to blow the same whistle when they see criminals" says police colonel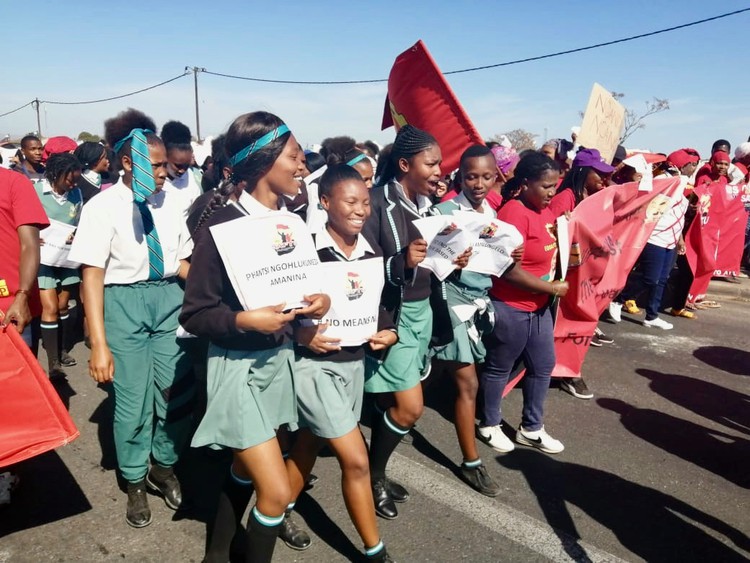 22 August 2019
The South African Federation of Trade Unions (SAFTU) led a march against crime to the Motherwell Community Service Centre, Port Elizabeth, on Thursday. About 200 people, including grade 11 school children from Mfesane High School, marched from NU9 to N10, through streets that still had rubble and burnt debris from protests earlier in the day.
The Democratic Municipal and Allied Workers Union of South Africa and other community organisations joined the protest.
They carried placards that read: "No bail for sexual predators" and "Silwela amalungelo ethu" (We are fighting for our rights). They sang "Umoya wam uyavuma" (My spirit is alive).
Mzikazi Nkata, SAFTU regional secretary, told the crowd, "We rose up because Motherwell is top in crime compared to other townships."
Nkata focused her speech on gender-based violence and crime. "It's up to you to identify yourself as which gender you are. Some people see it as wrong when someone says he is a female, although he has a penis … Some say they are men, whilst they have vaginas … Enough with the killing of people by those who think they have a right to correct others."
Motherwell NU10 station commander Xola Toba, standing alongside Colonel Sakhumzi Mbixo, accepted and signed the marchers' petition.
A woman shouted, "A child was shot dead recently, because there is no police visibility in NU6."
Toba quickly responded, "But we have established the police patrols in NU6."
The woman replied, "That's new to me because I live in NU6."
Toba said the community should make use of the community policing forum and there were anti-crime programmes at troubled schools established by SAPS.
Mbixo told the crowd, "Yesterday, a 11-year-old school girl was dragged and raped in a broad daylight next to a dam … Residents are only quick to blow whistles when they want to protest, but fail to blow the same whistle when they see criminals … No one has been able to tell us who raped the 11-year-old girl, yet it happened in the community."