UDF veterans give Abrahams one day to freeze assets in PRASA case
"We are expecting Mr Shaun Abrahams to wake up"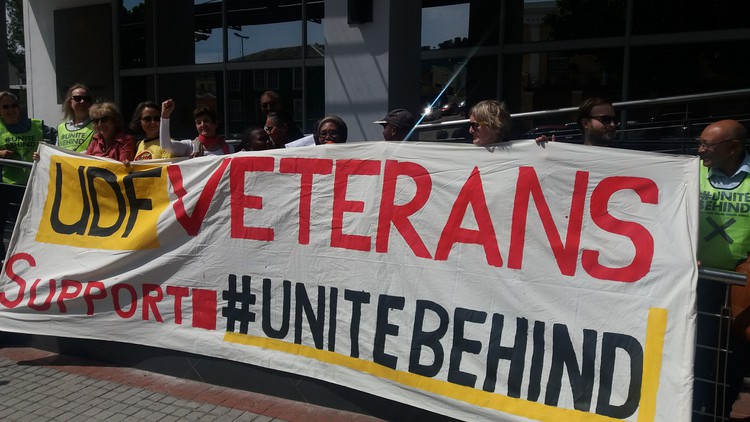 4 October 2017
UDF Veterans and Shaun Abrahams, the National Director of the National Prosecuting Authority (NPA), have traded accusations in a series of letters. The veterans have given Abrahams a day to freeze the assets of those involved in corruption with the Passenger Rail Agency of South Africa (PRASA).
About 40 UDF and #UniteBehind representatives picketed outside the NPA offices on 28 September. They delivered a letter, signed by about 130 UDF Veterans, demanding that action be taken against people implicated in state corruption.
Then, in a letter dated 29 September, Abrahams accused the veterans of engaging with him in "bad faith". According to Abrahams, the veterans had already sent the letter to him before they picketed, which led him to believe that the organisation's engagement with him was in bad faith.
The UDF Veterans responded with a letter written by Zelda Holtzman, on their behalf, in which they stated: "Every person has a right to petition, assemble, and campaign for a cause."
The letter said that the demonstration was in response to the "tardiness" of the NPA in prosecuting people involved in state corruption, particularly "President Jacob Zuma" and his "collaborators" in PRASA and Metrorail.
"This [corruption] is the only 'bad faith' that we acknowledge in this context", the letter read.
The letter demanded that the NPA freeze the assets of those "implicated in the Swifambo and Siyangena matters" by close of business on 5 October. Swifambo's multi-billion rand locomotive contract with PRASA has been declared corrupt by the Johannesburg High Court. Siyangena is a security company implicated in questionable multi-billion rand contracts with PRASA.
Asked by GroundUp if it was a realistic expectation for Abrahams to act, Holtzman replied: "We are expecting Mr Shaun Abrahams to wake up but by the look of things, we don't think he will." She said: "He questioned our right to protest with respect to the Constitution. Our right to protest in a democracy is what we fought for."
"We are giving him the benefit of the doubt by allowing him to prove that he is committed to his position and our country," said Holtzman.
The veterans' letter said it would "consider its options" if the NPA did not meet its demands.
Here are the letters:
Correction: the original headline said 24 hours.