UCT staff protest against "militarisation" of campus
"We believe interdict hands our campus over to SAPS"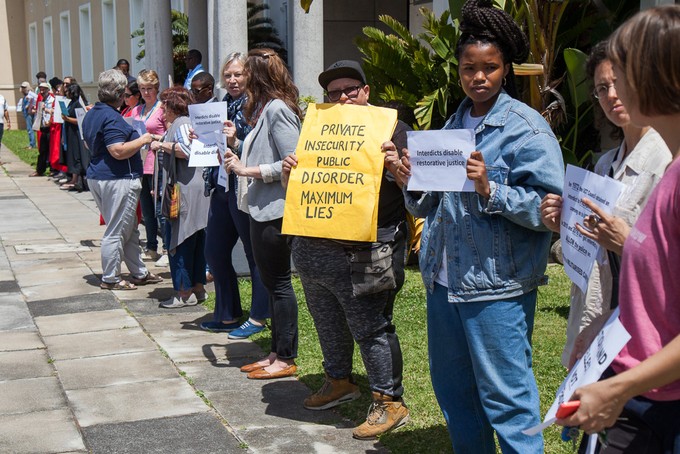 31 October 2016
About 30 UCT staff picketed outside the university's administrative offices, Bremner building, this afternoon holding banners stating: "Riot police + tear gas wont save academic project!" and "UCT belongs to us all, don't police us against each other".
"We believe that the solution to what is happening on this campus is not to militarise" said Dr. Lydia Cairncross, a lecturer in the Health Sciences faculty. "A law and order approach to what is really a political problem does not provide a long term solution to what is happening at UCT," said Cairncross.
Last week UCT obtained an interdict from the Western Cape High Court. The interdict prevents protesters from disrupting university activities, including lectures, tutorials, learning activities and exams. It also orders protesters not to prevent staff and students from accessing or remaining on any of the institution's buildings or transport services. It prevents barricades from being erected and it prevents destruction or damage to UCT's property. It also prevents protesters from carrying weapons "including, but not limited to sticks and whips". The interdict "directs" the South African Police Service (SAPS) to assist with the enforcement of the interdict.
Cairncross called on the university executive to negotiate and address the issues being presented to them and not "put a security lid on them". She stated that one of the reasons negotiations between students and protesters has broken down in the last past weeks is because one of the key student leaders in the negotiations was arrested.
In response, Patricia Lucas, of the university's Communication and Marketing Department, wrote: "UCT obtained the interim interdict not to limit protest, as alleged, but to ensure that UCT operations are protected and that we can conclude the academic year and exams. The interim interdict was obtained after protesters broke into office and faculty buildings, breaking windows and doors, and intimidated staff into leaving their work; dumped sewage in a faculty building; attacked two private security guards, putting one of them in hospital; and stopped a Jammie Shuttle, stole the driver's keys and intimidated drivers into refusing to work. Such behaviour is unlawful and cannot be tolerated in an environment where people come to study and work. UCT has sought to limit the presence of private security and [police] on campus, however the unlawful and violent behaviour of protesters makes it impossible to do so. UCT has a responsibility for the safety and security of students and staff members."