UCT "Shackville" protesters appear in court
Outcome of this case might be dependent on SJC one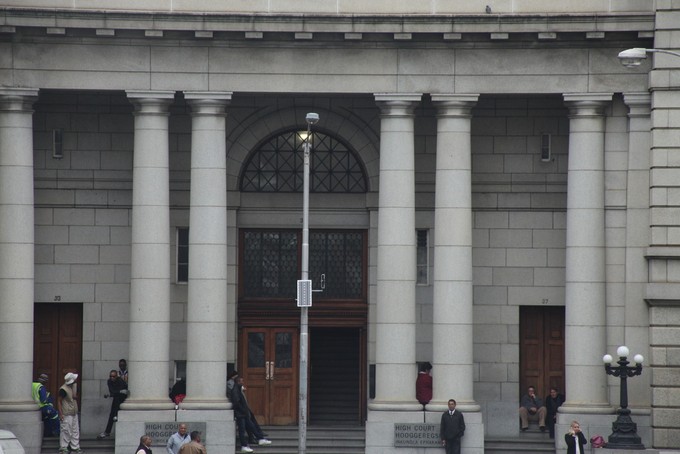 7 October 2016
Eight people arrested during protests at the University of Cape Town in February this year appeared in the Wynberg Magistrates' Court this morning.
Dumisani Ncubeni, Refiloe Mancapa, Jonas Maepa, Itumeleng Molefe, Kirsten Whitfield, Hugo de Waal and Sanchin Davids faced charges of public violence and Athabile Nonxuba faced a charge of malicious damage to property.
They were all arrested on the night of the "Shackville" protest, when a shack that protesting students had erected on campus was removed by the university. Protesters burnt artwork and set a car and university shuttle alight.
The charge against Hugo de Waal was dropped this morning and the others had their cases postponed to 3 March 2017, after their lawyer, Sandile Xulashe, requested a stay of prosecution to wait for the outcome of a case currently in the High Court which could influence the cases against the remaining seven.
Xulashe explained to GroundUp that the case in the High Court involved a number of activists who are challenging the constitutionality of a section of the Regulation of Gatherings Act. He said the state was bringing additional charges against the seven that relate to this section of the act. If the appeal in the High Court is successful, he believes that could influence the state's case against his clients.
The case in the High Court follows the conviction of ten activists from the Social Justice Coalition for convening an illegal gathering. They were discharged with caution, but the convicted activists appealed against the conviction based on the constitutionality of the act itself.
In court today, the state said the cases against the accused were ready for trial but the prosecution was willing to postpone the case until the High Court judgement is handed down, which is expected to happen in February next year.