Two sisters burnt in church ceremony
Pastor promised magic remedy would heal them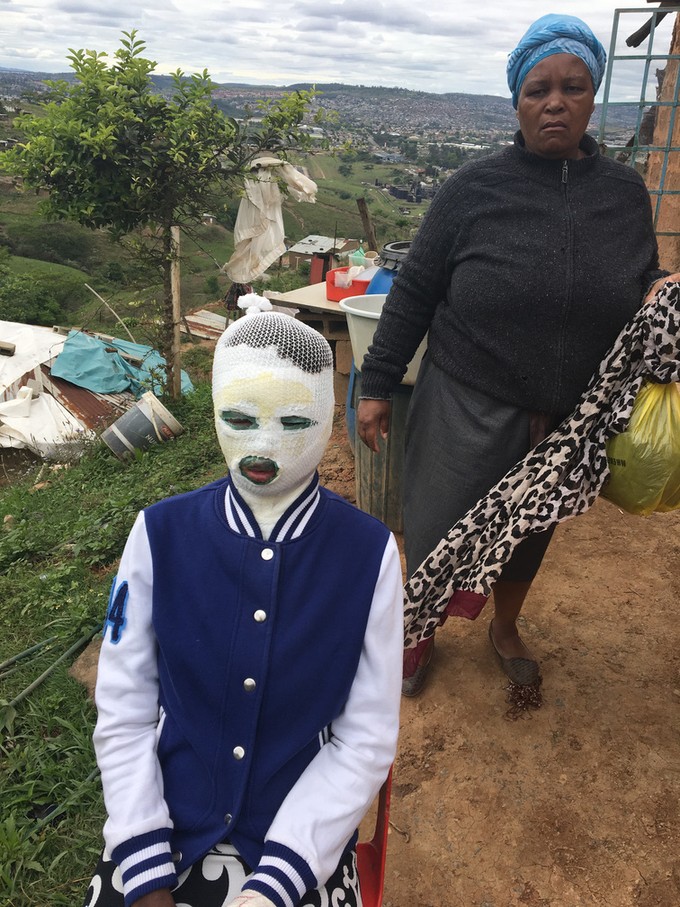 18 October 2016
Two Pietermaritzburg sisters have been scarred after a pastor burnt them in a church healing ceremony. The remedy used by a guest pastor consisted of a cocktail of petrol, methylated spirits, paraffin and Jeyes Fluid.
Deborah Ngcobo, 22, has scars on her head and neck. Her face is bandaged and she cannot talk properly because of the pain. Her sister Ruth, 22, sustained minor burns on her body.
According to Ruth, they attended a night vigil on Saturday going through to Sunday morning in KwaMpumuza, in Shayamoya. She said the pastor was a guest of the Christian United Church. The pastor could not be found for comment.
Speaking to GroundUp at their home, Ruth said the incident happened at about 6am on Sunday. Ruth said the pastor started by asking for R50 to perform his healing magic.
"Members of the church donated the amount that he asked for. After that he asked for a 20 litre bucket where he put methylated spirits, petrol, paraffin and Jeyes Fluid and water. He mixed all that and he drank it and kept it in his mouth and started spitting it out. He lit a candle and started spitting the mixed remedy from his mouth. While he did that flames started from what he was spitting from the mouth. I saw flames burning my sister's face before they reached my legs. I was shocked and then other members from the church left the room screaming. Unfortunately the flames to my sister were uncontrollable. I managed to extinguish the fire on [her] face using the clothes I was wearing. [But the fire] was too much. Her hair started burning and [her] face, and I was watching. It all happened very fast and it was traumatic. I called mother and we took my sister to Edendale hospital. By then the pastor was nowhere to be seen," said Ruth.
The siblings are no longer members of the church but Ruth said the owner of the church had invited them to attend the night vigil.
Their mother Gwensa said the law should take its cause on the matter. "My daughter's life has been jeopardised. We have had enough of the pastors claiming they have healing powers. How can you heal someone using dangerous burning substances? All the liquids he used are dangerous. He is an opportunist who deserves to rot in jail for his doings. … The government must do something about these pastors who are all over the country. My daughter's face will never be normal again. She is suffering in pain and it kills me as a mother. They must arrest him and throw the keys in the ocean," she said.
Police spokesperson Nqobile Gwala said a case of attempted murder was being investigated. No arrests had been made.
Attempts to get hold of the church owner were unsuccessful.