Two people killed as Tembisa brought to a standstill by protests
Ekurhuleni mayor believes protest is aimed at making the township "ungovernable" for the DA-led coalition
1 August 2022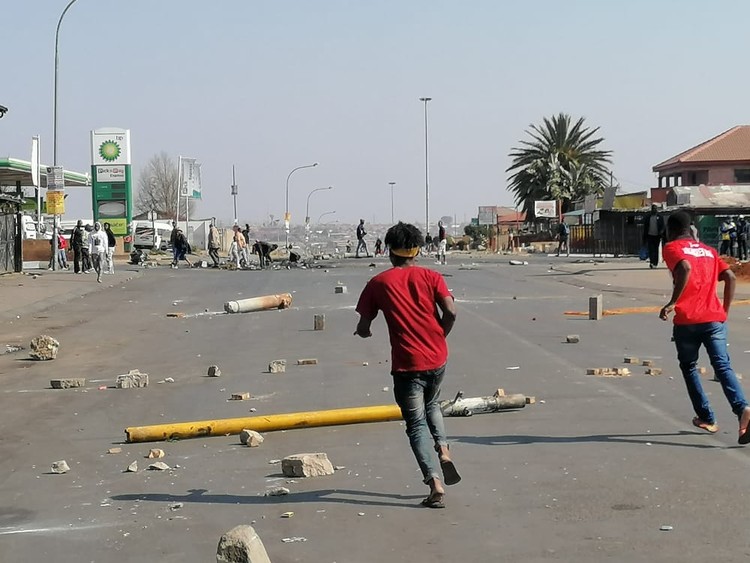 At least two people have been killed and several buildings, including the Ekurhuleni call centre, have been gutted during protests in Tembisa, Gauteng, on Monday.
According to Ekurhuleni Metro Police Department spokesperson Kelebogile Thepa, two protesters were killed in crossfire between metro police and other demonstrators. By 5pm, she could not yet confirm whether any arrests had been made.
Gauteng SAPS spokesperson Brenda Muridili directed all of our questions to the metro police. She said, "With regards to the fatalities, IPID [Independent Police Independent Directorate] will probably take the case."
On Monday, the community was brought to a standstill as thousands of Tembisa residents protested over high electricity bills, crime, and load shedding among other issues. Many streets were blocked with burning tyres, branches and rubbish.
Residents we spoke to accused Ekurhuleni mayor Tania Campbell of failing to meet with them last Friday to discuss their concerns. They were angered that instead of attending herself, she sent mayoral committee members to listen to residents' grievances.
In a statement in response to the ongoing protest, Campbell called for calm. She said that while it was the people's constitutional right to protest, "acts of arson and vandalism to public infrastructure will not be tolerated".
Campbell said she will be asking the Gauteng Premier to intervene in the impasse with the community.
"As a multi-party coalition government, we are concerned that the visuals we are witnessing from Tembisa are no longer community-based, but rather a well-orchestrated operation to render the township ungovernable. We believe the current destruction of public infrastructure is politically motivated and intended to undermine the progress of the new administration," said Campbell, who took office last year following the local government elections.
Tembisa remains tense late on Monday as residents have vowed to continue protesting until the mayor comes to address them.