Traders at Cape Town station deck demand better security and lower rents
Protest march on Prasa offices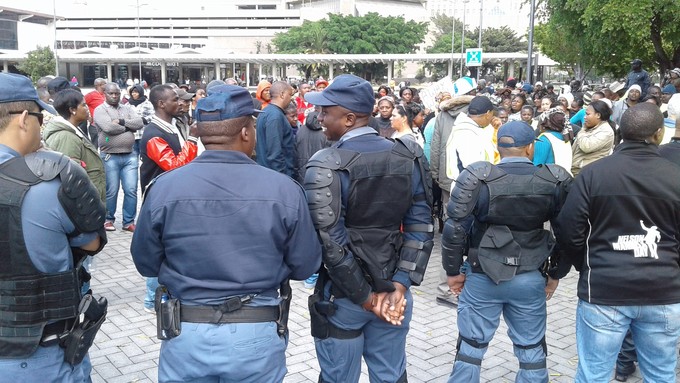 14 October 2016
Traders on Cape Town station deck marched to Passenger Rail Agency of South Africa (Prasa) offices this week demanding a drop in rent from R1,400 to R500 a month.
They also complained about poor security, corrupt police, drug dealing and dirty toilets.
Traders said for the past five years they had complained to Prasa without results.
They told GroundUp that each month they paid R1,400 for rent, which was supposed to cover security and clean toilets, but the toilets were dirty and their shops were broken into almost daily.
Traders demanded a drop in rent to R500 per kiosk and the installation of CCTV cameras and a fence.
Fatima Siljeur who sells shoes, said this was the second time she had marched. After a march last year in October, Prasa had promised to increase security but nothing had happened.
"We are losing business because of lack of security at the station deck. For years we have been negotiating with Prasa to increase the number of security guards but nothing has changed. Instead the number of drug dealers increases. Police also fail to stop drug dealers," said Siljeur.
She said every month she paid R1,400 in rent.
"Our shops are broken into almost every day while we are told that there's security. Drug dealers are operating here as if they own this place yet we are told that there's security. They are telling us about the same security (guards) who are being bribed by drug dealers in front of us. Even police are also bribed by these drug dealers. These are the things that we see on a daily basis and we have raised them before to Prasa but nothing has changed," she said.
"We are not safe, we do not do business, people are scared to come here because of these illegal activities that are taking place. Prasa is failing traders. I hardly make money yet I'm forced to pay rent," she said.
Nomthunzi Mzinyathi, who sells vetkoek, told GroundUp she makes R400 profit a day. From this she pays two other people who assists her. She opens her store at 5 am and closes 10 am. She said she hardly made money but had to pay R1,400 a month.
"All we want from Prasa is to increase security. We are not safe, yet we pay rent each month. We are losing business," said Mzinyathi.
Small Business Market chairperson Fortune Ndlovu said the march was a last resort as traders had tried many times to communicate with Prasa.
The march was also supported by Cosatu and Economic Freedom Fighters.
Police spokesperson Andrè Traut urged traders who were aware of police taking bribes to report this to Cape Town central police station for investigation.
A memorandum was handed to Prasa Real Estate Asset Manager Henry Masimlo, who promised to hand it over to the relevant people. He said Prasa was in constant communications with traders.
Traders gave Prasa seven days to respond to their grievances.
Prasa did not reply this week to requests for further comment.