Thousands left destitute to face another storm expected to hit KZN this weekend
About 300 people living in a community hall near Durban need clothes, food and other essentials
14 April 2022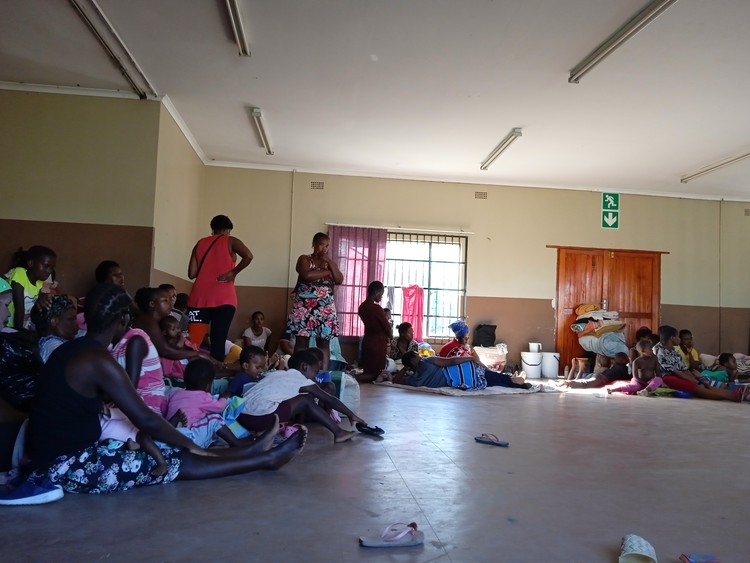 "How long are we going to stay here? Tomorrow is [Easter weekend] and most of us usually go home, but how can we when we have nothing?" says Nosipho Maphumulo.
She has been squatting with her four children aged between 14 and two, along with about 300 other people at the Zwelisha Community Hall in Ward 59, north of Durban, after their homes were destroyed by devastating floods that hit the province this week.
Maphumulo said they managed to grab their important documents and a few clothes before their one-room home was washed away. Maphumulo said she is worried about what their lives will be like in the coming days because while they were safe at the hall for now, it is not ideal.
Women and children sit on the cold floor, most still wearing the clothes they had on when the floods started on Monday.
People we spoke to said that there were about 1,000 residents from Zwelisha whose homes were damaged and many had gone to live with relatives or friends. They said that there were only ten mattresses and a few blankets to share, the rest have been sleeping on the cold tiles.
Nomhle Mesatywa said she feels like she is going crazy and still dealing with the trauma of losing everything. "Everything happened so fast. I don't know how I got out, all I remember is the screams of the children. I only just fully recovered from all the shock," said Mesatywa. The 52-year-old mother of five said: "We don't know how long we are going to stay here and what is going to happen to us. We lost everything. What we need most now is shelter."
Nomonde Mdwebu had a narrow escape. "I could feel the house shaking and the water gushing from both sides of the house. I was just outside the door when I fell into a big hole filled with water up to my shoulders. I couldn't get out or move so I screamed for help. My neighbour came just in time to push me before the lintel hit me on the head. I have never been so scared in my entire life," she said.
People living at the Zwelisha Community Hall have received meals every day but because they rely on donations, it isn't certain what time the next meal will be served, they said.
Mothers with young children are in desperate need of diapers, milk and clothes. There is also a need for school uniforms, clothes for women and children, toiletries as well as mattresses and blankets.
The hall is struggling with access to water but while we were there a water tanker arrived.
The Ntenga Foundation with the Hollywood Foundation brought some blankets for the residents.
According to the City, there are about 17 shelters accommodating over 2,100 displaced people.
As rescue and other debris-clearing operations are still underway across KwaZulu-Natal, families have been warned to brace themselves as the South African Weather Service has issued warnings of a cold front bringing "disruptive" thundershowers and strong south-westerly winds over the weekend.