Thabo Bester escape: Many unanswered questions about the death of Katlego Bereng
"We need to know how our son ended up dead and burnt in jail" says Bereng's grandmother
25 April 2023
Police stated on the weekend that the body that was burnt in Thabo Bester's cell had been identified, and the family informed.
But the family of Katlego Bereng (who also used the surname Mpholo) has received conflicting information from the police about the circumstances of his death.
One of several unexplained inconsistencies is the difference between the height of the body in the post-mortem report and Bereng's height. The body was extremely short, but people who knew Bereng described him as tall.
The family of Katlego Bereng, believed to be the person who was found dead in murderer and rapist Thabo Bester's prison cell, is looking for answers.
According to his family, Bereng (who also used his father's surname Mpholo, and who lived in Bloemfontein) went missing in March 2022. They reported it to the police two months later, in May 2022. Almost a year later, the police contacted Bereng's mother, Monica Matsie, about her son. She was asked to do two DNA tests, after which she was told that her son was dead.
South African Police Service (SAPS) spokesperson Athlenda Mathe confirmed that the family of the body found in the cell has been informed. Mathe said no further comment would be issued.
Bester escaped from Mangaung Correctional Centre on 3 May 2022 by faking his death in a prison fire. SAPS confirmed in Parliament that three bodies were collected from the Free State mortuary by Bester's partner, Nandipha Magudumana, the third of which was the one that was found in Bester's cell, burned beyond recognition. Police comments over the weekend imply that it was Bereng's body in the cell.
According to the post-mortem report on the body found in the cell, the person died of a blunt force injury to the head before being smuggled into the cell and burned. But Bereng's family has received conflicting accounts from police officers about how Bereng died. One police officer told them that Bereng collapsed in Bloemfontein city centre and was taken to Pelonomi hospital, while another said he was injured and died in the hospital.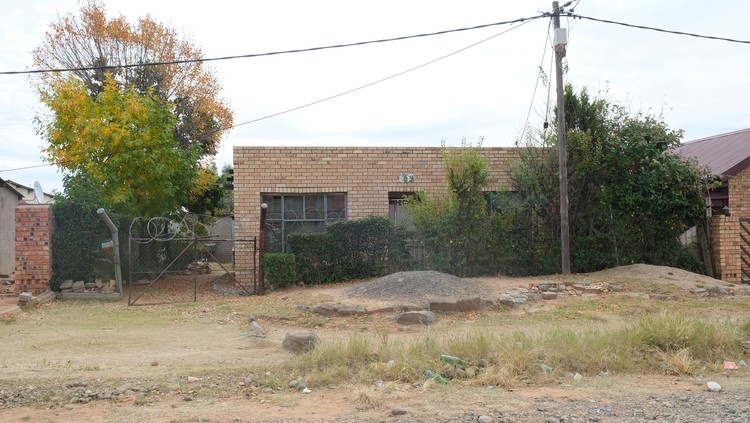 Bereng's family describe him as "tall and slender", but the body found in the cell was 1.45m, according to the post-mortem. The average adult male height in South Africa is 1.69m. A forensic pathologist has however previously explained to GroundUp that it is possible for a postmortem to get the height of a person wrong, especially since the body was in the foetal position.
It is not clear why the family has not yet been able to view and identify Bereng's body. They were expecting to be allowed to visit the morgue on Monday but were told that investigations were still taking place. SAPS did not respond to our request for comment and the Free State Health Department, which runs the state morgue, said it could not comment on the Thabo Bester matter.
Bereng lived around the block in Mangaung from Senohe Matsoara, the prison warden facing charges of murder and aiding and abetting Bester's escape. According to a close friend, Bereng knew Matsoara and they both frequented a local tavern, at walking distance from their homes.
GroundUp visited Matsoara's house on Monday, where his Volkswagen T-Roc R-line is still parked. TimesLive reported that he is thought to have bought the car, worth about R650,000, using money paid to him to help orchestrate Bester's escape. The same report indicates that Matsoara's lifestyle changed considerably in the months before and after Bester's escape.
Several people in Bloemfontein told GroundUp that they have little confidence in the police to solve missing person cases. One man we spoke to has a cousin who has been missing since August 2021. The case was reported to the police on the day he went missing, but there still has not been any follow-up. According to the missing man's mother, she was never given a case number.
A grieving family
Bereng grew up in the care of his grandmother, Alice Ralilateng. His parents had divorced when he was very young and his mother remarried. His father, Batho Mpholo, lives in Johannesburg.
After announcing on Twitter that the body found in the cell had been identified as his son, Mpholo has received much media attention. He is very active on Twitter, yet over the past year, he has made no previous mention of his son being missing. Mpholo has said that he implored the family to report Bereng missing after noticing that he hadn't been regularly posting on Facebook. The last public post on Bereng's Facebook page is from July 2021. But according to his aunt this was because he lost his phone.
When GroundUp visited Bereng's household on Sunday, his mother and grandmother were distraught and angry.
Ralilateng says she needs to see the body. "The DNA is fine for now, but we want closure. We need to know how our son ended up dead and burnt in jail," she said. Bereng had never had any conflicts with the law, according to his family, and it came as a great shock to them that his life would end in a prison cell.
They want to hold a funeral for Bereng this coming Sunday but they are unable to plan until the police confirm that they can collect the body.
The family said it took two months before they reported the case to the police because Bereng would often visit relatives for long periods without letting anyone know. But when they realised that Bereng was not coming back, they went to the police.
Ralilateng said that after reporting Bereng missing, they visited all the government morgues and hospitals surrounding Bloemfontein and left their contact details and a picture of Bereng.
Bereng leaves behind two children. One is three years old and the other is five. He studied to be a paramedic and his last job was as a waiter at Spur.
His former girlfriend, Thandiwe Boleme, who is the mother of his younger son, said that Bereng was a loving father. He was unemployed at the time of his disappearance, but he would always make an effort to support his children, Boleme said.
Bereng's best childhood friend Katlego Sebotsa told GroundUp that they were both devoted fans of the Bloemfontein Celtic Football Club.
"He used to say there are many challenges in life and we should never ever give up because tough times never last but tough people do last. I feel that I have lost one of my body parts after losing my friend," said Sebotsa.