Hout Bay project teaches confidence through dog training
Teenagers paired with "teen" dogs from shelter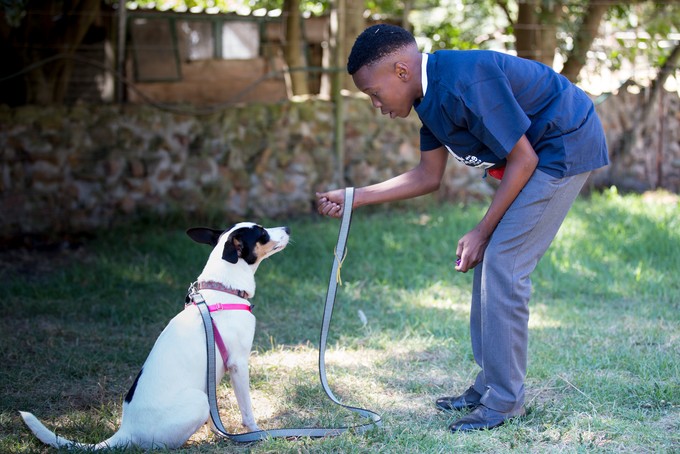 26 February 2016
A Hout Bay project is helping teenagers regain lost confidence by teaching them how to train difficult or abused dogs.
The Underdog project pairs teenagers with "teenage" dogs from the Domestic Animal Rescue Group (DARG), a local animal shelter in Hout Bay. The teenagers learn to train the dogs, which then have a much better chance of finding a home.
"The project is about partnering shelter dogs that are at risk animals living in kennels with 'at risk' children around the Hout Bay community," says Ciara Louw, one of the 12 volunteers, who has been in the project for almost three years.
Teenagers who might benefit from the programme are identified by school principals. If they are keen to join, they are offered an eight week training programme working with "teenage" dogs aged six months to two years. Some of the dogs are strays; others have been rescued. Some of them are from dog-fighting rings.
When GroundUp visited the project last week, the teenagers were training the dogs to sit and jump.
Bulelani Bomeni, a grade 10 student at Silikamva High school in Hout Bay, was training 16- month-old Flash. He used signs to command the dog and dog treats as a reward. When Flash learned to sit in 15 minutes, Bulelani was all smiles.
"My dog is very clever. It managed both tasks today," he said.
"This programme is very good for me. Every time I come here I learn new things. The first time I got involved in the programme I was given a dog that I could not teach so facilitators assigned me to Flash who is doing so well."
He would like to spend his life working with animals, he said.
Sphelele Khuzwayo, a grade 8 student at the same school, was full of praise for his "pupil", 16-month-old Justin, who was learning to sit and jump.
"Justin has managed the two tasks today. I am very happy about the achievement," he said.
He said he had joined The Underdog training programme when his own dog died in a fire.
"I joined this programme because I would like to save endangered animals. In future I would like to be a volunteer in this project."
The Underdog project started in 2011 when Jenna da Silva Pinto, the founder of the project, decided to pair vulnerable teenagers in Hout Bay with young dogs living in shelters.
With the help of an organisation running a similar project in the USA, Pinto ran a pilot programme and went on to found The Underdog project as a registered non-profit organisation.
The dogs are trained on an open field on the DARG premises. After the session, the eight students in the class are offered fruit and sandwiches and then a life skills training course in a wooden classroom, where they learn communication, conflict resolution, leadership, coping with trauma, and literacy, among other things.
The idea is that as the dogs successfully accomplish the tasks set for them, the students also grow in confidence and self-esteem.
At the end of the course the students are given certificates and a note is placed on the kennel of each dog recording the fact that the dog has "graduated" and can be adopted.
"We do a follow up on our learners after two weeks. In most cases we get reports that learners have improved in their behaviour, communicating skills and class performance," said Louw.
As for the dogs, they are adopted. Since the project started only three dogs have not been adopted, says Louw, and none of the owners of those who have been adopted have ever complained about their animals.