A few kilometres away from five newly built houses, 46 year old Thokozani Zondi lives in a wooden house in Nhlazatshe in Pietermaritzburg and shares a pit toilet with neighbours.
The five families moved into their new homes in April. The houses were built as part of an initiative launched by President Jacob Zuma, who deployed some of his ministers to different wards of Greater Edendale before a presidential imbizo on 30 September last year.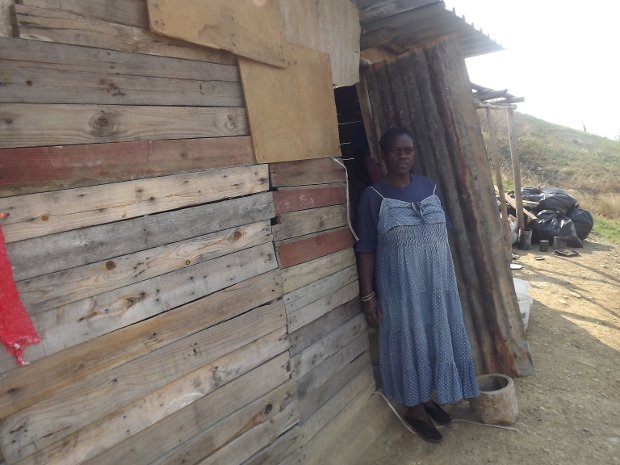 Thokozani Zondi shares a pit toilet with neighbours. Photo by Ntombi Mbomvu.
Ntombifikile Vilakazi is among the lucky families who were identified as "needy" and were awarded a house after transport minister Dipuo Peters was deployed by the president in Nhlazatshe.
Ward councillor Sipho Madonda said a team from the Premier's office had worked with community care givers to identify needy families.
"That is how these five families were identified", he said.
Vilakazi said previously she had lived in a mud house with a leaking plastic roof.
"I use to cover the mud walls with a plastic bag when it rained, to prevent water from coming in the house. I have a five-year-old son who was also affected by the conditions we were living under. We were happy when we received the news that we were among the five families to get a house. We have been struggling for years, it all came at the right time," said Vilakazi.
The five houses are fully furnished with brand new furniture.
"For the first time in our lives we were protected from winter. We have homes that are fully furnished, electricity and showers and toilets," said Vilakazi.
A few kilometres away, Zondi shares a pit toilet with her neighbors. She lives in a one-roomed metal and wooden house with her seven year old son. Her application for a low cost house was declined when she was still a car guard in town six years ago. She has since lost her job and survives on a R310 grant for her son and help from a support group.
"I have seen the five houses that have been built for the five families. I am happy for them but I wish I could be as lucky."
Zondi said a toilet project in the district had not reached her area.
She was hoping to find work and build her own toilet, she said.
"I am used to working as a domestic work and in order for me to have that toilet and a house I have to work," she added.
Madonda said two housing projects were underway in his ward, aimed at needy Nhlazatshe residents.
"The five families are doing fine and they are happy with their new homes," said Madonda. "There are still challenges of housing in the area and we are hoping that will be fixed."
Minister for Communications Faith Muthambi was deployed in Willowfontain, where seven families were given houses, one of them a child-headed family with nine children.