Stun grenades fired at protesting students
Exams and classes at Eastcape Midlands College in Kariega were disrupted on Friday over unpaid NSFAS allowances
25 March 2022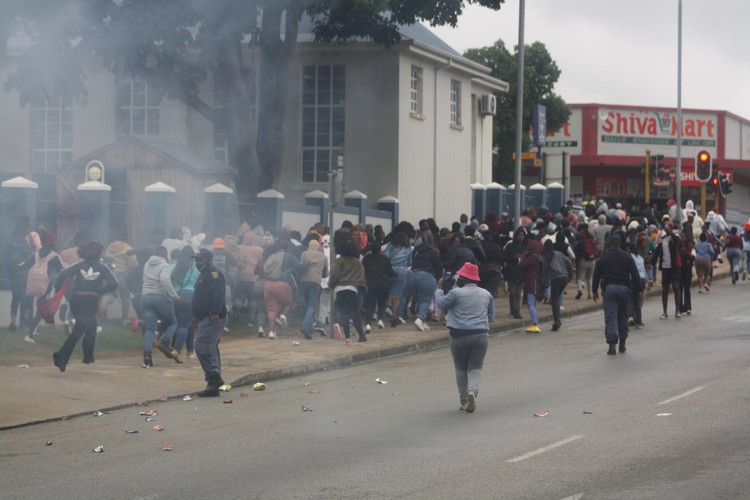 Chaos erupted outside the Eastcape Midlands College (EMC) in Kariega on Friday as over 300 students protested, demanding their National Student Financial Aid Scheme (NSFAS) allowances be paid immediately.
Exams scheduled for earlier in the day were postponed. According to students we spoke to, NSFAS payments due to them include R2,800 for housing and R1,000 for transport.
The protest started at the High Street campus but quickly spread to Park Avenue where more students were marching and disrupting lectures.
One student, who asked not to be named, said that she travels from Bayland informal Settlement in Gqeberha and desperately needs the transport money to get to and from school.
In a bid to stop protesters at the Park Avenue campus, president of the School Governing Body, Vatho Vena, came out and asked: "Who will you talk to at the head office?" Students, in response, shouted that he knew the financial department and demanded that he accompany them to the head office.
Vena told GroundUp: "The status of all students says NSFAS is waiting for their registrations. The management is to be blamed. In my report to the college, I informed them that students are not ready to write tests because they are not all registered with NSFAS yet because they've been blocked by the college." Vena said the problem of payment was at all of the college's campuses.
When the crowd of protesters reached the head office, they were met with several police officers who used stun grenades to disperse them from blocking Durban Street.
Some students returned, singing Senzeni na (What have we done?). EFF leader Thembinkosi Mfama pleaded with the police to refrain from using violence against students.
Students were still waiting to be addressed by the college late on Friday afternoon.
Questions sent to NSFAS and the college were not answered by the time of publication.