Station deck traders complain about drug dealers
"Our customers are afraid"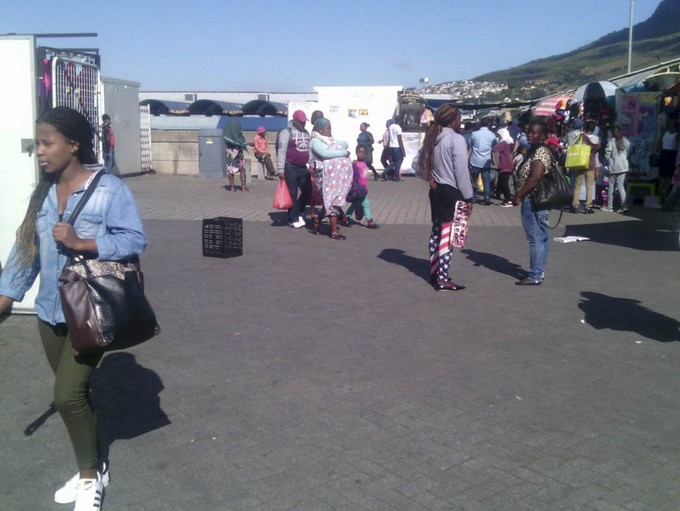 11 October 2016
Traders at Cape Town train station deck are complaining about the drug trade which they say is ruining business.
They accuse the South African Police Service (Saps), Prasa and the City of Cape Town of not putting in enough effort to rid the deck of drug trading.
But J P Smith, Mayoral Committee Member for Safety and Security, says the City is playing its role.
"The City has done a lot for safety and security at the top deck. Drug trading is a serious offence that should be attended to by SAPS, but SAPS do not attend meetings we hold with the Western Cape Informal Trading Coalition", Smith told GroundUp.
He said the City controlled half of the station deck nearest to the Civic Centre while the other half (the problem area) was controlled by Prasa.
In an email response to questions, Saps acknowledged the traders' concerns and said police were willing to work with the the informal trading associations.
Shamielah Edwards who has been trading at the deck for two decades, said customers were afraid to walk around the deck.
She said she used to make R4,000 from Friday to Saturday but business was no longer as good.
"We really are struggling to make any meaningful living out of this trading. Our customers are afraid of walking around this place. The area is now a place for selling drugs. Pick-pocketing is also rife," she said, pointing to customers who were holding tightly to their bags as they walked from stall to stall.
Edwards sells perfume and toiletries. She said traders now feared to leave their stall even for a few minutes.
She called for more police on the deck.
A Saps spokesperson said crime-fighting operations were carried out daily on the station deck. In July 88 people had been arrested in joint operations between Saps and the City of Town and in August 89. There had also been numerous other arrests for robbery, possession of stolen goods, possession of car breaking implements and of dangerous weapons.
One shoe trader said the market was in "chaos".
"We now notice people trading stolen goods. They team up with drug dealers," she said.
She said traders had complained to Saps and Prasa security but without success.
Roshda Muller, president of the Western Cape Informal Trading Coalition, called on Prasa, the Department of Home Affairs, the provincial department of Social Services, and City of Cape Town to formulate a joint strategy to improve the situation at the deck.