Some social grant beneficiaries are so deeply in debt that much of each month's grant goes to paying back a loan.
As early as 2013, the Black Sash warned of the "erosion of social grants" and pinpointed the "immoral and possibly illegal business practices" of Cash Paymaster Services (CPS) and its owner, Net1, which has the government contract to pay social grants on behalf of the SA Social Security Agency (Sassa).
Spotlight on social grants
A GroundUp series
How grants are used to pay back loans
The Black Sash said there was mounting evidence that microlenders, "including many subsidiaries of Net1" were "debiting the bank accounts of grant beneficiaries in a manner that is increasingly frenzied and often unauthorised, leaving families with vastly reduced monthly incomes".
The organisation launched a campaign calling for amendments to the Social Assistance Act criminalising the use of social assistance grants as collateral by lenders, and to the National Credit Act so that social grants are not considered as income.
In 2014 Minister of social development Bathabile Dlamini said the government would take steps to prevent social grants being used as collateral for loans.
But when GroundUp visited the Nyanga operations of loan company Moneyline last month, a Moneyline official said that only applicants with an identity document, proof of address and a Sassa card were eligible for loans. Anyone who did not have those should step out of the queue, he said.
Moneyline, which operates out of a Nyanga church on weekdays, is a subsidiary of Net1, which has the government contract to pay social grants on behalf of Sassa.
Asked whether a client who already had loans could borrow from Moneyline, another Moneyline employee told GroundUp that all a client needed was a Sassa card. The company did not need details of any other accounts or loans from the client, he said.
We followed a grant recipient who applied for a loan at the Nyanga office. She provided her ID and thumbprint to the Moneyline official. She filled in a form describing her monthly budget, but the estimates she provided were clearly implausible. She obtained a loan of R650, which she has to pay back in installments of R150 for six months, coming to a total of R900 (38% of the loan amount).
Borrowers taking out the maximum loans of R1,000 at the Moneyline operation have to pay back R1,320 over six months. On R850, the borrower must pay back R1,140 over six months. The smallest loan is R270 which requires the borrower to repay R300 the next month.
But Net1 CEO Serge Belamant defended the operation.
He said Moneyline did not charge interest and also did not charge an initiation fee, which could be R150 plus 10% of the loan up to a maximum of R1,000. Moneyline also charged lower management fees than competitors, he said.
Legally, a total of R696 could be charged over six months on a loan of R850, but Moneyline charged a management fee of R290 (34% of the loan, paid over six months). The company also did not levy insurance charges, Belamant said.
"Our loans products are designed for the poorest of the poor, often as emergency loans. We thus do not charge any interest as we do understand the plight of our customers", said Belamant.
Black Sash advocacy manager Elroy Paulus said many Sassa beneficiaries had told the organisation of the hardship caused by high interest rates or fees which left them with little or no cash from their social grants. "This phenomenon is happening across South Africa and the Nyanga experience is just one example of a practice that has epidemic proportions."
In some cases, Paulus said, no affordability assessments were done, the documents were not signed, and loan repayments continued after the "agreement" was over.
Lebogang Selibi, media relations officer at the National Credit Regulator, said it was a legal requirement for money lenders to perform an affordability check on potential borrowers before granting a loan.
"A credit provider must take practicable steps to assess the consumer or joint consumer's discretionary income to determine whether the consumer has the financial means and prospects to pay the proposed credit instalments," she said.
The maximum interest which could be charged on an unsecured loan of R1,000 was 33.2% a year, she said.
On its website, Net1 describes the business unit which is responsible for identifying products which can be sold to holders of its universal electronic payment system (UEPS) card, through which the social grants are paid. "We currently provide micro-loans to our U.E.P.S. cardholders who receive social welfare grants through our system in the KwaZulu-Natal and Northern Cape provinces. We provide the loans ourselves and generate revenue from the service fees charged on these loans."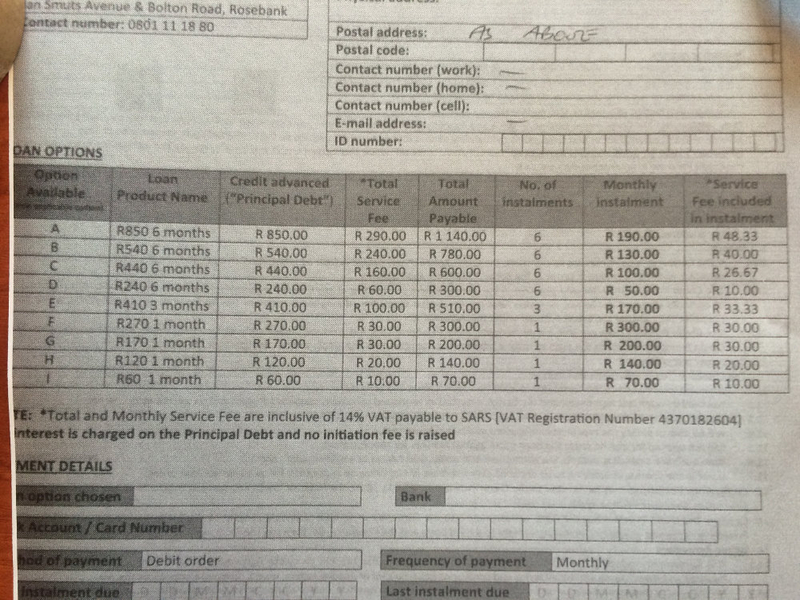 Part of the Moneyline loan agreement form.
Read the next article in the series: Net1 - the company that runs the grant payment system