Smouldering discontent in Masiphumelele years after fire
Residents are dissatisfied by the ward councillor's written response to their memorandum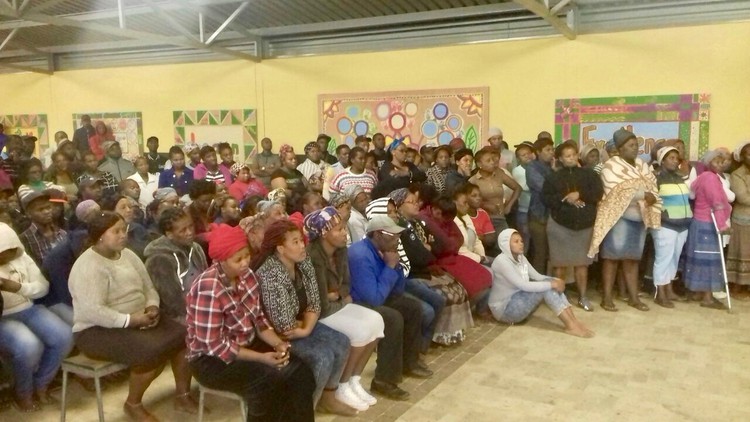 10 March 2017
On Thursday night, more than 500 residents from Masiphumelele gathered at Ukhanyo Primary School to discuss ward councillor Felicity Purchase's response to a memorandum handed to her on 14 February.
In the memorandum, residents complained about poor living conditions and asked for electricity for people in the wetlands affected by the fire of November 2015.
Other issues raised dealt with the demolition of shacks and the lack of community involvement in City of Cape Town developments affecting Masiphumelele.
Community leader Tshepo Moletsana addressed the community, saying they had given the councillor 14 days to respond to the memorandum and ten days to fix the electricity problem in the wetlands informal settlement. "We are here to see if the response is speaking to the problem faced by Masiphumelele residents or not," said Moletsana.
Community leader Lunga Mathambo said, "What Felicity did is write an email to certain people saying that she is responding to the memorandum, which is not what we asked for. We asked for her to come and convene a meeting with the residents to respond to the memorandum and not [just] send [emails] to community leaders."
Mathambo read out the emailed response from Purchase. In it, Purchase wrote that the City is in the process of addressing the electricity issue as "best" as it can given the "substantial safety risk" the wetland posed.
On demolitions, she wrote, "Illegal land invasions will be dealt with by our land invasion unit". Purchase stated that the City, in collaboration with SANPARKS and Province, had an interdict on all three portions of the wetland to stop any structures being built.
Community members wanted Purchase to produce the interdict so that they could inspect it for themselves.
Asked by GroundUp why Purchase had not met with the community, she responded that she had held a meeting with a delegation from Masiphumelele at the Mayco Member for Informal Settlements Councillor Xanthea Limberg's office.
She said the memorandum was in writing and therefore so was the response.
"The outcome of that meeting was that we would meet with the delegation regularly to keep them updated and would sign an agreement with elected community structures' leadership once they had organised themselves," said Purchase.
It was evident in the meeting that the most pressing issue was the demolition of shacks over the past two months.
"We are used to staying in water [the wetlands]. We no longer mind. All we want is a place to stay," said one resident.