Port Elizabeth shack dwellers block roads, demanding electricity
Residents had expected municipality to meet with them after violent protests two weeks ago
9 February 2021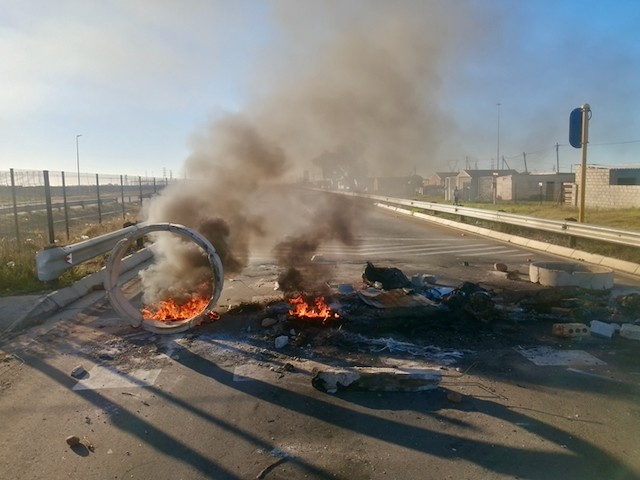 Two weeks after illegal connections were removed, Bayland shack dwellers are back on the streets demanding electrification.
The informal settlement in Port Elizabeth has about 2,000 residents.
The community had expected the Nelson Mandela Bay Municipality to meet them after the protest in January.
---
Residents of Bayland informal settlement in Port Elizabeth blocked the M19 in Perseverance and the Uitenhage Road (R75) with rocks, storm water pipes, garbage and burning tyres from 3am. Cars were stoned and turned back. Public Order Police tried to disperse the protesters, who shouted at them that they were not animals but demanding their rights.
The protest is over the lack of electrification for the settlement. Last month, violence erupted between residents of Bayland and Joe Slovo township after the Nelson Mandela Bay Municipality removed illegal connections with the assistance of RDP homeowners.
The community had expected that municipal officials would meet them.
A man who did not wish to give his name said, "Two weeks ago when we protested against the removal of our illegal connections by Joe Slovo residents, the municipality promised to have a meeting with us in order give us clarity about the electrification of our shacks … But that never happened. We are frustrated because electricity is priority for all of us here."
"Violence is the only language this municipality understands," said the man.
A woman protester said, "We are more than 2,000 shack dwellers here and we are not getting any service delivery. We share five broken standpipes. Every day we have to queue at them for water. Each person waits about 45 minutes before she can get water. For two months now the water tankers are no longer bringing us water."
"I share a pit toilet with other 15 shack dwellers. The toilet is stinking and unhygienic. It causes us infections. When it's wet the roads become like a pigsty and ambulances don't even come when we call them because we have no proper roads."
Police spokesperson Captain Gerda Swart said, "The roads have been opened and police are monitoring the situation."
Comment will be added from the municipality when it is received.