RDP house not finished after seven years
Woman in Khayelitsha has been moving from shack to shack as she waits for her house to be completed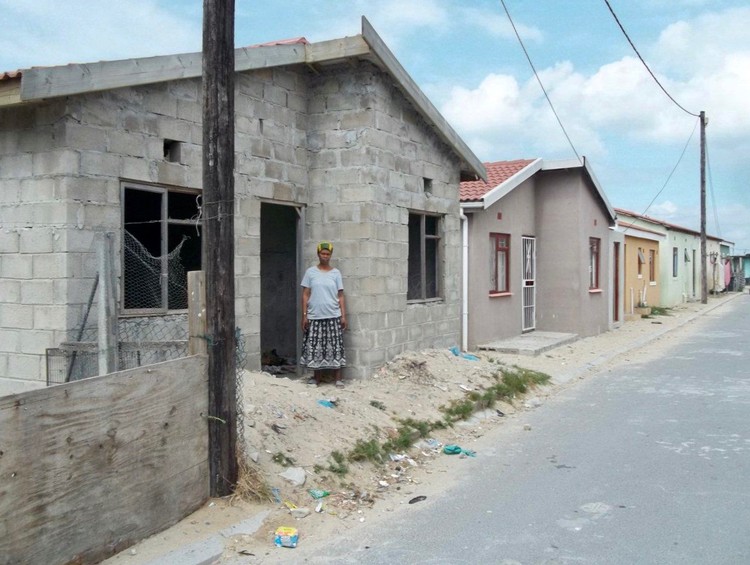 2 April 2019
In 2012, Nokwayintombi Pateni was one of about 200 people who dismantled their shacks to make way for their RDP houses to be built in Town Two, Khayelitsha. Pateni moved to vacant land near the Town Two clinic. But while other residents moved into their newly built houses five months later, Pateni was left alone in her shack, afraid and unable to sleep, she said. When the landlords wanted the land back, she had to move, and again in 2015 when her next landlord sold the shack she was renting.
"My furniture, fridge, dishes, cupboard, chairs and my other belongings got damaged because I kept moving from one shack to another," said Pateni.
"The officials [at the Bellville municipal offices] said my house and other beneficiaries' houses had been completed," said Pateni. They also told her there was no further money to be spent on her house.
In December 2018, her brother-in law bought tiles and wooden planks and roofed her unfinished RDP house. But the house is filled with rubbish, and it has no doors, windows or toilet.
Zameka Dyasi, who lives in the house opposite Pateni's, said, "Passers-by and drunks pee in that house. I have to shout at them and tell them not to pee there … The house smells now. Sometimes I remove the dirt, but residents dump rubbish again."
Pateni now rents a cold, leaking shack for R400 a month in SST section of Town Two.
"Sometimes when I come back from work I find the shack flooded and scoop water out with buckets," she said. "I cover my bed with plastics [rubbish bags] so that the leaks don't drench my blankets."
She does domestic work on Mondays, Wednesdays and Fridays in Bellville. She earns about R2,000 a month, from which she must pay R400 for rent, R300 for travelling to and from work and R200 for a local burial society. What's left goes on electricity, food and the needs of her two children.
She said she scraped enough cash together for her adult son to enrol for a security guard course last year, but he is struggling to find a job.
Her daughter is in Grade 11 at Qhayiya High School in Khayelitsha. "I have to buy her school shoes and stationary and give her money for school outings," said Pateni.
"Sometimes we have porridge for supper. When I have managed to buy half a loaf, I allow my kids to eat it alone and I say I'm full," she said, breaking down in tears. "When my employers are away on holiday in December, I beg neighbours for food as I struggle to get by."
She is also in debt as she had to borrow money from loan sharks to pay for transport for her son to return from circumcision school in Cofimvaba, Eastern Cape. "I battle to pay the money back and the interest is growing," she said.
"After the City has finished building my house, I will sleep soundly and think sensibly," she said. The money she would save on rent could settle her debts.
Mayco Member for Human Settlements Malusi Booi said a People's Housing Project contractor went into liquidation and left a number of units incomplete. "The City, together with the Western Cape Government, has started a process to complete all these outstanding units … Government is finalising the funding process for some of the units after which construction will be completed."