Sepedi singer and his homeless Afrikaans helpers
"Rare unity, rare trust," says the performer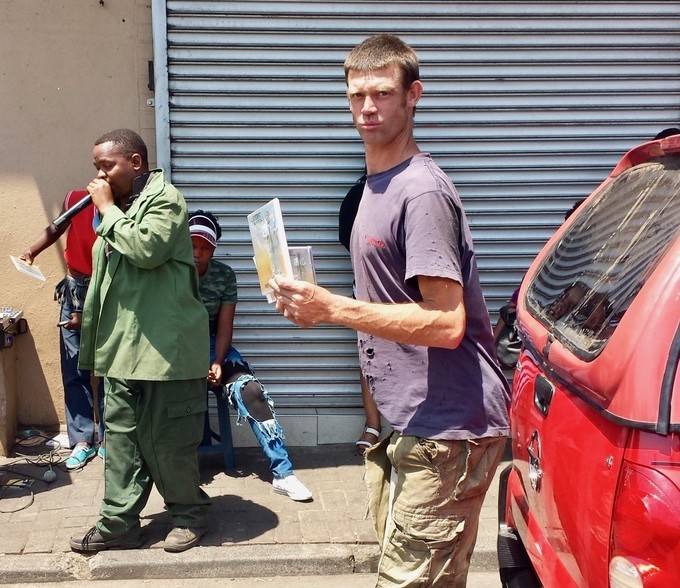 22 November 2016
Zizipho Moloti, a Sepedi traditional singer from Limpopo, is one of the more recognisable street entertainers in Springs, Gauteng. What is unusual is that he recruits homeless and jobless white men to help sell his CDs and collect money from onlookers.
"Rare unity, rare trust," he says. "We are one community."
He pitches up outside cafes, KFC outlets, railway halls, and banks. With wild leaps and swinging an imaginary spear, he sings into a microphone in a high pitched voice, traditional Sepedi gospel music. It's an acrobatic act interspersed with bursts of poetry.
"I must sing until I lose my voice," says Moloti.
The shop owners and supermarket managers don't appear to mind the giant speakers booming out Moloti's music or the crowds he draws.
He says without his helpers, his CDs would be pilfered and pickpockets would work the crowd and harass onlookers; he'd be in danger of being mugged himself.
Moloti puts on a show every Saturday in Springs, 500km from his hometown. He pays his helpers R100 if he sells more than 30 DVDs.
Brenton de Klerk, 25, who sleeps on the streets and has been helping Moloti, says, "I know whenever he holds a show, I sell his CDs and I can afford to buy a meal."
"I even enjoy Zizipho music CDs though I don't understand Sepedi language," he says. "He also respects me and calls me bra Brenton, my man."