Security guards march in Pretoria to demand permanent jobs
Protesters want City of Tshwane to absorb 4,000 workers
24 May 2023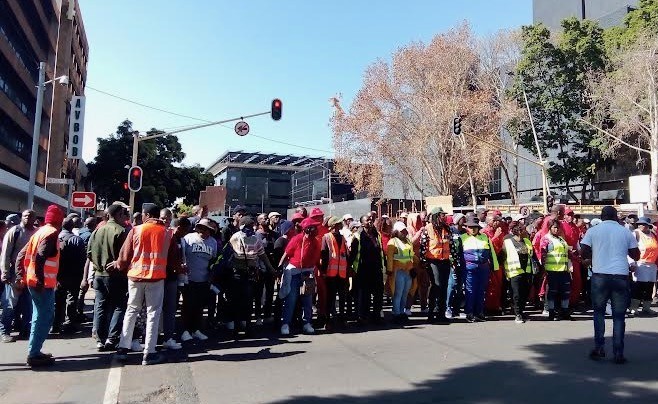 Hundreds of security officers and cleaners working for 22 companies contracted to the City of Tshwane marched in Pretoria's city centre on Wednesday, demanding permanent employment with the City.
The workers, led by the South African Cleaners, Security and Allied Workers' Union (SACSAWU) and the Independent Democratic Union of South Africa (IDUSA), handed over a list of demands to the mayoral committee member for community safety, Grandi Theunissen.
Sello Matloa, a security officer and SACSAWU shop steward, said security guards earned R5,000 a month at private companies, which was too little to maintain a family, and if the City took them onto its payroll the costs of the "middle man" would be scrapped.
"We've been working for private companies for years and we feel like they are manipulating us," he said.
The unions say the City resolved in 2018 to insource 4,000 security guards in three phases.
Hlengiwe Ngwenya, who works as a guard at a City site in Bronkhorstspruit, says she has worked for the past 13 years as a security guard, moving from one company to the next. She earns R5,500 a month before deductions.
"A lot of our money is wasted on these private security companies," she said. "If the City takes us, we can also have benefits like medical aid like other employees. We can be able to give our kids decent education. We can't even afford to buy a home from this little money."
Joshua Mudau, IDUSA organiser in Tshwane, said, "They must allocate funds for us. We also want a formal meeting with the City manager or the executive mayor. Some of us have been in the City for many years, and we feel this is unfair to us."
In a memorandum, the unions demand that the City must implement the 2018 resolution, and ensure security guards are paid a living wage, with benefits such as medical aid, pension and leave. They gave the City 14 days to respond to their demands.
Theunissen said he would ensure that the protesters' demands reached the mayor's office and the City would respond.