School falls apart and workers say they haven't been paid
Yet Eastern Cape government is satisfied with construction work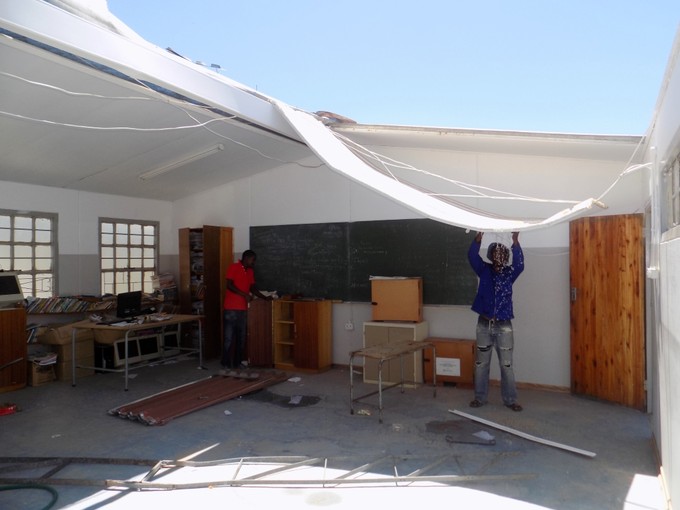 1 December 2016
A construction company which renovated Mjila Primary School in Ntabankulu, Eastern Cape (about 156km north of Mthatha by road) has been accused of using cheap materials and of failing to pay employees their full salaries.
Wall paint, tiles and the ceiling are crumbling. The roof was also damaged in a recent storm, which resulted in computers and books being exposed to water leaking from the roof.
Construction workers from Continental Constructions say that they were only paid half of what their employer promised them and only after they had already completed the work. They said that they only had a verbal agreement. They were to be paid between R1,500 and R3,500 per fortnight.
Nkosinathi Sithole who worked as a foreman says he expected a salary of R12,000, but only received R5,000.
He said the owner of Continental Constructions, Ojo Dirah "paid us less than half of what he owed and promised to pay the balance soon, but he never contacted any of us and is no longer taking our calls." 
Another employee, Mzawuthethi Mpongwana, said that it was "embarrassing" to have worked for six months but to have "never brought anything home" to his children.
Mpongwana received R7,000 of the agreed R9,000. He also claims he lent some of his tools to the company but these were never returned.
In early September employees protested, calling on the company to pay them their full salaries.
Dirah denied the allegations. "Everyone was paid months ago. These people are just looking for Christmas money. They won't get it from me. I owe them nothing."
As for the condition of the building, he said all the renovated rooms had been inspected and approved before the handover.
"I did my work very well. If the school has been blown away it is none of my business. The school was in perfect condition when I left the site."
But acting school principal Mxolisi Matshoba said he was distressed that the buildings had turned out to be unsafe even after the renovations. He said he had reported the condition of the buildings to the Department of Education and hoped that the matter would be resolved soon.
Mamboyisa Ntlamba of the school governing body said the school wanted the problem solved immediately.
Eastern Cape Education Spokesman Malibongwe Mtima said that the department did not work directly with construction companies but with agents who were usually responsible for the payments.
"The job was done with the help of provincial treasury and the departmental officials in the district inspected the workmanship and approved it. And they also found that the job and material used was in line with the expectations and specifications of the treasury. The allegations that cheap or poor quality material was used are not true," said Mtima.