SACCAWU members march to Parliament
Union wants government to intervene in dispute with Makro
24 March 2023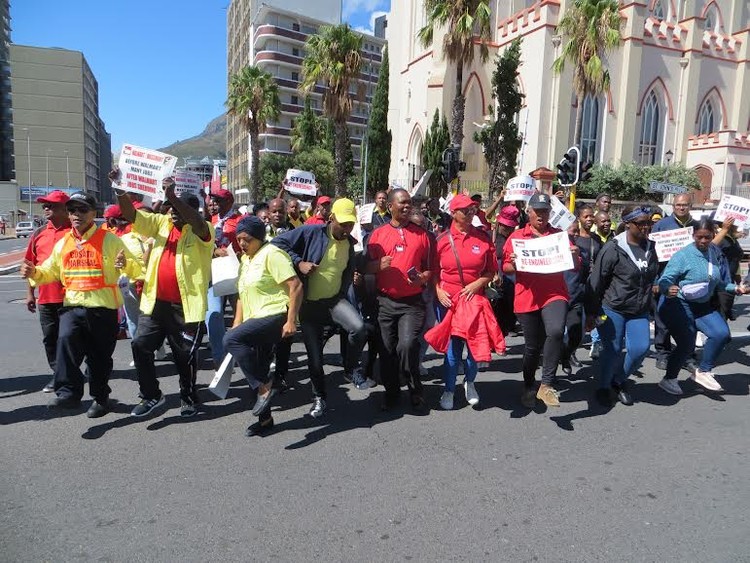 Striking SACCAWU members marched to Parliament on Friday to call on the Department of Trade, Industry and Competition to intervene in the union's dispute with Makro.
SACCAWU wants a salary increase of R900 a month or 12%, whichever is greater, and a 20% commission on sales, among other things.
Makro says it will not amend its offer of 4.5% which has already been accepted by SACCAWU in other stores such as Game and Builders.
About 100 striking members of the South African Commercial, Catering and Allied Workers Union (SACCAWU) marched to Parliament to hand over a memorandum to the Department of Trade, Industry and Competition calling on it to intervene in a dispute with Makro.
Regional secretary Crosby Booi said about 600 SACCAWU members worked for Makro in the Western Cape.
"By marching to Parliament, we are not fighting our government," he said. "We just want the minister to intervene and put pressure on Makro to negotiate with us."
Booi said since Makro's holding company Massmart had been taken over by US giant Walmart, there had been retrenchments and store closures. Booi said Makro had "imposed" a salary increase of 4.5% in December last year and had refused to negotiate with the union.
In its memorandum, the union demanded an across the board increase of R900 a month or 12%, whichever is greater; a minimum wage of R8,000 a month; the reinstatement of dismissed workers; 20% commission on sales; and a moratorium on retrenchments, among other things.
Andile Ngqaneka, Regional Chairperson of SACCAWU, said Walmart was known as a "union basher."
Malvern de Bruyn, Provincial Secretary of COSATU, to which SACCAWU is affiliated, said he supported the "just cause" of the workers. "We can't keep quiet while a company from outside suppresses the workers," he said.
Makro spokesperson Brian Leroni said about 30% of unionised staff had taken part in the picket, and most stores had not been affected. "Our research has revealed little support for the strike action among SACCAWU members," he said.
"Evidence supporting this is that here has been a massive spike in resignations from the union since the strike action was announced."
In addition, said Leroni, more than 1,200 Makro employees had resigned from the union to accept the company's wage offer.
The union demand for a 12% increase and a 20% commission on sales was "quite clearly unrealistic", he said, and SACCAWU had already accepted the company's offer at Game stores and Builders stores. "We have no intention of amending our wage offer," he said.
Nwabisa Spambo, who works as a receiver at Makro in Ottery and was one of the marchers, said she battled to feed her family.
"My groceries run out before the end of the month. Mid-month I must borrow money from friends for food. We need the salary increase because food and bus fares go up every day," she said.
Moosa Ebrahim, Chief of Staff of the Department, received the memorandum and promised to take it to Minister Ebrahim Patel.