Human Rights Commission to investigate after man dragged naked from his shack
Shack dwellers march to police station in protest
2 July 2020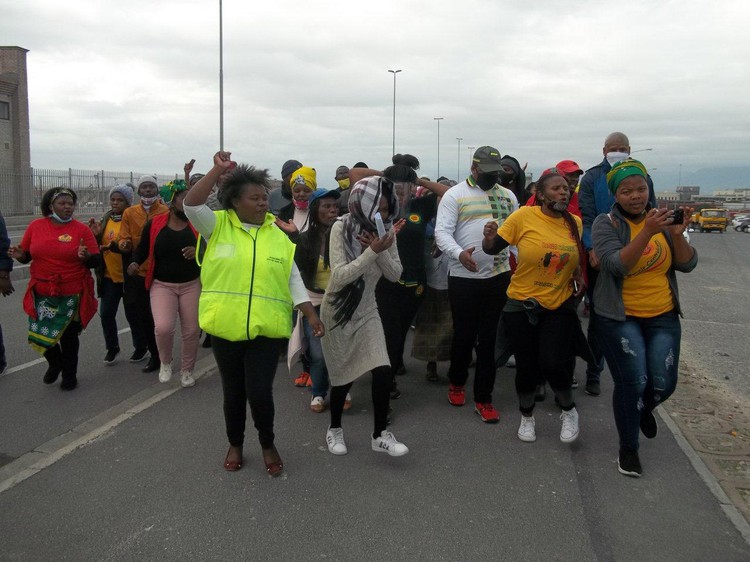 Dozens of angry shack dwellers marched to Harare police station on Thursday to lay charges against Law Enforcement officers who dragged Bulelani Qolani, naked, out of his shack in Empolweni, Khayelitsha on Wednesday.
The officers, who have been suspended, were with the City of Cape Town's Anti Land Invasion Unit to demolish structures on the land.
Bongikhaya Mdiza said he was sitting nearby with other shack dwellers when he saw the officers destroy a furnished and occupied shack.
"Afterwards they moved to his shack, knocked on his door and kicked it down while he was busy bathing inside," he said.
Mdiza said Qolani's wife and his children were standing outside his shack waiting for him to finish bathing.
"When they pulled him out of his shack while he was still dripping wet and naked and shoved him to the ground, his kids screamed," he said. "In fact, all of our kids who were watching cried out of shock and fear."
"Before tearing the shack down, the officers should have waited until he finished bathing and dressing, and checked if it was furnished and occupied."
"The lockdown still prevents some of us from returning to work, so we moved onto the land because we have no money to pay rent," he said.
Chris Nissen from the Human Rights Commission, who was at the police station, said he was investigating the incident. "What happened yesterday cannot be excused. We will investigate the degrading, inhumane treatment and take the matter to the Equality Court," he said. "We need to know who gave the order" to destroy Qolani's shack and drag him out naked.
"I feel angry, sad that people who are supposed to uphold the law can go so low. They are supposed to protect and serve, not humiliate."
Community leader Nozakuthini Batyi said she was shocked and angry at Qolani's public humiliation. "The incident has left us shack dwellers feeling belittled and disrespected," she said.
Batyi said the incident is one of many where officers have treated shack dwellers with contempt. "The officers lower our dignity when they destroy our shacks while they are furnished and occupied. They debase us when they throw us out of our shacks with our kids without due regard for their well-being," she said.
Ward councillor Xolisa Ngwekazi said he had visited Qolani in his shack last night. The shack was rebuilt by community members.
"The City of Cape Town … reserves such disgusting behaviour for poor black shack dwellers," Ngwekazi said.
Xolani Sotashe, leader of the opposition in the city council, said he and the shack dwellers would lay a complaint of crimen injuria, assault, intimidation and contravention of the Disaster Management Act.
Mayor Dan Plato issued a statement on Thursday welcoming the suspension of the four officers involved. "Having watched the video of law enforcement officers responding to an illegal land invasion in Khayelitsha yesterday, and the shameful circumstances that Mr Bulelani Qolani was subjected to, I want to make it clear that this is not the type of conduct that we tolerate in this City … I want to acknowledge that Mr Qolani's dignity was impaired and I am truly sorry for what he experienced."