Rugby unites all in Siya Kolisi's hometown
Thousands gathered in Zwide stadium to watch the Springboks win the World Cup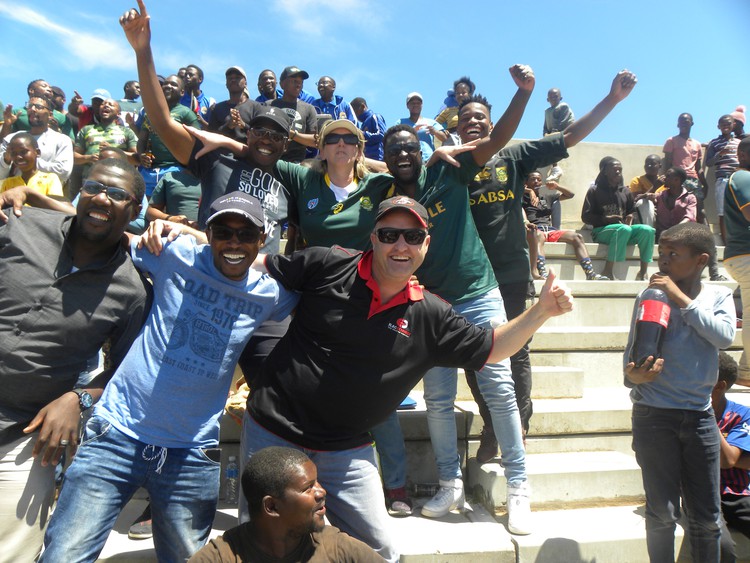 2 November 2019
Sue Hagemann from Mount Croix said that at first she was hesitant to come to Zwide township in Port Elizabeth to watch the Springboks play England in the Rugby World Cup final.
"A work mate of mine, Masakhane Mlamla, convinced me to come with him. I was very much desperate to taste the vibe and see for myself where our captain, [Siya] Kolisi, grew up. … Sport is very powerful and today rugby has united all South Africans. Let that spirit continue," Hagemann said.
The wonderful way that sport unites people in South Africa was on display at Zwide Stadium. Thousands came to watch the Springboks win the Rugby World Cup for the third time, defeating England 32-12.
Black and white, immigrants and locals gathered at the stadium to watch the game on a giant screen in the township where Kolisi grew up.
Luzuko Sati, who uses a wheelchair, said that Kolisi is his neigbour in Zwide. "The boys played an entertaining and tough game. They made us proud … We are waiting for [Kolisi's] arrival and then the party starts here in Zwide."
Lelethu Qegu, who lives in Zwide, came with three friends. She said she knows very little about rugby. "I am not a sportsperson but when I saw many people flocking into the stadium wearing rugby t-shirts, I had no choice but to call my friends to go to the stadium," she said.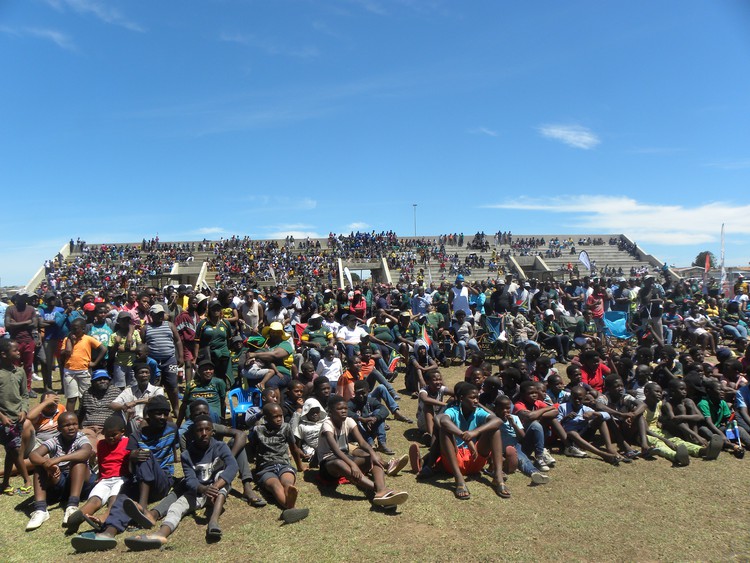 Morne Bezuidenhout of Algoa Park said that he could have watched the match in the comfort of his home. "It was in the spirit of oneness and the love of socialising with people from various backgrounds that inspired me to come here with my friends and our families. This is a good moment where race, religion, and social background have no space. Sport has united us today."
Zimbabwean Kudakwashe Mutero lives in Colchester. He said he wanted to feel the vibe of watching the rugby finals at the stadium. "This was a good idea by the municipality [who organised the event] because people from various backgrounds converged to watch the game as one nation. The government should promote sport because it has the power to unite people. Racism, tribalism and xenophobia can not happen when people are united and sport can do that."
Homeless people watch rugby together in Cape Town
In Cape Town about 80 people living on the streets watched the game together at a soup kitchen run by Ladles of Love at the Hope Exchange. They gathered in a hall where they were served popcorn, cold drinks and pizza donated by Pizza Hut. The hall had three large TV screens and was decorated with South African flags.
Danny Diliberto of Ladles of Love said that since the organisation always runs its soup kitchen on Saturdays at noon, it was decided to give people a chance to watch the game and dispense the soup afterwards.
Michael Damows grew up in Manenberg. "It is very good to be here because we do not have a place to watch this."
In a week in which unemployment hit an 11-year high, Minister of Finance Tito Mboweni painted a grim picture of government finances, and ratings agency Moody's just barely kept South Africa at investment grade, winning the World Cup has provided joy to millions.