Refugees march for legal recognition
"There is no way for me to better my life without having papers in this country"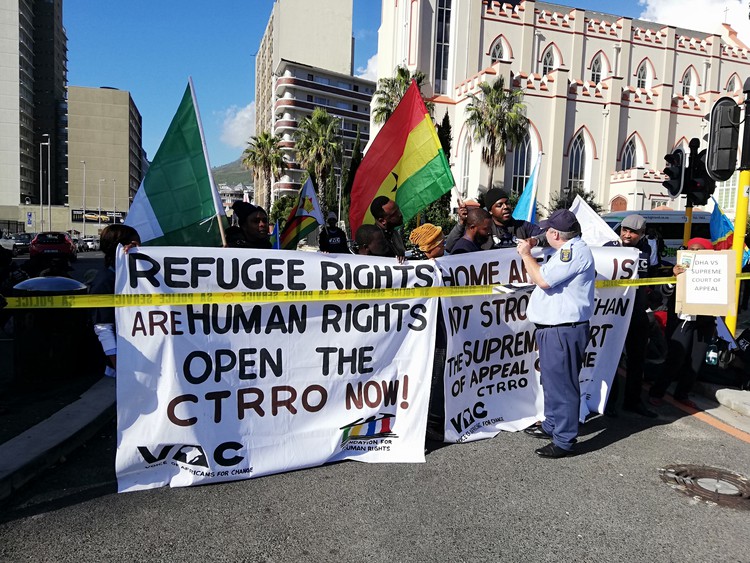 20 June 2018
"Give us papers. Refugees are not criminals," chanted a group of approximately 60 refugee representatives marching to Parliament in Cape Town on Wednesday asking to be made legal.
"Today is international refugee day and we took that opportunity to come to Parliament and put some pressure on the Department of Home Affairs," said Director of Africans for Change, Germain Kalombo Ntambue.
The refugees were from countries such as Zimbabwe, DRC and Burundi and supported by organisations like the Refugee Rights Forum, Voice of Africans for Change and Kongo Freedom Fighters.
"It is winter and people are standing in lines from 4am in the morning. Most will leave in the evening without being served and told to come the next day. So you tell me who is making us illegal?" said Ntambue. "It is the same home affairs that has been conducting raids and arresting people with no papers."
In a ruling on 29 September last year the Supreme Court of Appeal declared unlawful the decision by the Department of Home Affairs to close the Cape Town refugee reception office in 2012, and ordered the department to re-open the office by March 2018.
But as yet the office has not been re-opened and several refugee organisations have taken the department to court to enforce the order.
"We are standing nine months later without the centre in Cape Town being opened and no clarity from the Minister as to why," said Ntambue.
On 19 June GroundUp reported that the process to secure premises is underway and should be complete by July 2018 according to the Department of Public Works.
For 19-year-old Azama Damas from the DRC the success of the march would mean an education. She came to South Africa with her father in 2013. Her father passed away in 2016 and she has been staying with family friends since.
"I started school in South Africa in Grade eight but had to drop out this year because I was told I could not write matric without papers," said Damas. "I have been everywhere because I want to get an education."
"Everywhere I go they ask me for papers, there is no way for me to better my life without having papers in this country, right now I am wasting time sitting at home and not doing anythin."
In the memorandum the refugees asked for the cancellation of fines for late extension of refugee permits, for Home Affairs to give the go-ahead to the Department of Education for children to attend school while awaiting the processes of home affairs, and for toilets to be installed in the refugee centre.
"It is unacceptable to see the custodians of laws ignoring a court ruling under the watch of the government, the judiciary and parliament," stated the memorandum. "We call upon the South African government to uphold the principles of democracy and democratic values where refugees and asylum seekers are concerned."
Burundi refugee Nijimbere Luqman has been in South Africa for two years and has been struggling to get papers for himself and his eight-year-old son.
"I moved here, leaving my family and my country, to be safe," said Luqman. "I have not spoken to my wife. I do not know if she is still alive. I wanted a better future for my child but now he is sitting at home and unable to go to school because of papers," he said.
Another DRC refugee Vicky Nkosi has been in South Africa for five years, and although he has papers, his wife and two children do not.
"My wife gave birth two weeks ago and we had to spend a lot of money on private doctors because public hospitals would not accept her without papers," said Nkosi. "We have been everywhere trying to get papers, taking a lot of money out of our pockets that we do not have."
Nkosi works as a freelance photographer and his wife is unemployed.
The memorandum was accepted by the Deputy Director of Home Affairs, Ignatius Mokgele, and Home Affairs Coordinator in the Cape Metro, Samual Plaatjies.